CBD for Feline Friends: What You Need to Know Before You Start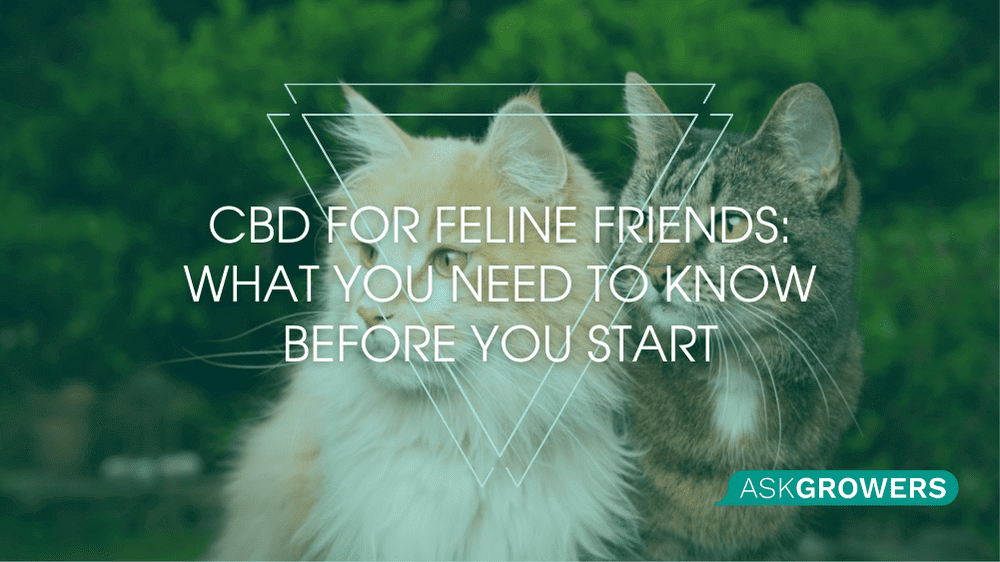 In recent years, pet parents have been incorporating CBD products for pets in their cat's diets more and more frequently. With the increasing research on the cannabidiol effects on animals, more and more veterinarians also recommend pet owners consider the use of hemp for cats to ease different health conditions and to promote overall well-being.
Research suggests that the potential benefits of cannabidiol for cats include the following:
These and many other CBD benefits for cats make cannabidiol-infused products trending among pet owners. Yet, despite a huge number of perks, it remains crucial to stay informed on the topic and administer this compound to your pet with caution to prevent adverse effects.
CBD and Cats: Understanding the Mechanism of Action and Picking the Right Products
As you already know, possessing enough information is crucial before giving your pet CBD for cats. So let us stop for a moment and help you figure out how this hemp compound affects animals.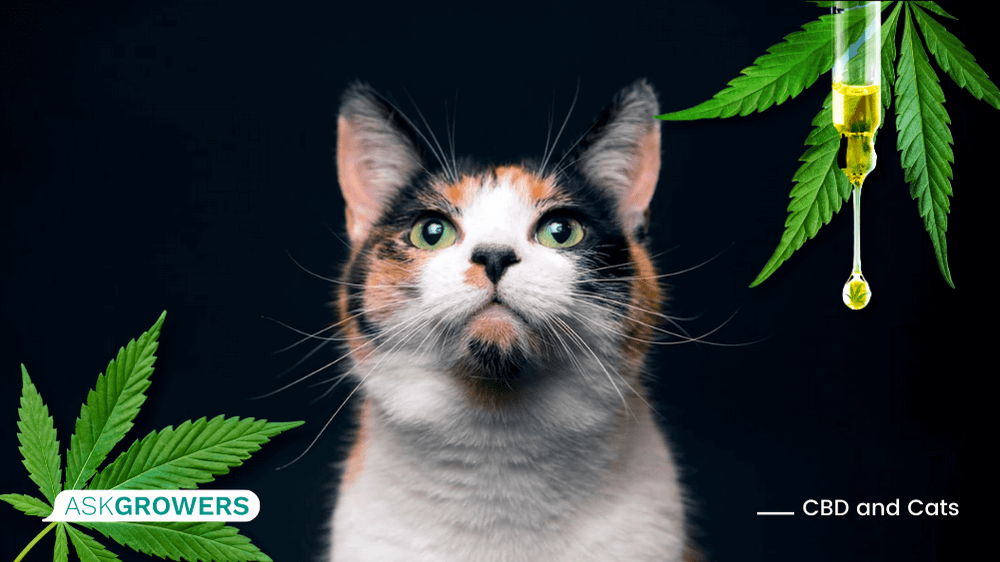 Cannabidiol is an all-natural, non-psychoactive compound found among over 400 chemical entities in the cannabis plant[4]. When administered to cats, this compound interacts with their endocannabinoid system (ECS), affecting the natural ECS receptors, CB1 and CB2. Since ECS is responsible for regulating different body processes, cannabidiol that balances it can provide soothing, relaxing, and calming effects, along with many other health benefits. Experienced veterinarians often recommend this compound to treat a number of health conditions in cats, such as anxiety, seizures, aggression, and many others.
Today, there are quite a lot of cannabidiol products meant for cats. Namely, you can try oils, balms, treats, and CBD drops for cats. Each product has its own characteristics and, thus, can be best used for different conditions. For example, balms and other types of topical CBD for cats are meant for external use and can help with such conditions as arthritis[5], joint pain, etc. Cannabidiol oils have the highest absorption rates, which makes them perfect for instant relief of pain[6] and seizures.
On top of that, there is CBD for cats anxiety, sleep, appetite, etc. And there is even CBD for cats with cancer. Research confirms that the unique qualities of cannabinoids make them rather efficacious in relieving cancer symptoms[7].
As you can see, every kind of product (be it CBD treats cat, oil, or topicals) has a number of positive effects and benefits for feline health. Nevertheless, some adverse effects are also possible.
The most common side effects of cannabidiol in cats include the following:
Dry mouth

Excessive drowsiness

Nausea, etc.
Although such reactions are possible, cannabidiol is generally believed to be well-tolerated and safe for cats[8], but only if you choose high-quality products and administer them wisely.
To get only benefits and to avoid side effects from using cannabidiol in your pet, it's crucial to have a consultation with a trusted veterinarian first. A professional will carefully check your pet's health and make informed recommendations about the use of cannabidiol. Also, a veterinarian will help you identify the perfect CBD dose for cats that matches your animal's weight and other personal specs.
Last but not least, it's pivotal to pick only top-quality cannabidiol products that are approved by a veterinarian. These simple tips will help you get the most out of cannabidiol use.
Pick the Best CBD Product for Cats
Now that you know how cannabidiol-based products influence cats, you must be wondering how to choose the best products for your beloved pet. Although the number of brands and products on the market is rather extensive, picking the best options for you isn't that easy.
Luckily, AskGrowers has you covered! Whether you are searching for CBD oil for cats, CBD gummies for cats, or any other type of product, we have plenty of great options in our catalog. To help you get started, AskGrower's experts hand-picked the top 3 best products that were approved by a veterinarian and can bring the most benefits to your pet.
Top Factors to Keep in Mind When Using the CBD for Cats
So you already know about the benefits of CBD for cats pain, anxiety, seizures, and other health conditions. Now how do you make the best use of such products for your pet?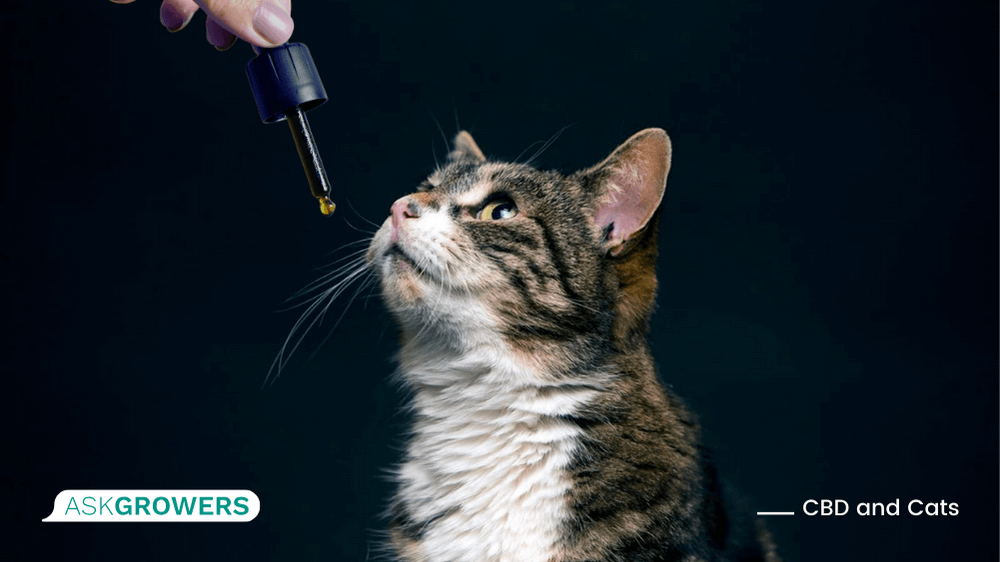 There are plenty of crucial factors to keep in mind when choosing and using cannabidiol-infused pet products. Here are some of the most important ones to help you get started:
Product factors - To gain the most benefits for your pet, you must choose the best product. The factors that must be considered at this stage include the product type, hemp source and quality, brand reputation, potency, etc.

Individual factors - Apart from product-related details, you also must consider the individual factors of your pet that can affect the effects and benefits it will gain from cat weed treats. The most crucial factors include your cat's age, weight, health condition, individual reaction to certain products, and so on. Also, you should be even more attentive when it comes to including cannabidiol in the diet of an ill, elderly, or overweight animal. These health conditions can imply certain limitations and additional rules in terms of giving your cat cannabidiol, so a veterinarian consultation is a must.

Other factors - Before using cannabis for cats, it's also important to hold a consultation with a veterinarian. Although you can generally assess the product quality and your pet's overall condition, only a professional can help you see the big picture. A veterinarian will help you define whether it's safe to give your pet cannabidiol, will suggest the most suitable products, and will help calculate the right dosage.
On top of considering all important factors and consulting with a vet, you should make an extra effort and monitor your pet's response to cannabidiol when you start administering it. Ideally, run an effects journal to see how specific products or doses influence your cat's behavior and wellness.
Conclusion
As you now know, there are quite a few reasons to start using CBD cat food and other products for the sake of the health and wellness of your beloved pet. Namely, this cannabis compound is linked to a variety of vital health benefits, such as the following:
Pain relief

Anxiety relief

Inflammation relief

Sleep improvement

Relaxation

Treatment of cancer, arthritis, and other health conditions and their symptoms, etc.
Despite a huge number of benefits, of course, cats CBD can pose a number of side effects, such as dry mouth, drowsiness, and nausea. However, despite this, cannabidiol is mostly well-tolerated and beneficial for cats. So if you want to boost your pet's well-being and health, using this compound can be an excellent option.
In order to get the most out of cannabidiol for cats, all you need is to have a consultation with a veterinarian, stick to the correct dosage, and, of course, pick the right products. Luckily, now you have all the information you need to find the best CBD pet treats and other products and improve the quality of your cat's life forever!
Resources
Corsato Alvarenga I; Panickar KS; Hess H; McGrath S, (2023) Scientific Validation of Cannabidiol for Management of Dog and Cat Diseases, Annu Rev Anim Biosci. Available at: https://pubmed.ncbi.nlm.nih.gov/36790884/

Yu CHJ; Rupasinghe HPV, (2021) Cannabidiol-based natural health products for companion animals: Recent advances in the management of anxiety, pain, and inflammation, Res Vet Sci. Available at: https://pubmed.ncbi.nlm.nih.gov/34391060/

Suraev AS; Marshall NS; Vandrey R; McCartney D; Benson MJ; McGregor IS; Grunstein RR; Hoyos CM, (2020) Cannabinoid therapies in the management of sleep disorders: A systematic review of preclinical and clinical studies, Sleep Med Rev. Available at: https://pubmed.ncbi.nlm.nih.gov/32603954/

Atakan Z, (2012) Cannabis, a complex plant: different compounds and different effects on individuals, Ther Adv Psychopharmacol. Available at: https://www.ncbi.nlm.nih.gov/pmc/articles/PMC3736954/

Wang T; Zakharov A; Gomez B; Lyubimov A; Trottier NL; Schwark WS; Wakshlag JJ, (2022) Serum Cannabinoid 24 h and 1 Week Steady State Pharmacokinetic Assessment in Cats Using a CBD/CBDA Rich Hemp Paste, Front Vet Sci. Available at: https://pubmed.ncbi.nlm.nih.gov/35937287/

Urits I; Gress K; Charipova K; Habib K; Lee D; Lee C; Jung JW; Kassem H; Cornett E; Paladini A; Varrassi G; Kaye AD; Viswanath O, (2020) Use of cannabidiol (CBD) for the treatment of chronic pain, Best Pract Res Clin Anaesthesiol. Available at: https://pubmed.ncbi.nlm.nih.gov/33004159/

Mangal N; Erridge S; Habib N; Sadanandam A; Reebye V; Sodergren MH, (2021) Cannabinoids in the landscape of cancer, J Cancer Res Clin Oncol. Available at: https://pubmed.ncbi.nlm.nih.gov/34259916/

Kulpa JE; Paulionis LJ; Eglit GM; Vaughn DM, (2021) Safety and tolerability of escalating cannabinoid doses in healthy cats, J Feline Med Surg. Available at: https://pubmed.ncbi.nlm.nih.gov/33769105/
FAQ
Generally speaking, yes. Human cannabidiol products are perfectly safe for animals as long as they are made of the hemp variety of the cannabis plant (i.e., it's not psychoactive). However, when administering human products to cats, it's also crucial to be very careful with dosage and to calculate it specifically for your pet, based on different individual factors.
Yes, it can. Although cannabidiol is generally well-tolerated, an overdose of this compound can lead to a number of gastrointestinal side effects, such as gut irritation, vomiting, diarrhea, and others. Of course, this can harm the overall health of your pet. Due to this reason, it's always crucial to have a consultation with a veterinarian and carefully stick to the determined dosage.
By interacting with the animal's endocannabinoid system, cannabidiol can regulate different processes in the body, including sleep. A wrong dosage of cannabidiol can lead to prolonged sleep and excessive drowsiness. When used according to the correct dosages, CBD can promote calmness and relaxation. However, if you give your cat too much of such products, cannabidiol can even make your pet lethargic.
All in all, the effects of cannabidiol should be felt within 15 to 45 minutes after the administration. However, the time it takes to kick in, as well as the duration of the effects, depends a lot on the specific kind of product you choose for your pet. Some product types, such as cannabidiol oil, work faster because of a higher absorption rate. Other products may kick in slower. Keep this in mind when choosing the right option for your pet.