Sustainable Practices in the Cannabis Industry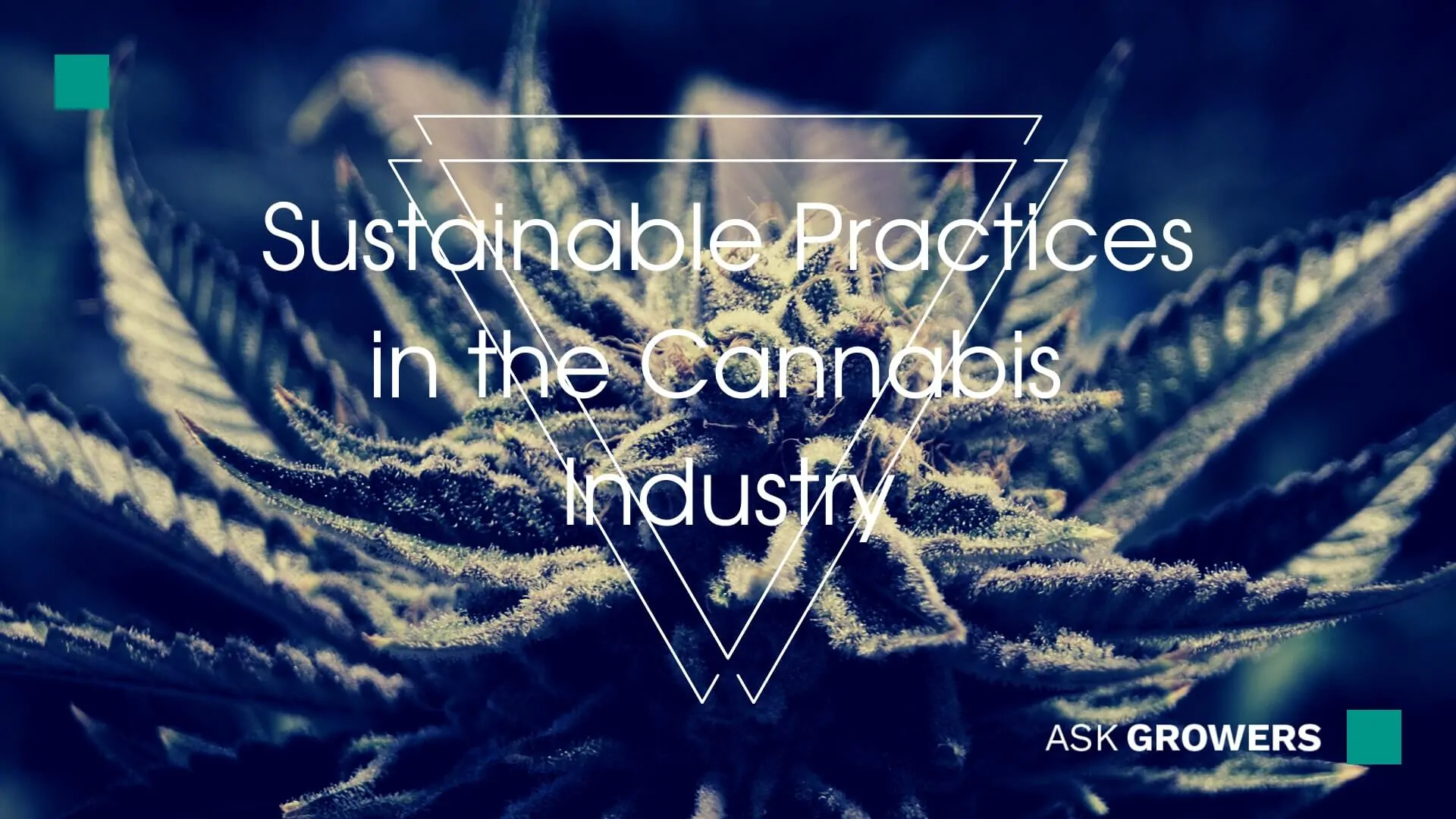 Worldwide demand for cannabis is growing fast as more and more countries legalize marijuana for medicinal and recreational use. But this boom is causing mounting concern over sustainability issues in cannabis cultivation. Not only does growing pot often use up lots of energy, water and produce tons of wastage, but because cannabis is a wellness product there is a high level of awareness among consumers about pesticide and chemical usage and other growing conditions. Cannabis producers must consider multiple environmental and consumer issues or risk losing out on a considerable slice of the market share.
In fact, recent studies have shown that over two-thirds of consumers take sustainability into account when buying a product and just as many are willing to pay more for sustainably produced products. On top of this, many cannabis producing regions are implementing and enforcing sustainable cultivation ordinances and laws that require growers to abide by set regulations or face fines, penalties or even closure of their business. So let's take a look at the top three environmental issues in cannabis production and the sustainable practices that will surely define the future of this fast growing industry.
Sustainable Lighting Practices in the Cannabis Industry
One of the most energy consuming factors in cannabis production is lighting. In fact, a recent study in Canada found that producing one pound of indoor grown weed used up to 2,000 kWh of electricity, about the same amount of energy needed to power and entire household for two months! With pounds and pounds of cannabis produced by the same cultivator this quickly adds up to an amount of energy usage that is not just environmentally unsustainable but can also become prohibitively expensive.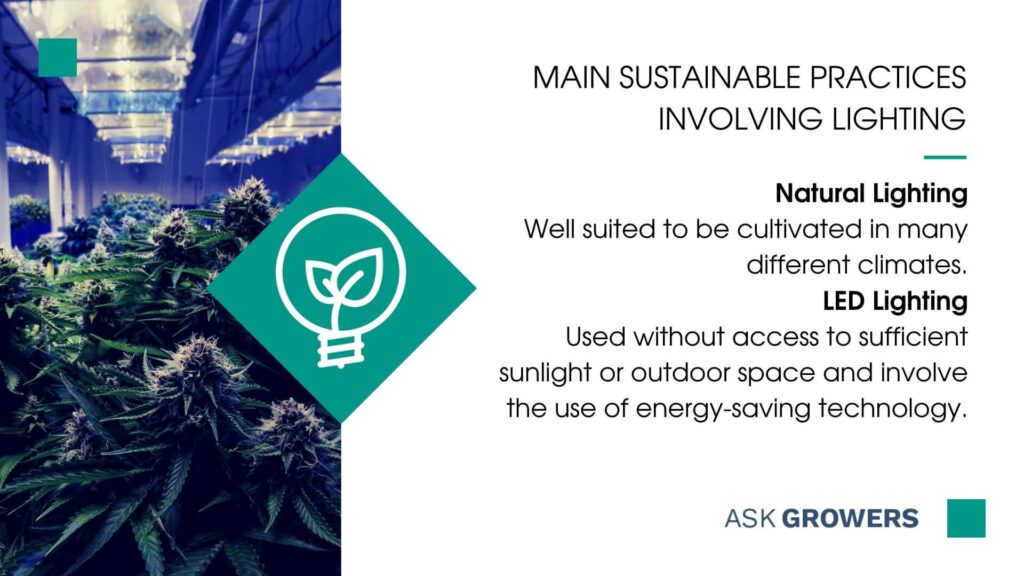 There are two main sustainable practices involving lighting in the cannabis industry: natural lighting and energy efficient lighting. Let's explore both of these options a bit further.
Natural Lighting: For most of it's history cannabis has been grown outdoors and is actually well suited to be cultivated in many different climates. This is why you have landraces from different part of the worlds stretching from Thailand to Jamaica, California to Colombia. But in order to do well outside, cannabis does need a sufficient amount of sunlight, something that all of those traditional growing regions have in common. In fact, in heritage growing regions like the Emerald Triangle of Northern California, sungrown cannabis is emerging as a premium sustainable product, with organizations like the Humboldt SunGrown Cannabis Guild certifying sungrown brands that are grown under strict organic and outdoor conditions. This ultra- sustainable cannabis may very well be the most sought after product class in the future.
LED Lighting: For those without access to sufficient sunlight or outdoor space, sustainable lighting practices involve the use of energy-saving technology like LED lighting. While LED lighting has a higher start-up cost than regular HPS (High Pressure Sodium) lightbulb driven systems, they eventually pay off in the long long. Not only do LED lights use around 50 percent less actual electricity, they also last longer and do not need to be replaced all the time like regular light bulbs. Another sustainability advantage to LED lighting is that it is easier to control and can be adjusted according to the grower's needs, which allows for further energy savings.
Sustainable Water Usage Practices in the Cannabis Industry
Besides needing a lot of light for optimal growth, cannabis is an incredibly thirsty plant and sucks up tons of water – up to one gallon of water per day per pound of cannabis being grown according to surveys of growers in Northern California. This makes water conservation techniques one of the most important sustainability factors in cannabis cultivation, especially since in drought hit regions (like California), the government often imposes limits on water consumption. Like wine producers, which use roughly half the amount of water as cannabis producers per plant, sustainable cannabis growers are turning towards water reclamation systems to recycle and reuse water and limit both use and wastage. These system are helping weed farmers use as much as 80 percent less water, a considerable environmental savings.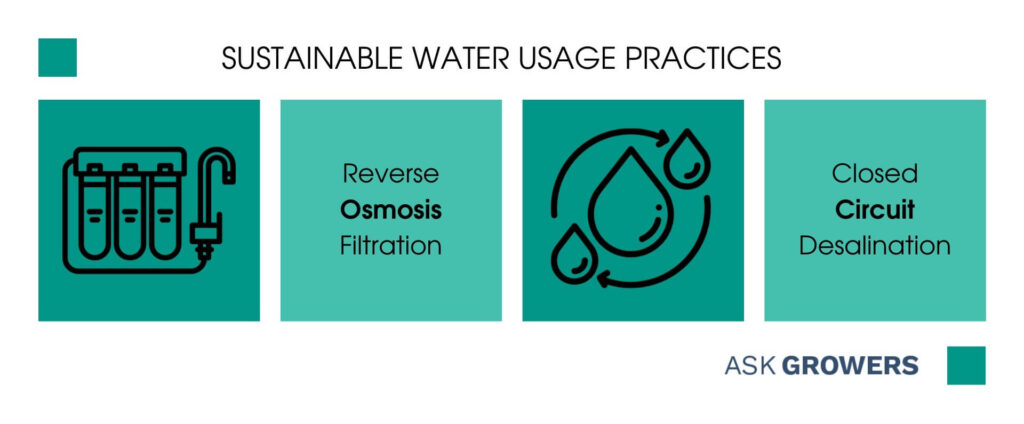 There are two main types of water reclamation systems in use right now among sustainable cannabis growers, the Reverse Osmosis (RO) type of system and the Closed Circuit Desalination (CCD) type of system. Here we take a closer look at both options.
Reverse Osmosis (RO): Reverse osmosis is a type of filtration that is already used by many different cities and municipalities to clean and purify public water. For cannabis growers, a reverse osmosis system is mainly used to recycle water that has been collected as humidity from transpiration inside of a greenhouse. The reverse osmosis system then filters and recycles that water back into pure water that can then be used again to water the plants. In order to work optimally, reverse osmosis systems need to have their filters changed regularly.
Closed Circuit Desalination (CCD): Closed circuit desalination systems are newer and more complex than reverse osmosis systems but allow for even greater water recycling abilities, up to 97 percent of wastewater. This allows growers to greatly reduce their water bill and also operate in areas where they have no access to water flows and instead keep using the same water over and over. CCD systems can also be used to tap into saltwater, brackish water and other types of natural water sources that traditionally would not be utilized in cannabis cultivation.
Sustainable Waste Disposal Practices in the Cannabis Industry
Waste production is surprisingly high in the cannabis industry, which is due to several unique factors. One is that because of it's formerly illegal status and it's still quasi-legal status in the United States and many other countries, cannabis growers could not take their plant waste to composting sites. Most of this plant waste ends up in landfills instead.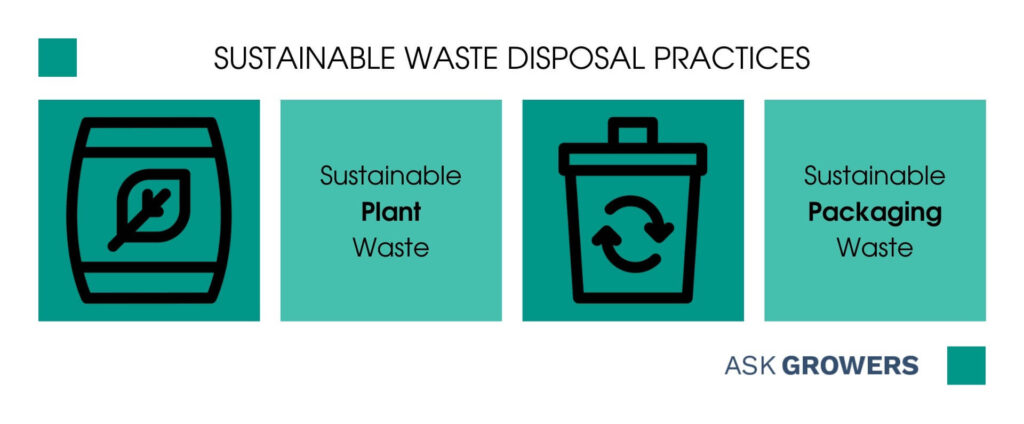 Legalization has also brought it's own problems in terms of waste. Because of the packaging requirements of most legal markets, cannabis producers now have to not only spend money on packaging products, but have become major producers of plastic and paper waste that also often ends up in the garbage and contributes to environmental pollution and contamination. Because plant waste and package waster are two separate problems, we are going to examine the emerging sustainable practices surrounding each separately.
Sustainable Plant Waste Practices: The best sustainable practice for dealing with plant waste is the creation of an onsite composting facility. While this may seem like lots of work, the nutrient rich compost that is created can then be recycled back into the soil and used in place of expensive products down the road. Because cannabis stalks and stems often need much more time to break down than leaves and flower waste, another innovative sustainable practice is to feed them into a wood chipper and use them as mulch for cannabis cultivation or another garden bed. In fact, cannabis plant waste can be used for a wide variety of ecological purposes and many sustainable farms are now creating significant side or cottage industries out of cannabis plant wastage.
Sustainable Packaging Waste Practices: Industry estimates that in the first year of legalization, Canada produced over 10,000 tons of cannabis packaging waste, most of it plastic that was not recycled. Fortunately however, a slew of sustainable packaging companies targeting the cannabis industry have recently emerged. From packaging made from recycled materials, to metal containers that can be simply washed and reused, the future of cannabis packaging looks to be as sustainable as it gets. One of the most promising areas of sustainable cannabis packaging is bio-degradable hemp packaging. Made from the cellulose rich hurd of the hemp plant, this eco-friendly solution can often be grown on-site by cultivators and become vertically integrated into the entire cannabis production process.
The Future of Sustainable Practices in the Cannabis Industry
Sustainable growing and production practices are predicted to be an integral part of the exploding cannabis industry, driven by both consumer demand and legislation aimed at keeping the industry as environmentally friendly as possible. The emergence of sustainability certification schemes, like the Cannabis Conservancy will only drive this movement forward. With seven different criteria that must be met, the Cannabis Conservancy ensures that cannabis cultivators are following best practices when it comes to sustainability and their certification appeals to cannabis consumers much like the organic certification appeals to produce and wellness product consumers.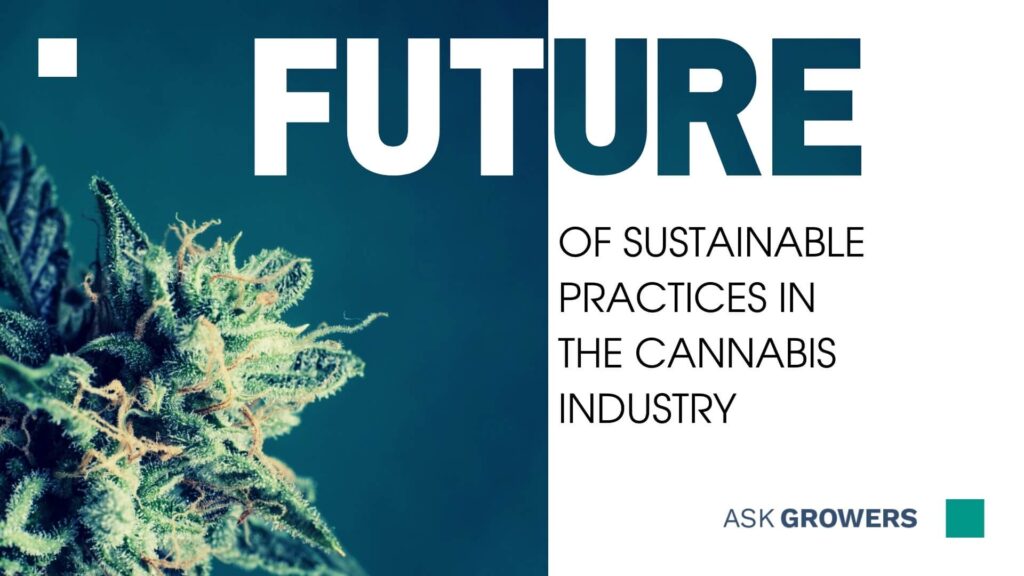 On the AskGrowers platform you can access the collected knowledge and wisdom of sustainable growers who are putting these practices into action. Our mission is threefold: to keep our readers educated and informed about all available strains in their region, to connect cannabis professionals and enthusiasts through their knowledge and passion, and to enable manufacturers to speak directly to their consumers and tell their stories. Join us to learn and share with other cannabis connoisseurs just like you.