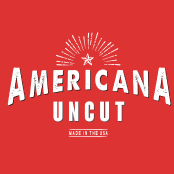 Americana Uncut Shipping Terms:
Free ShippingOn Orders Over $101
About Americana Uncut Review
Americana Uncut is an Oregon-based CBD company. The brand is known for its diverse selection of top-tier, hemp-infused products. The primary mission behind the brand is to deliver customers the purest and most potent products for health and wellness. And it's accomplishing it - Americana Uncut was titled 2019 Most Potent CBD.
The company is widely associated with its game-changing vape cartridges. Nevertheless, its product line also contains other goods, such as CBD topical salves, vape oils, flower pipes, and pre-rolled herbal mixes. Also, the brand offers a range of CBD-rich flower buds in Sour Space Candy, Blueberry Haze, Ice, Hawaiian Haze, and Suzy-q strains.
For its products, Americana Uncut uses 100% raw, organic, and non-GMO hemp grown in the USA. In order to create its full-spectrum extracts, the company uses the CO2 extraction method that allows for retaining a rich cannabinoid containment. Every product is then tested by the brand's farm to ensure purity.
The products offered by Americana Uncut are sold exclusively on Pure CBD Now. The store offers free delivery for orders over $100 and lots of great shopping benefits, such as regular discounts and special deals, an affiliate program, and a 20% military discount.