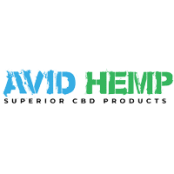 Avid Hemp Shipping Terms:
General transit times are as follows per region. Eastern seabord: 1-3 days. Midwest: 2-4 days. Western seaboard 4-5 days.
HQ Location
Tampa, Florida
Management
Jesse Myers, Founder
About Avid Hemp
Avid Hemp was founded in 2017 by a team of experts who have been researching and advocating the medicinal benefits of hemp for over 20 years. The brand takes its origins in Tampa, Florida. According to the brand's team, the primary mission of Avid Hemp is to deliver "Superior CBD Products" to everyone who wants to discover their health benefits.
Avid Hemp is a brand with a full range of CBD products. Among the items they offer are ingestibles like CBD oils, gummies, and capsules. Also, the brand provides CBD topicals, CBD flowers, as well as products for sleep and pets, and raw goods. All products are Full-Spectrum, which means they contain 0.3% THC or less.
The company uses primarily industrial Colorado hemp grown organically. However, sometimes, the brand also receives California-grown hemp. The company also chooses the CO2 extraction method with the environment in mind.
All the products presented by the brand can be purchased directly at their official store and shipped all across the US. The shipment is free of charge for all orders of $100 and up. Among other shopping benefits offered by the brand are regular promo codes that customers can use to get discounts and the possibility of next-day delivery for items that are in stock at the brand's dispatch depot. And there is also a lucrative affiliate program.
Apart from online, Avid Hemp products can be found in many retail locations across the US. However, the brand doesn't have a map of all offline locations yet.
The brand is fully transparent about the quality of its products. Every item goes through a thorough third-party lab test and all lab reports are provided right on the manufacturer's site.