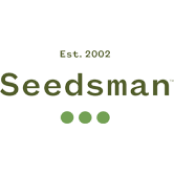 Seedsman Shipping Terms:
USPS First class - Tracked - Orders are shipped via USPS using their tracked service. Shipping takes up to 10 working days
Available In
USA,
Other Countries
About Seedsman
Seedsman is a Marijuana Seed Store that offers both own-produced strains and varieties from over 60 recognized breeders with worldwide recognition. The company focuses primarily on the quality of cannabis, which can be made available to everyone. At the weed seed store, customers can choose from 2000 varieties.
This Cannabis Seed Store has been slowly gaining success since 2002. The creators of Seedsman, two visionary cousins, have traveled the world looking for innovative ideas and inspired experts. As a result, Seedsman became the first seed bank with commercialized CBD and auto-flowering genetics.

The company, which has existed for two decades, has not betrayed its ideals. They can be summarized in three words: development, innovation, and accessibility. By improving the quality of cannabis, Seedsman helps many people, whether they have a medical condition or want to reduce stress.
Seedsman is based in Spain and the UK and also has warehouses in the US. The store offers worldwide shipping. However, potential buyers should check their countries' marijuana policies first. If marijuana is criminalized, Seedsman, unfortunately, does not process exchanges or refunds. However, you can take out shipping insurance.