Sol CBD Advanced Liposomal CBD Capsules
$59
On Official Website
Sol CBD Shipping Terms:
FREE SHIPPING ON ORDERS OVER $85. Shipping takes 2-7 business days.
Category: CBD Capsules
Brand: Sol CBD
CBD: 750 mg
THC: 0%
Flavour: Natural
Quantity: 30 capsules
Servings: 25 mg per capsule
Sol CBD Advanced Liposomal CBD Capsules Review
SolCBD has produced an organic, precisely formulated CBD product for everyone seeking relief from stress and chronic pain. These Advanced Liposomal CBD capsules use a proprietary extraction formula that enhances the ingredients' bioavailability and maximal effects. The manufacturer guarantees 17x higher bioavailability of the premium CBD oil included in its capsules, ensuring that the CBD gets to your gut and produces an effect on your health conditions ten times faster than other CBD products. Try SolCBD's Advanced Liposomal CBD capsules to enjoy a science-based, clinically tested CBD remedy for your conditions and get 25mg of CBD in every dose. The brand's cold-pressed CO2 oil extraction method and freedom from solvents or harmful substances make the use of these capsules a safe, rewarding experience.
About Sol CBD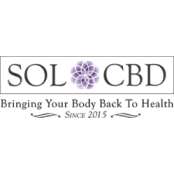 SOL CBD is a CBD brand founded in 2015. The brand was established by Oksana and Larry Ostrovsky - natural health advocates with over 8 years of experience and a passion for the benefits of CBD.. "Bringing Your Body Back to Health" - this motto clearly describes the primary mission of SOL - to make people's lives healthier and happier with world-class CBD products.
Discover More CBD Products by Category