Zatural CBD Softgels with Melatonin Broad Spectrum Nano CBD Oil
$55
On Official Website
Zatural Shipping Terms:
Free Shipping on all orders over $5 in the U.S.
Category: CBD Capsules
Subcategory: CBD SoftGel
Brand: Zatural
CBD: 750 mg
THC: 0%
Flavour: Natural
Quantity: 30 capsules
Servings: 25 mg per capsule
Zatural CBD Softgels with Melatonin Broad Spectrum Nano CBD Oil Review
There's nothing more valuable for your daily productivity than a good night's sleep. Luckily, with CBD Softgels with Melatonin by Zatural, you receive your dose of tranquility and peace of mind before bedtime. This unique product by Zatural contains a highly bioavailable nano CBD extract, 25mg of CBD in each softgel. It is enhanced with the soothing effect of melatonin – 1mg per softgel, a total of 30mg per bottle. The CBD Softgels with Melatonin are conveniently sized and shaped, so they are easy to take. What's more, they contain zero THC due to the use of broad-spectrum CBD extract in their content. Get your share of natural, deep sleep and watch how your sleep cycles improve with this potent CBD remedy.
About Zatural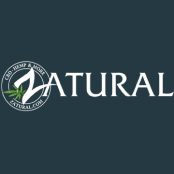 Zatural is a natural oils company founded in 2018 by Maryann Stranger, a naturopathic doctor and a certified digestive health specialist. The brand is based in Eden, Idaho.. The company boasts an excellent reputation in the industry, which is supported by numerous awards, including the 2013 Nutra Award, the 2014 Golden Apple Award, the 2018 Supply-Side Award, the 2021 Best Broad Spectrum CBD, and others.
Discover More CBD Products by Category