Prest Organics Organic CBD Hemp Oil
Category: CBD Oils
Subcategory: CBD Tinctures
Brand: Prest Organics
CBD: 60
THC: 0%
Volume: 30 mL
Flavour: Natural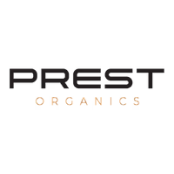 Prest Organics
Official Brand Website
Secure shopping
Prest Organics Organic CBD Hemp Oil Review
With the healing properties of organic hemp, PREST Organics offers natural relief that you can feel within minutes. Its Organic CBD Hemp Oil is made using the patented cold-press extraction method, which allows for preserving terpenes, flavonoids, chlorophyll, vitamins, minerals, and omega fatty acids. The potency of a 30 ml bottle is 500 mg of full-spectrum CBD. Since no flavorings are used, the oil has a natural peppery taste. It is sealed instantly upon pressing and bottled in light-protective Miron violet glass flasks to maintain its purity and avoid changing its molecular structure.
About Prest Organics
Prest Organics is an all-organic CBD brand that strives to deliver calmness and balance to everyone's life. The primary focus of the brand is the development of fast-acting CBD goods the effects of which, according to Prest Organics, you will feel in minutes.. The brand's product line consists of organic CBD hemp oil and pet oil.
CBD Oils by Subcategories