Batch Fire and Ice Balm 1250mg
$49.99
On Official Website
Batch Shipping Terms:
FREE SHIPPING ORDERS $25+! The delivery timeframe is typically 3-7 business days.
Category: CBD Topicals
Subcategory: CBD Balm
Brand: Batch
CBD: 1250 mg
THC: 57 mg
Flavor: Menthol and Camphor
Weight: 70 g
Batch Fire and Ice Balm 1250mg Review
Aching muscles can cause discomfort if not treated with a relieving cream with a mix of cooling and muscle-warming effects. That's what the CBD Balm: Fire & Ice by Batch can deliver. Using this CBD topical, you get a stable supply of 1,250mg CBD packed into a 75ml no-mess stick. Make your muscle and joint relief convenient and pleasurable with this unique formula containing camphor, menthol, jojoba oil, and a mix of essential oils with anti-inflammatory properties. The non-GMO CBD Balm: Fire & Ice has a gentle lemongrass aroma that will make the process of post-workout skincare a great treat.
About Batch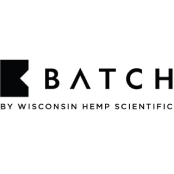 Batch CBD is a subsidiary brand of Wisconsin Hemp Scientific - a licensed hemp manufacturer and testing lab located in Sussex, Wisconsin. The brand was established in 2018 by three lifelong friends with a background in chemistry, which enabled them to create unique and best-in-class formulas that make this manufacturer stand out from the competition.. Batch is one of a few brands that use exclusively Wisconsin-grown hemp in its products.
Discover More CBD Products by Category