Leaf Remedys CBD Gummies Mixed Flavours Sugar and Sour 1500mg
$69.99
On Official Website
Leaf Remedys Shipping Terms:
FREE SHIPPING ON ALL ORDERS WITHIN THE U.S!!! Standard Shipping orders can take from 3 - 7 business day from the day they were shipped.
Category: CBD Edibles
Subcategory: CBD Gummies
Brand: Leaf Remedys
CBD: 50 mg per gummy
THC: 0.15 mg per gummy
Flavour: Blue Raspberry, Strawberry, Lime
Quantity: 30 gummies
Leaf Remedys CBD Gummies Mixed Flavours Sugar and Sour 1500mg Review
1500mg CBD Gummies mixed flavors will let you experience the powerful effects of cannabidiol. Three flavors are included in the mixed flavor bundle. The variety of flavors includes strawberry, raspberry, and lime. Despite the small size of the pieces, each of them contains 50 mg of CBD, making them the most powerful product. CBD Gummies also contain traces of THC, but not enough to get you high. Full-spectrum CBD gummies are sold in packs of 30, allowing you to enjoy the product for a long time. You can use this product for pain and stress relief. These sweets can make your day a little less stressful.
About Leaf Remedys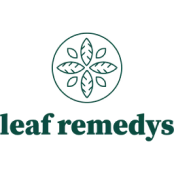 Leaf Remedys is a CBD brand founded in 2018 by family members who know and deeply believe in the positive effects of CBD. The primary mission of the company is to provide a variety of beneficial products to people to help them improve their moods and quality of life, and find ways to manage chronic pain and anxiety.. The company offers a wide range of products, including CBD gummies, tinctures, capsules, soft gels, topicals, and products for pets.
Discover More CBD Products by Category