Category: CBD Edibles
Subcategory: CBD Gummies
Brand: Cornbread
CBD: 20 mg per gummy
THC: 1 mg per gummy
Flavour: Organic Berry
Quantity: 30 gummies
Cornbread Full Spectrum CBD Gummies 300mg Review
Full Spectrum CBD Gummies - 300mg are some of the tastiest chewing gums on the market. These delicious candies from Cornbread contain 20 mg of CBD and 1 mg of THC per gummy. The vegan-friendly gummies come in a pack of 30 pieces and have a tasty organic berry flavor. They don't contain high-fructose corn syrup, gelatin, or artificial colors. The gummies are one of the best ways of boosting your energy levels to carry you through the day.
About Cornbread Brand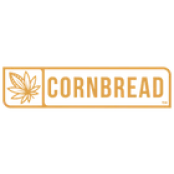 Cornbread Hemp was founded in 2019 in Kentucky. Today, this brand is considered the #1 CBD company in the Bluegrass State.. The brand was founded by two cousins, who used their own expertise and knowledge of hemp benefits to help improve the quality of millions of lives through high-quality CBD products.