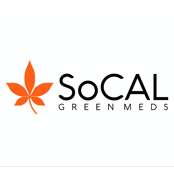 SoCal Green Meds
Hesperia, California
Med
Accessible
License information

License information

Lic. No. C9-0000251-LIC
Tuesday
12:00am - 12:00am
Wednesday
12:00am - 12:00am
Thursday
12:00am - 12:00am
Saturday
12:00am - 12:00am
SoCal Green Meds
SoCal Green Meds is an award-winning dispensary year after year. This online store is for delivery only. The SoCal Green Meds website is very user-friendly. The range of products may vary slightly depending on which part of the state you are in. Before viewing the item, the site will ask you: Are you from Southern California or Northern California? And then redirect you to the page with the relevant products. In addition, you can text or call this company to get more information about their work schedule and delivery method. You can also contact with questions about products, and the company encourages interest in this.
Company Principles
SoCal Green Meds only sells its products to patients with medical advice. Unfortunately, those who want to get marijuana for recreational purposes will not be able to get what they want. However, if you are a patient who does not have an up-to-date recommendation or a person who would potentially like to receive such a document, you can do this at SoCal Green Meds. The company cooperates with Online Medical Card and offers consultations with a doctor.
What's on the Menu?
SoCal Green Meds dispensary offers brands and products of various types. You will definitely find what you like among:
Vape pens
Flower
Edibles
Concentrates
Gear
Topicals.
Order Features
Before you place an order, you must email the company your recommendation and a document confirming your identity. You can pay for your order either in cash upon receipt or by debit card. SoCal Green Meds does not accept credit cards due to federation rules.
Sometimes clients have questions about taxes. However, the company assures them that the price includes the cost of the product and all taxes and excise duties. Thus, SoCal Green Meds is an affordable service.
After placing your order, an employee of the company contacts you and informs you of the approximate arrival time. Sometimes, the date may not match due to technical reasons, but SoCal Green Meds allows you to track your package. Be aware that state regulations do not allow packages to be delivered after 10 pm. SoCal Green Meds also accept pre-orders, and you can make your call at any time. The dispensary remains in touch 24/7. However, you can receive delivery only from 7:00 to 22:00.