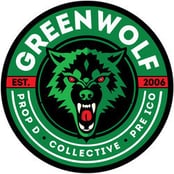 GREENWOLF LA
Los Angeles, California
Med + Rec
Accessible
2950 Los Feliz Blvd #100, Los Angeles, California, 90039
License information

License information

Lic. No. C10-0000549-LIC
Wednesday
8:00am - 10:00pm
Thursday
8:00am - 10:00pm
Saturday
8:00am - 10:00pm
GREENWOLF LA
Greenwolf LA is one of the old-timers in the LA cannabis industry. The company has only two stores in the whole state, but they value quality over quantity. Both shops are well located, for example, the Greenwolf Bellflower store is near Costco, so visitors can always find a parking place. Not for nothing, this shop has the most awards in the history of the High Times Award.
The store has a delivery option, but to make an order online comfortably, you need to sign up on their website. By doing this, you will also join the loyalty program to get rewards, exclusive gifts, and the latest stock updates.
Why is Greenwolf LA so Popular?
Greenwolf dispensary has one of the widest selections you can find in LA collectives. They've worked thoroughly with it and found dozens of unique and trustworthy brands to push forward in the industry. For this reason, you don't have to worry whether you'll find something suitable, all possible needs and desired effects can be met here.
Because of its continually growing popularity, Greenwolf is said by some to be a bit overcrowded place. But that's the price for being one of the best weed shops, isn't it? Not to make their customers wait in long lines, especially during the Covid-19 pandemic, flowers are weighted and packed in advance, so you won't need to wait until the budtender will do this for you and all the people standing in front.
Hundreds of Cannabis Products for Sale (THC & CBD)
The store sells all categories of cannabis products. Sativa, Indica, and hybrid strains go in hundreds of options and have THC and/or CBD markers on the website. You can also find pre-rolls here that come piece by piece or in sets of 2, 5, or 7 pieces. By the way, they have joints of different weights, so you can buy one ranging from 0,5g to 6g. They sell vaporizers, concentrates, edibles, tinctures, topicals, and accessories as well.
An interesting thing is that Greenwolf has a separate category for CBD-infused products, some of them you won't find anywhere else! The amount of forms is unbelievable: bath salts, body soaps, lotion bars, bath bombs, rolls, chew for cats or dogs, calming treats for pets, catnip sprays, and many others. An even better category is "Staff Picks", where the best of the best products are collected together. As it was said in one review, don't come, RUN to this store!
Working hours: 8 am – 10 pm Mon-Sat, 9 am – 9 pm Sun (Los Feliz Blvd); 9 am – 9 pm Sun-Thurs, 9 am – 10 pm Fri-Sat (Artesia Pl, Bellflower)