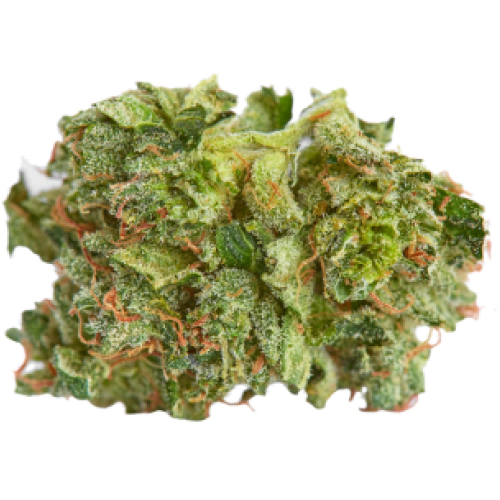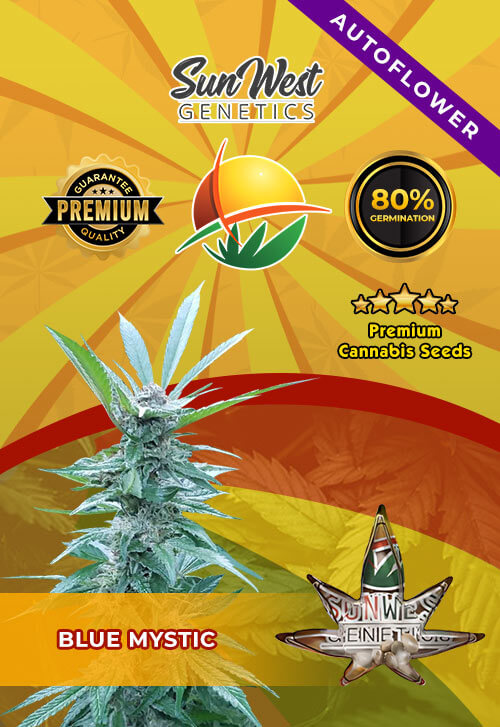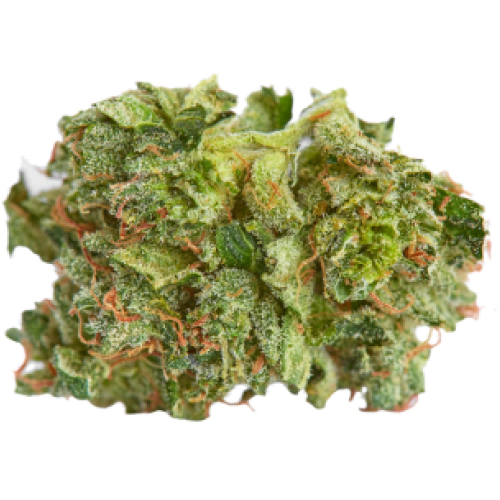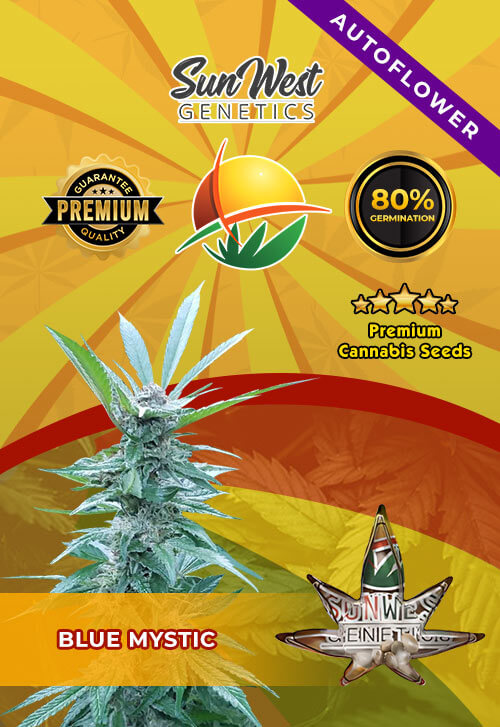 Blue Mystic Autoflower Seeds
by Sun West Genetics
On Official Website
Sun West Genetics Shipping Terms:
Free shipping for orders over $200 High quality seeds Fast & Reliable support
CBD: 0.10 - 1.00%
THC: 18 - 21%
Seed Type: Autoflower
Type: Indica-dominant hybrid
Yields: 3oz - 5oz (85g - 141g)
Climate: Temperate, Sunny, Cool
Effects: Happy, Euphoric, Relaxed
Flavors: Sweet, Fruity, Floral
Genetics: Blueberry x Northern Lights x Ruderalis
Plant size: 23 - 31 inches (60 - 80 cm)
Environment: Indoor, Outdoor
Harvest period: All Year
Flowering period: 8 - 10 Weeks
Growing difficulty: Easy
Information About Blue Mystic Seeds Genetics
The autoflower variety of the Blue Mystic cannabis strain has Blue Mystic and Shirt Ryder as its genetic parents. This hybrid with Indica dominance (70% Indica / 30% Sativa) traces its lineage to legendary and award-winning Blueberry and Northern Lights and has inherited some of their characteristics. With Blue Mystic seeds, you don't need to worry about appropriate lighting cycles because the plants will automatically switch to the flowering stage.
Major Effects and Flavors
The THC load of this weed is moderate – 17%, with 1% CBD. However, due to Indica genes, it can be too powerful for inexperienced users. Blue Mystic autoflower seeds produce buds that deliver a potent physical high, encouraging rest, total body calm, and couch-lock effects and assisting with painful symptoms and muscle tension. Smokers experience an uplift in mood and sociability, which helps with fatigue and depression. This cannabis is beloved by many people for its sweet fruity aroma and berry-like aftertaste. The smell is accented by distinct woody and earthy notes with citrus hints.
Blue Mystic Autoflower: How to Grow It at Home
This marijuana can be grown indoors and outdoors. It is a good choice for beginning growers and gardeners who want to add a beautiful cultivar to their collection. A Blue Mystic seed is relatively easy to care for and thrives with minimal external aid. The strain prefers mild and warm climates similar to the Mediterranean, with temperatures around 68°-80°F. It needs plenty of direct sunlight. To maximize yields, growers can use hydroponics setup and implement the SoG method. The bushes grow compact with a height of 2.3ft and rarely top 6ft, which makes them ideal for indoor settings. In 7-9 weeks, expect your plants to bloom. In indoor conditions, they produce harvests of 7-10 ounces per 1 m2. With outdoor cultivation, yields come in September or early October. You can achieve 2-3 ounces of dried buds per plant. The dense buds have purple hues, hence the name, and are covered with a thick coat of blue-tinted trichomes.
About Sun West Genetics
Sunwest Genetics collects various marijuana strains that can be greatly improved for users. Sunwest Genetics was founded in 2015 and has been making life easier for growers for 7 years now.. The main advantage of this seed bank lies in the strong support team that is available both via chat and phone.