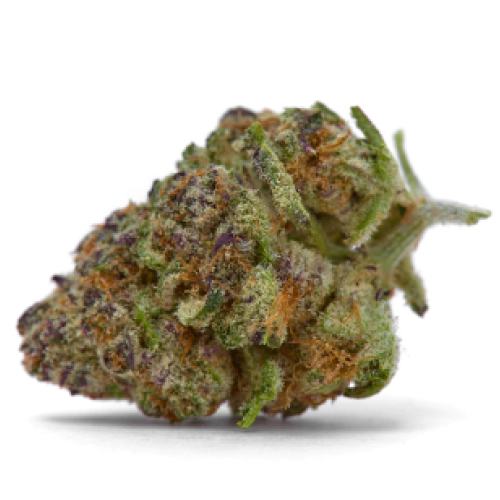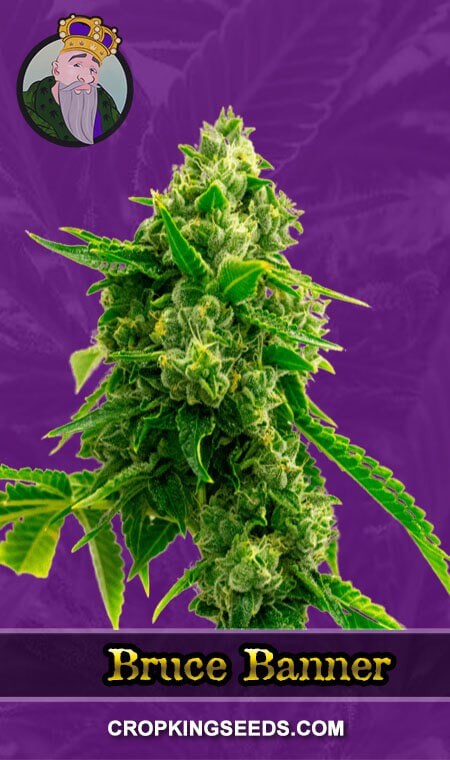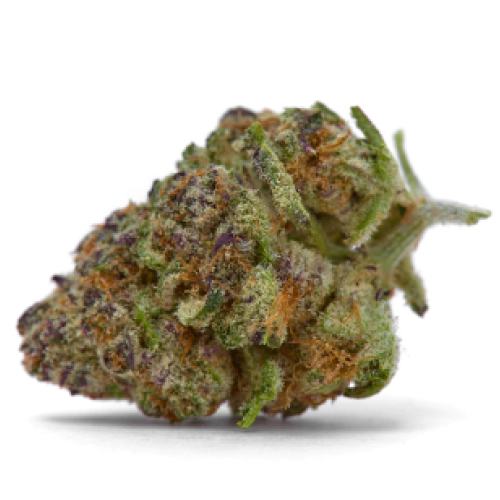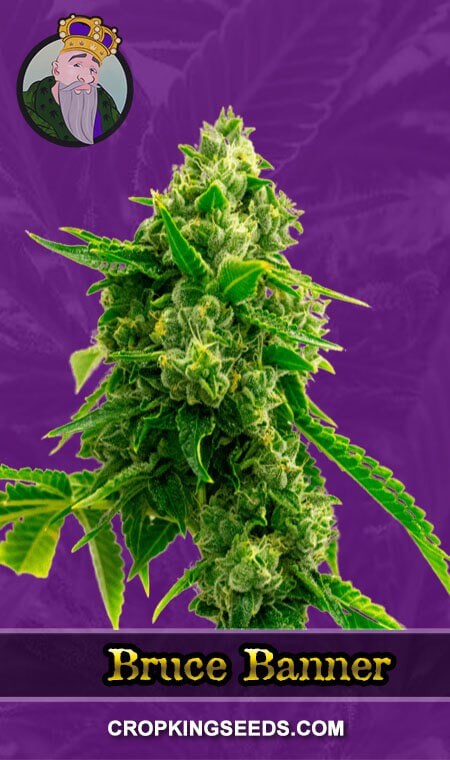 Bruce Banner Autoflower Seeds
by Crop King Seeds
On Official Website
10% OFF ALL MARIJUANA SEEDS
KING10
Crop King Seeds Shipping Terms:
Free shipping for orders over $200 Shipped with complete privacy Express shipments take 2-5 days for delivery
CBD: 0.50 - 0.80%
THC: 23 - 26%
Seed Type: Autoflower
Type: Indica-dominant hybrid
Yields: 10oz - 15oz (280g - 425g)
Climate: Temperate, Sunny
Effects: Relax
Genetics: Bruce Banner x Unknown Ruderalis
Environment: Outdoors
Flowering period: 8 – 10 Weeks
Bruce Banner Autoflower Seeds: What You Need to Know About Cultivation
Bruce Banner, the cannabis strain named after the Marvel character, has a lot of intensity under the surface. Its autoflower seeds are THC bombs waiting to pop and develop into weed plants rich in cannabinoids.
Origin, Flavors, and Effects
Award-winning Bruce Banner was created by mixing OG Kush and Strawberry Diesel. Indica-dominant Bruce Banner autoflower seeds also include ruderalis genetics, which is a third species of cannabis. This cross allows the weed to survive harsh conditions and flower quickly.
As for the taste, Bruce Banner comes with a unique mix of sweet, earthy, and diesel flavors. Since the flowers emit a strong odor, you may need to install scent filtration.
The cultivar holds impressive THC content reaching 23-26%. This weed delivers the knockout effect while allowing you to remain balanced; however, know your limit to avoid overindulging. With these potent buds, you will feel relaxing and calming effects that will leave you happy for hours. Also, it is an ideal strain to give you a boost in social events.
Given the positive effect of THC on the nervous system, some people report decreased pain, anxiety, and stress levels after using Bruce Banner. It helps those struggling with sleep problems and appetite loss.
Preferred Conditions for Growing Bruce Banner Autoflower Seeds
Bruce Banner seeds have a moderate growing difficulty and are suitable for experienced and novice cannabis growers. The plants are resistant to mold and diseases. These autoflower seeds make the growing experience fuss-free and save time because you'll never need to adjust the light cycles. Plants grown from autoflower Bruce Banner seeds begin to flower when they reach a specific development stage, unlike photoperiod seeds requiring changes in lighting. Its flowers produce the same effects as those of feminized, except the yields will be smaller since the plants have less time to grow.
Climate Requirements
Bruce Banner seeds need to be planted in a warm and dry climate. It takes them 7-10 weeks from seed to harvest. If you are lucky to live in Southern California, you can grow these seeds outdoors because they prefer Steppe and Mediterranean climates. Choose a spot where your plants will get plenty of light every day and water them regularly.
Indoor growing is also suitable for this strain. It allows gardeners to control the temperature, humidity, and lighting. Maintaining a temperature of 65°–80°F and humidity of 40-60% is a golden standard for growing this weed. Don't expose your plants to low temperatures and rainy weather since they will have stress because of excessive humidity and cold. Make sure the growing site has good air flow circulation to prevent mold and rot. You can use fans or take your potted plants outside for a couple of hours daily.
The plants are pretty hard. They are small and medium-sized (2-4ft high), which is a great option for gardeners with limited growing space. Since this weed is bushy and has dense foliage, growers can manage its thick canopy with trimming. Avoid using stress-training techniques because indoor plants don't have enough time to recover before their blooming stage.
Important Tips for Rich Yields
Bruce Banner plant has demanding requirements regarding feeding. It means you will need soil loaded with nutrients to ensure sufficient yields. Though, be careful with nutrients because the strain is sensitive to fluctuating nutrient levels and susceptible to nutrient burn. Nitrogen, calcium, and magnesium are significant for the vegetative stage, and extra phosphorus is a must for the flowering period.
These seeds thrive in hydro and soil. The choice depends on your preference and experience. The perfect soil for Bruce Banner auto seeds should be slightly acidic (pH between 6 and 7.)
Before looking for Bruce Banner seeds for sale, you probably want to learn about the yields. This marijuana strain produces 12-15 ounces per plant outdoors, while indoor crops amount to 15-20 ounces per 1 m2.
About Crop King Seeds
Crop King Seeds was established in 2005 in Canada and started as a small firm improvising with cannabis seeds. Soon, it turned into a full-fledged company with 300 outlets.. Then, there was a transition into an online store.