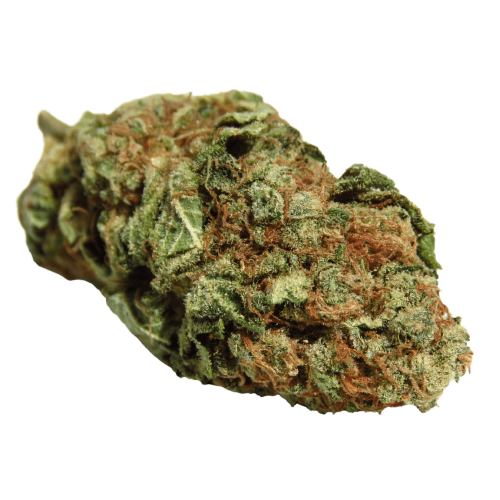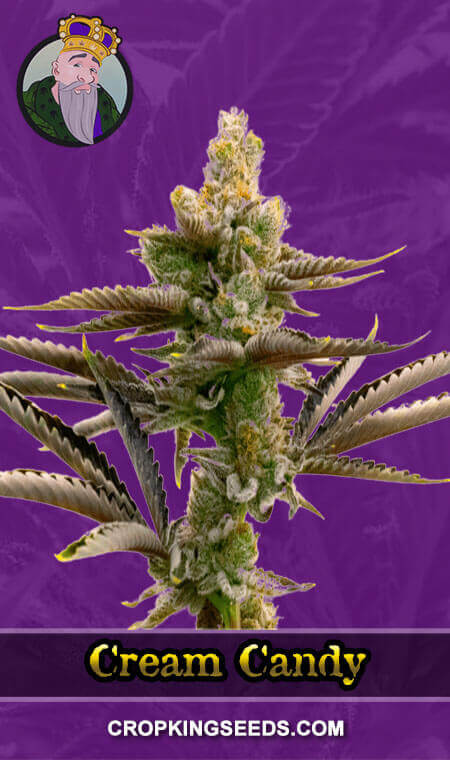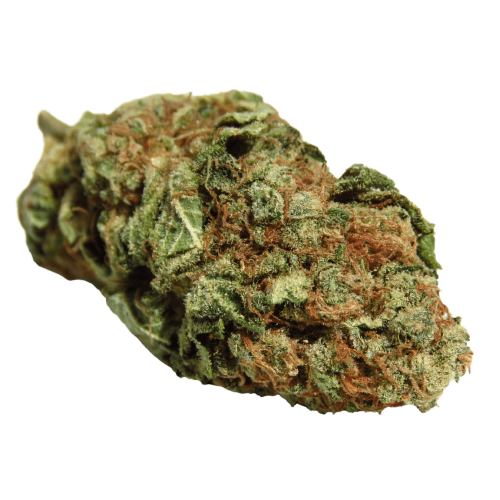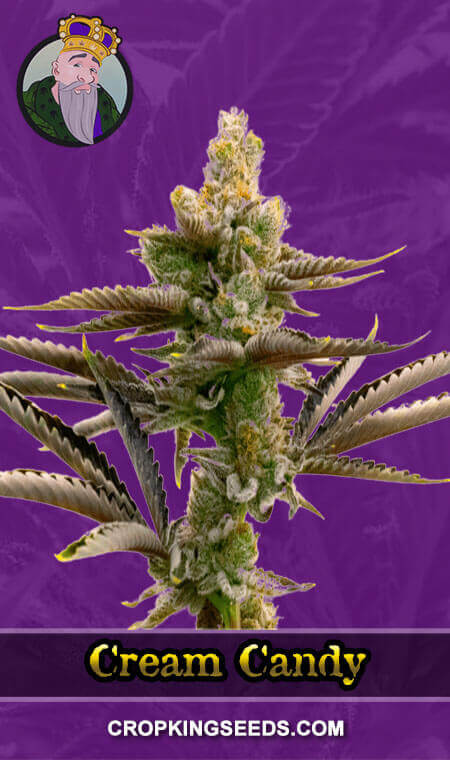 Cream Candy Autoflower Seeds
by Crop King Seeds
On Official Website
10% OFF ALL MARIJUANA SEEDS
KING10
Crop King Seeds Shipping Terms:
Free shipping for orders over $200 Shipped with complete privacy Express shipments take 2-5 days for delivery
CBD: 0.10 - 1.00%
THC: 15 - 20%
Seed Type: Autoflower
Type: Indica-dominant hybrid
Yields: 4oz - 7oz (113g - 198g)
Climate: Temperate, Sunny, Cool
Effects: Relaxation, Euphoria, Appetite Stimulation
Flavors: Sweet, Vanilla, Earthy, Flowery
Genetics: Cream Caramel x Unknown
Plant size: 31 - 55 inches (80 - 140 cm)
Environment: Indoor, Outdoor
Harvest period: September
Flowering period: 8 - 9 weeks
Growing difficulty: Easy
Why Cream Candy Seeds Are Perfect For Beginner Growers
Cream Candy has heavy Indica genetics and up to 24% THC level. The weed resulted from crossing Cream Caramel and Lowryder and was powered by Ruderalis DNA to create an autoflower plant. This strain is already popular among cultivators and medical consumers, and it is destined to go down in history.
As an award-winning hybrid, a Cream Candy seed is a perfect choice for cultivators with small growing experiences. Its legendary and potent gene pool makes this marijuana rich in an array of terpenes and cannabinoids.
Cultivation and Effects of Cream Candy Autoflower
Growing Candy Cream cannabis is easy and quick. Having a heavy Indica specimen, this marijuana bud retains a short, squat stature of about 3.6 feet. Since Creamy Candy autoflower seeds do not require lots of space or maintenance, they are suitable for indoor and outdoor conditions.
The strain has an extremely short flowering cycle of 8-10 weeks, but it depends on growing conditions and light exposure. To reach the highest yield, you can consider hydro setup or coco coir. When properly grown following the Screen of Green (SOG) setup, indoor plants of Candy Cream deliver a yield of 14–21 ounces per m2. Outdoor plants deliver a yield of 11-18 ounces per plant.
The rich genetics of this cannabis bud offer smokers a wide array of terpenes and cannabinoids, which deliver soothing emotional and physical effects. The same cannabinoids and terpenes are responsible for a sweet caramel flavor aroma followed by earthy notes.
About Crop King Seeds
Crop King Seeds was established in 2005 in Canada and started as a small firm improvising with cannabis seeds. Soon, it turned into a full-fledged company with 300 outlets.. Then, there was a transition into an online store.