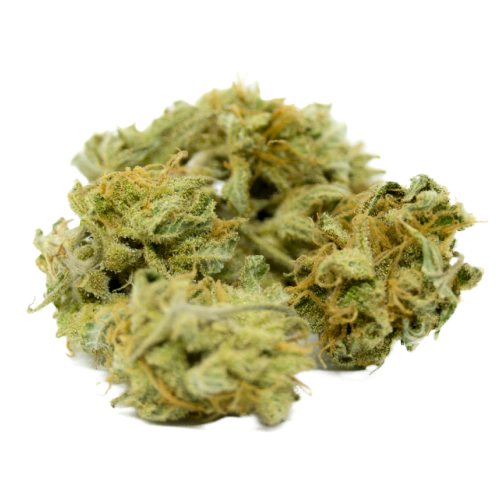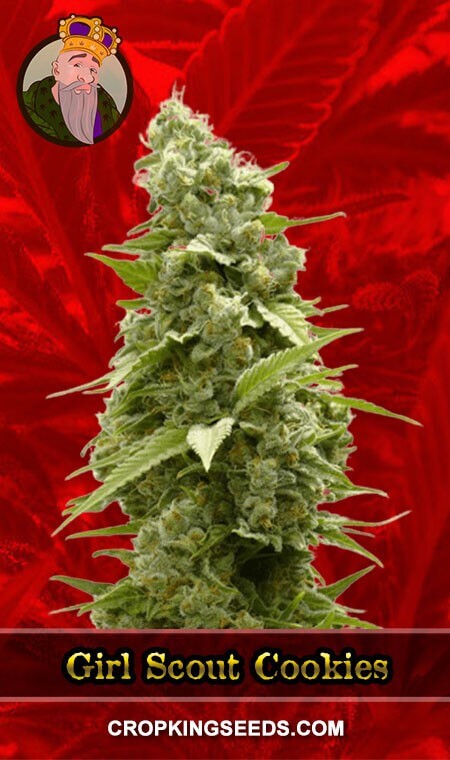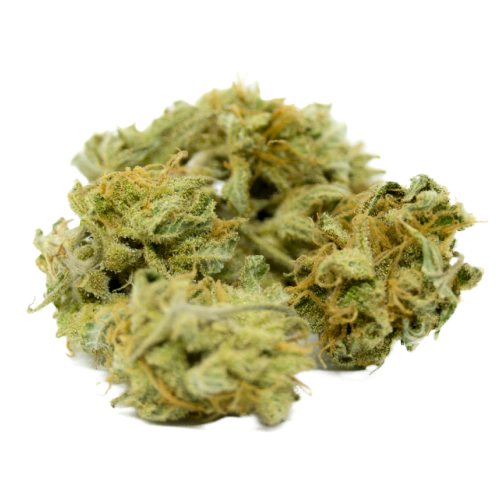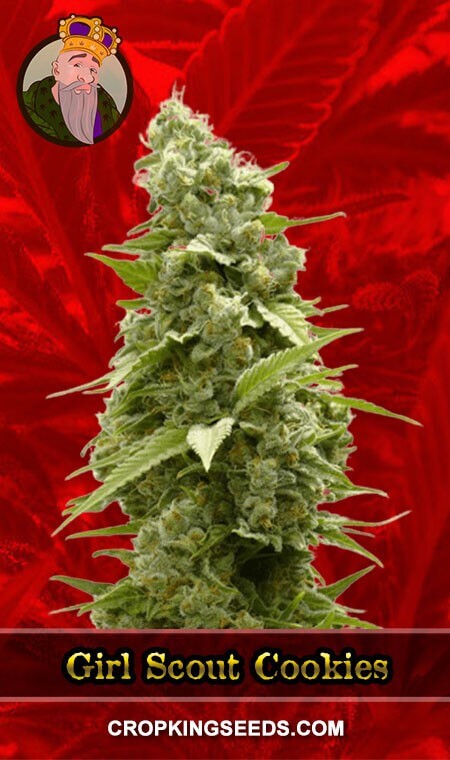 Girl Scout Cookies Feminized Seeds
by Crop King Seeds
On Official Website
10% OFF ALL MARIJUANA SEEDS
KING10
Crop King Seeds Shipping Terms:
Free shipping for orders over $200 Shipped with complete privacy Express shipments take 2-5 days for delivery
CBD: 0.05%
THC: 25%
Seed Type: Feminized
Type: Sativa-dominant hybrid
Yields: 25oz - 29oz (700g - 800g)
Climate: Meditteranean
Effects: Relax
Flavors: Citrus, Musky, Spicy, Herbal, Sweet
Genetics: GSC (Durban Poison x OG Kush) x GSC Platinum Cut
Environment: Indoors, Outdoors
Harvest period: October
Flowering period: 10 Weeks
Growing difficulty: Hard
Growing Feminized Girl Scout Cookies Seeds
The Girl Scout Cookies (GSC) is a heavy-hitter that carries the genetics of super potent parents – GSC (Durban Poison x OG Kush) and GSC Platinum Cut. The cultivar is named after an iconic American cookie, which is sweet and pungent. Girl Scout Cookies emits a strong aroma reminding of freshly baked cookies with mouth-watering sweet, musky, and spicy notes. Growers with a keen nose can also detect slight herbal and citrus undertones. This marijuana is perfect if you want to load up on THC because it contains 25% of this cannabinoid and only 0.05% of CBD. Expect an extreme mind high and euphoria followed by a relaxing body buzz, which results in couch-locked effects. So, be careful with the dosing if you are new to cannabis. This weed helps with numerous medical issues and is highly effective in combating symptoms of stress, anxiety, fatigue, insomnia, and pain.
This sativa-dominant strain is among the hardest-hitting cannabis cultivars on the market. Feminized Girl Scout Cookies seeds 99% guarantee that you get female plants. They allow for achieving decent yields and supplying growers with plenty of weed.
Growing Techniques for Girl Scout Cookies Feminized
The plants grow relatively short and stout for a hybrid strain, reaching 2.3ft indoors and 2.6ft in the open air. They have a bushy structure that can be managed with different training methods, including pruning, topping, Screen of Green (SCROG), or Sea of Green (SOG) techniques. These methods will allow you to improve plants' health and increase yields significantly. With regular pruning of the lower fan leaves, you can encourage the plants to grow taller and produce more buds. Besides, the maximum number of budding sites will get exposed to light. Don't allow any excess stress during flowering because it may delay this cycle.
Gardeners can use hydroponics or standard growing techniques. With a hydroponic approach, Girl Scout Cookies feminized seeds grow amazingly. If choosing soil, cultivators should enrich it with a nutrient mix.
Growing Peculiarities
Girl Scout Cookies seeds come with moderate cultivation difficulty. With knowledge and proper skills, new growers can obtain decent yields. The seeds are better planted indoors where you can control the environment. During the vegetative stage, these plants require intense light exposure of at least 18 hours daily, so you need LED or LEC grow lights in your growing site. When the time comes for the plants to develop flowers, you should reduce lighting to 12 hours of light per day.
With little care and attention, your indoor plants can reach even 4-5 feet and provide yields of 15-19 ounces per 1 m2. You need to keep your garden within the temperature range of 68°-80°F and well-managed humidity levels. The flowering period is anticipated in 8-10 weeks. The plants' characteristic smell becomes more intense closer to harvest.
GSC seeds can grow well outdoors only if you live in a warm climate because it prefers the Mediterranean climate with warm and sunny weather and plenty of sunshine. Though outdoor growing is tricky, it can be incredibly rewarding because each plant can yield up to 17-18 ounces of high-quality buds. You can plan on harvesting outdoor plants by mid-October.
The Girl Scout Cookies plants are strong and sturdy and can tolerate temperature fluctuations. They are tolerant to pests and mold. However, you should shelter them from mist and rain to prevent mildew. With beautiful colors and a sugary coating, these plants will draw your attention and become the stars of your weed garden.
About Crop King Seeds
Crop King Seeds was established in 2005 in Canada and started as a small firm improvising with cannabis seeds. Soon, it turned into a full-fledged company with 300 outlets.. Then, there was a transition into an online store.