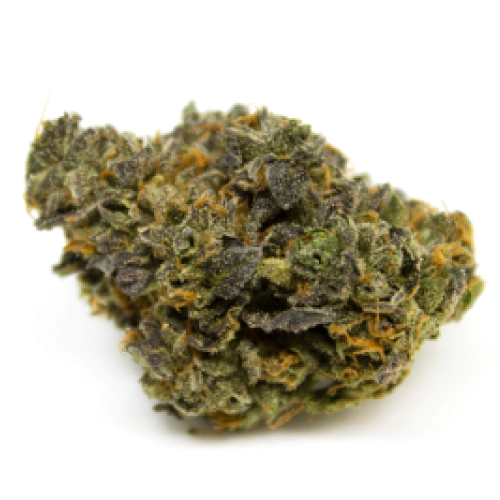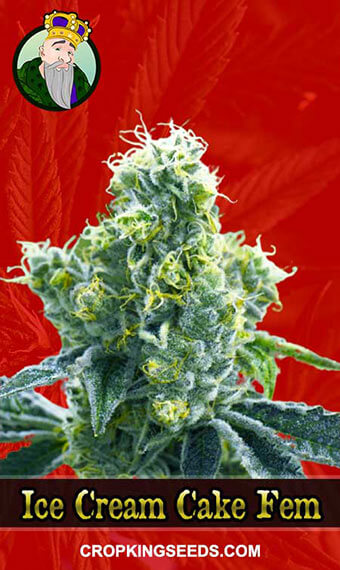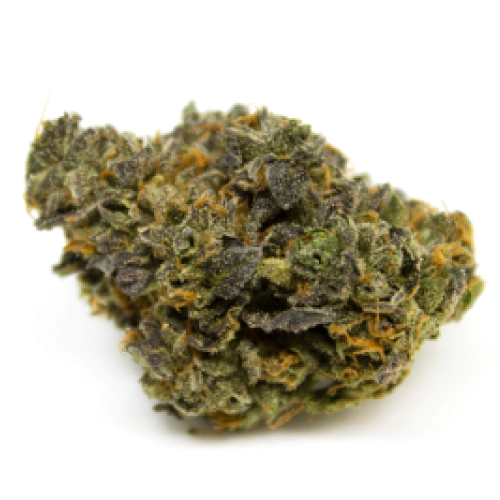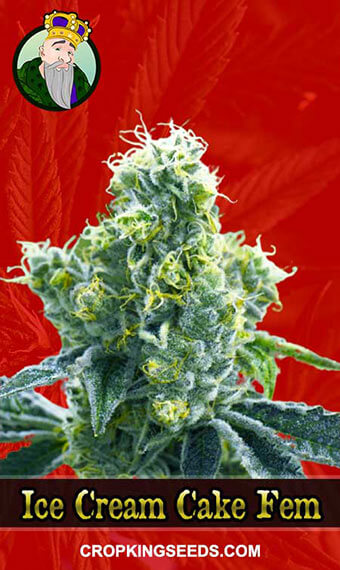 Ice Cream Cake Feminized Seeds
by Crop King Seeds
On Official Website
10% OFF ALL MARIJUANA SEEDS
KING10
Crop King Seeds Shipping Terms:
Free shipping for orders over $200 Shipped with complete privacy Express shipments take 2-5 days for delivery
CBD: 0.10 - 1.00%
THC: 22 - 26%
Seed Type: Feminized
Type: Indica-dominant hybrid
Yields: 5oz - 7oz (142g - 198g)
Climate: Temperate, Sunny, Cool
Effects: Relaxation, Happiness, Euphoria
Flavors: Sweet, Creamy, Vanilla, Earthy
Genetics: Wedding Cake x Gelato 33
Plant size: 39 - 59 inches (100 - 150 cm)
Environment: Indoor, Outdoor
Harvest period: Late September
Flowering period: 8 - 9 weeks
Growing difficulty: Medium
Are Ice Cream Cake Seeds Suitable for Growers?
This exquisite indica-dominant strain is the delightful result of crossing Wedding Cake with Gelato #33. With its alluring flavors and carefree high, the weed has captured the hearts of cultivators and cannabis enthusiasts alike. Ice Cream Cake seeds are a popular choice among growers due to their enticing aroma, moderate growing difficulty, and impressive yields.
Growing Ice Cream Cake Feminized
While feminized seeds may pose a moderate challenge to novice growers, their cultivation is a rewarding endeavor for experienced cultivators. Marijuana requires attentive care and supervision throughout its growth cycle. These quick-flowering seeds have a relatively short flowering time of eight weeks.
However, cannabis thrives best in warm and temperate climates. Providing the flowers with ample light and water is crucial for optimal growth. Ice Cream Cake Feminized seeds can germinate into tall plants. To ensure manageable growth, it is recommended to provide proper weed care from the beginning of the vegetative cycle. Expert cultivators have reported bountiful yields of dense and crisp buds, ranging from 500-550G/M² indoors to 550-600G per plant outdoors. Harvesting can be done in October, showcasing the vibrant hues of green and purple found on the frosty buds.
Flavor and Effects
Ice Cream Cake weed lives up to its name, tantalizing the senses with its delectable aroma and flavor profile. When consumed, this dessert-like cannabis releases complex scents that blend mild, sugary sweetness with hints of herbs, fresh lavender, and a delightful vanilla ice cream fragrance. The flavors of buds are equally enticing, boasting rich and creamy notes of vanilla and sugar paste, accompanied by undertones of fruits and nuts.
The Ice Cream Cake seed offers a carefree high that transports users to a blissful state of euphoria and relaxation. With a THC level ranging from 19% to 23%, this strain induces a potent head buzz that uplifts the mind, alleviating negative thoughts and worries. Users often experience a sense of calm and joy, promoting a relaxed and peaceful mood. As the high progresses, the body succumbs to a soothing effect, inducing relaxation and, in some cases, couchlock. Ultimately, the strain's sedative properties pave the way for deep, restful sleep.
About Crop King Seeds
Crop King Seeds was established in 2005 in Canada and started as a small firm improvising with cannabis seeds. Soon, it turned into a full-fledged company with 300 outlets.. Then, there was a transition into an online store.