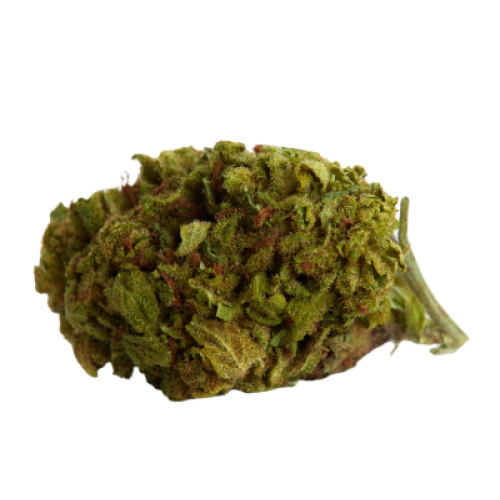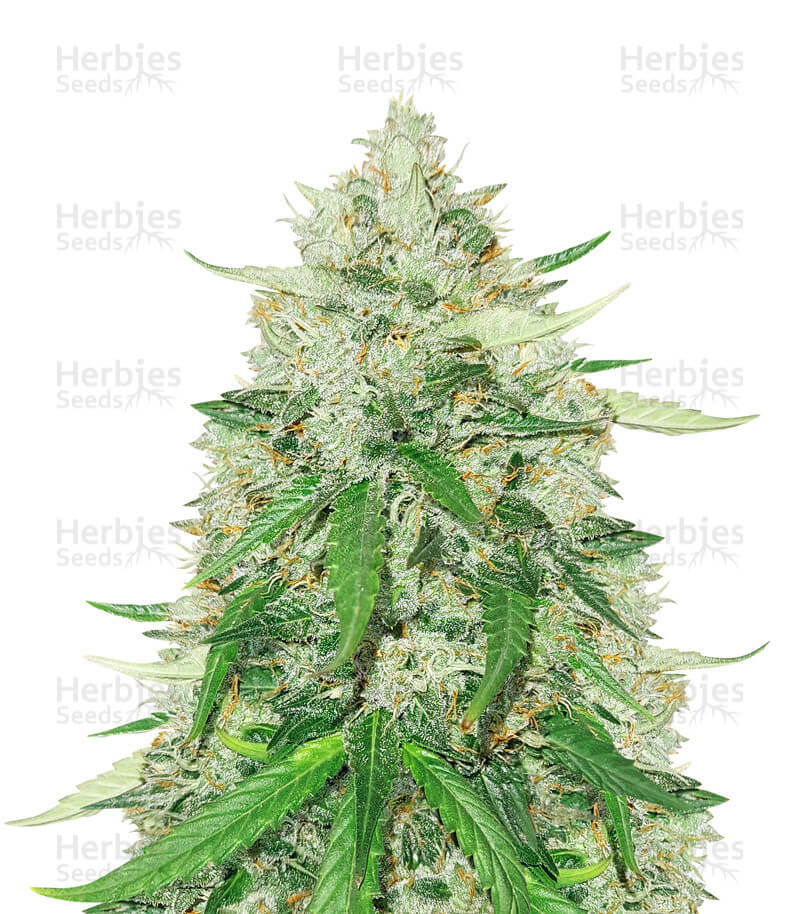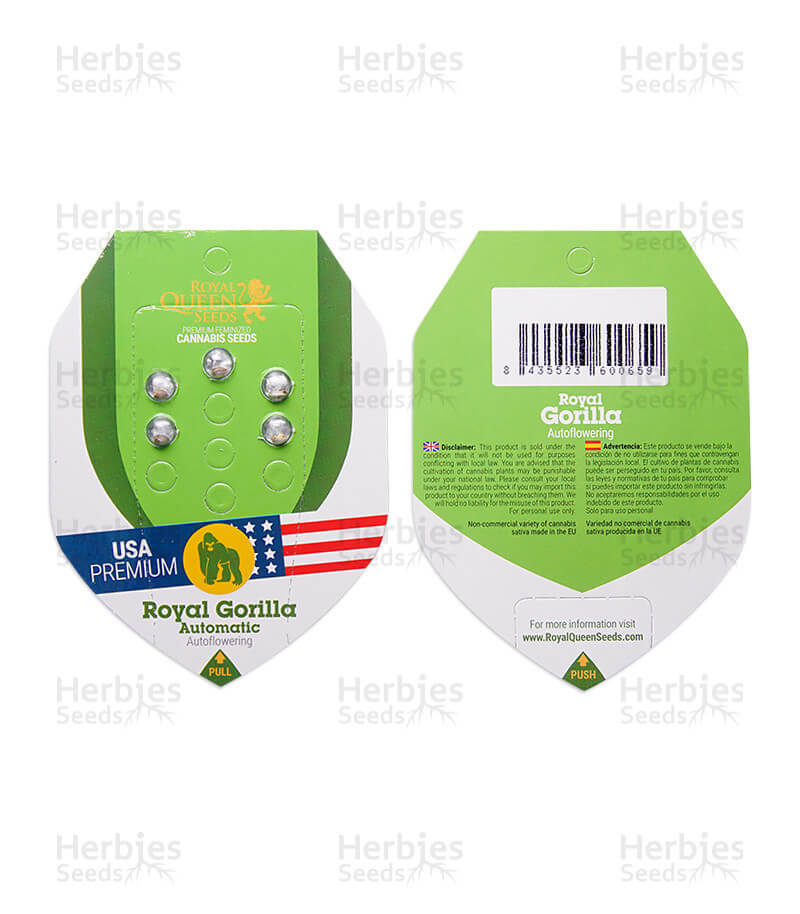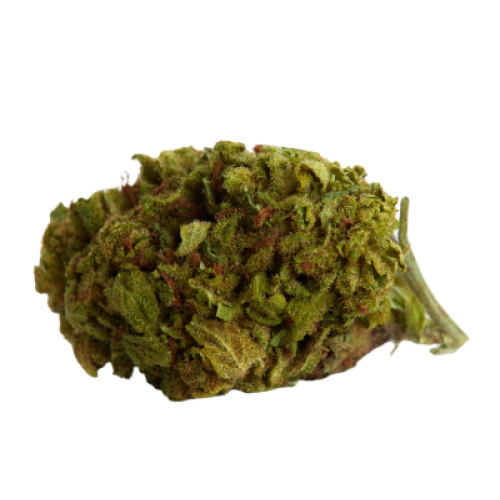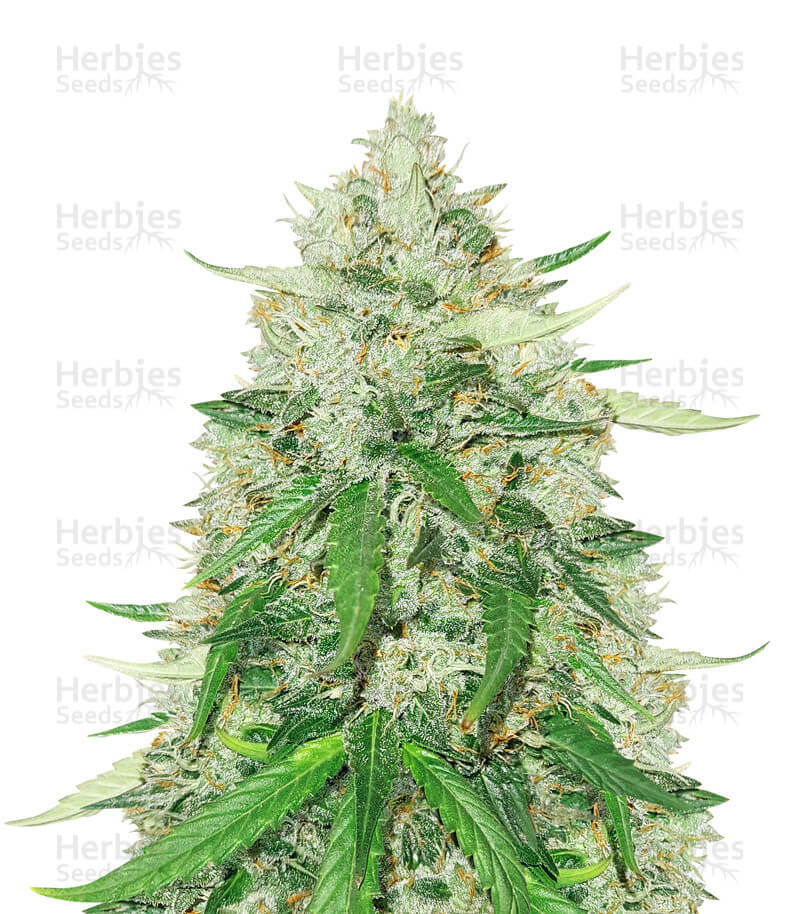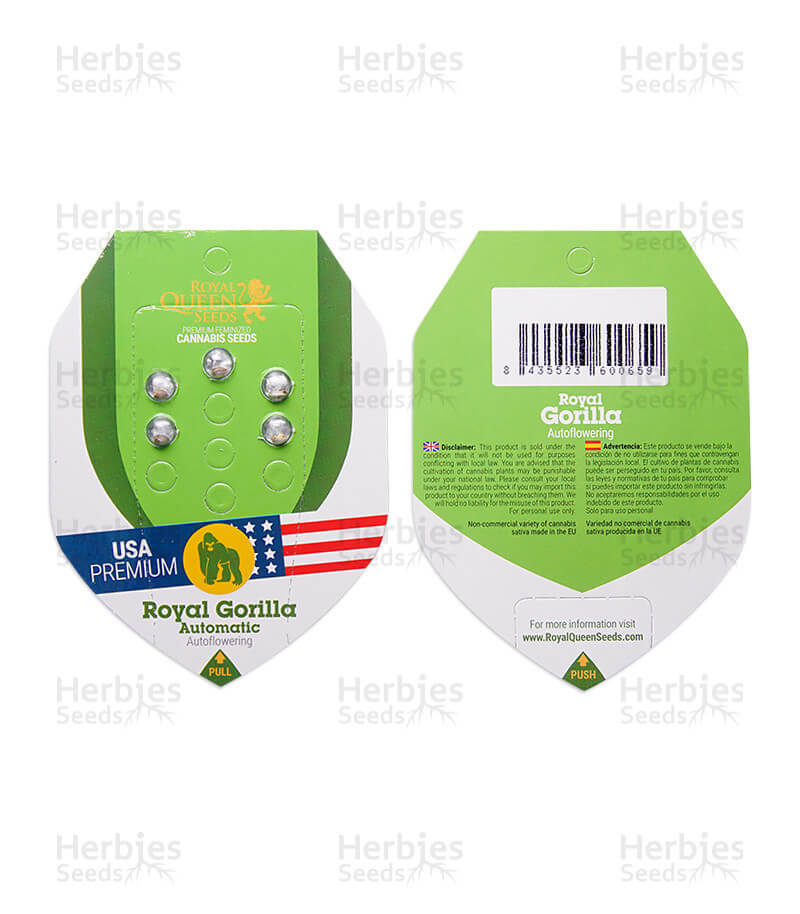 Royal Gorilla Autoflower Seeds
by Herbies Shop
On Official Website
Herbies Shop Shipping Terms:
Ships worldwide, check your local laws before ordering - laws differ from country to country, and from state to state.
CBD: 0.00 - 1.00%
THC: 20%
Seed Type: Autoflower
Type: Indica-dominant hybrid
Yields: 4oz - 6oz (120g - 170g)
Climate: Temperate, Sunny
Effects: Smoky dream
Flavors: Earthy, Sour, Piney
Genetics: Gorilla x Cookies x Ruderalis
Plant size: 28 - 55 inches (70 - 140 cm)
Environment: Indoor, Outdoor
Harvest period: Late September
Flowering period: 10 - 12 weeks
Growing difficulty: Easy
Royal Gorilla Seeds Genetics
Royal Gorilla is an indica-dominant hybrid (30 % Sativa / 50% Indica / 20% Ruderalis) and one of the most popular strains today. Its autoflower version was bred by crossing ultra potent Gorilla, Cookies, and Ruderalis. Royal Gorilla seeds do not require much maintenance, and they produce a massive harvest. The seeds are available in a feminized version, meaning female plants most of the time. The final version of Royal Gorilla is the next-gen autoflowering hybrid that outperforms its potent parents in every category.
How to Cultivate Royal Gorilla Autoflower
These seeds grow perfectly indoors and are suitable for outdoor conditions as well. They don't require lots of effort and maintenance, so Royal Gorilla autoflower seeds are a great choice for new growers.
It is vital to ensure you have a heavy-duty carbon filter to scrub the air clean of this weed. The growth of this strain makes it a perfect candidate for the sea of green (SoG) method and the screen of green (SCRoG) technique, so you can choose the one that suits you best. Royal Gorilla responds well to cropping, producing massive yields.
Indoor plants deliver a yield of 14 ounces per m2, and outdoor yield is 5.9 ounces per plant. This cultivar prefers sunny and warm conditions, so offer at least 600 watts of HPS lighting when growing the seeds indoors. The Soil pH should be 6.2 to 6.8, and the water pH of 5.2 to 5.8.
What to Expect After Harvesting Royal Gorilla
Growers that cultivate the Royal Gorilla seed will be rewarded with buds rich in THC (20%), potent effects, and aroma. The scent mixes notes of diesel fuel and dark roasted coffee. The effect starts from intense euphoria that then knocks smokers out and leads to deep sleep.
About Herbies Shop
Herbies is a well-known marijuana seed shop created by a team of passionate cannabis experts who have been actively contributing to the field of cannabis research for more than 10 years. The store has a rich history that dates back to 2007-2009.. It offers an extensive collection of over 1,500 seeds provided by over 120 reputable breeders.