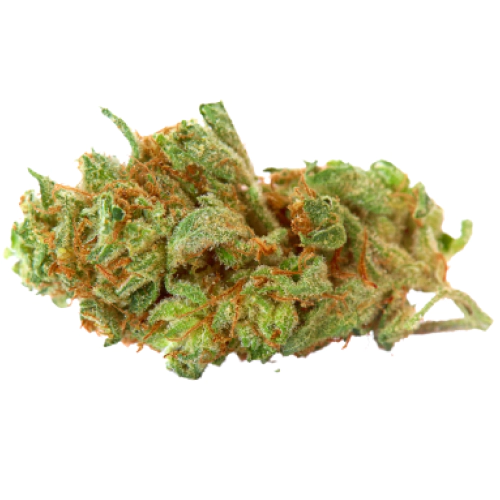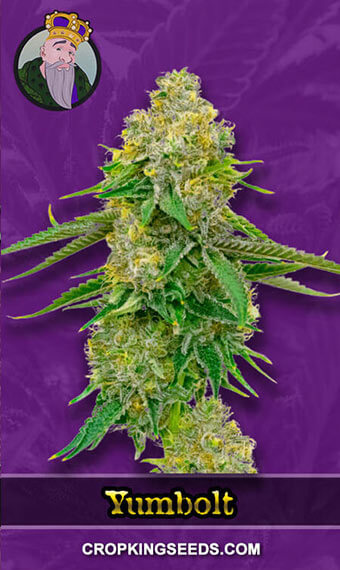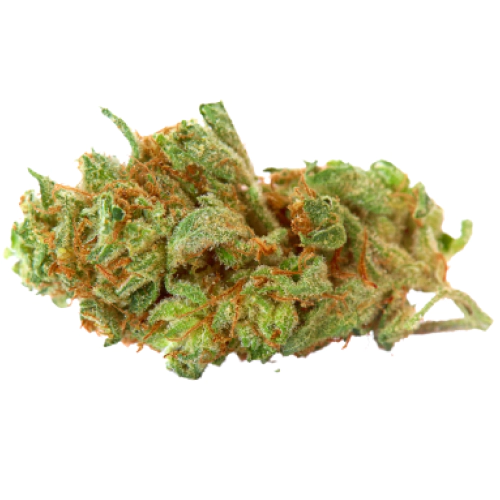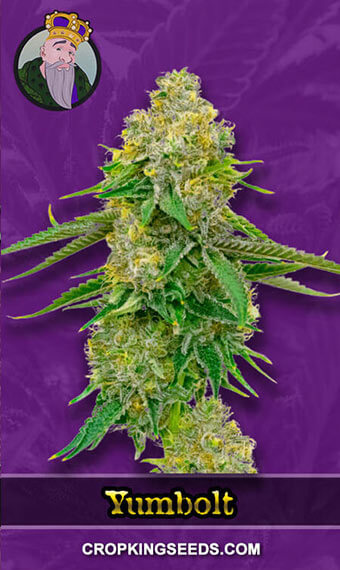 Yumbolt Autoflower Seeds
by Crop King Seeds
On Official Website
10% OFF ALL MARIJUANA SEEDS
KING10
Crop King Seeds Shipping Terms:
Free shipping for orders over $200 Shipped with complete privacy Express shipments take 2-5 days for delivery
CBD: 0.00 - 1.00%
THC: 16 - 20%
Seed Type: Autoflower
Type: Indica
Yields: 3oz - 5oz (85g - 141g)
Climate: Temperate, Sunny, Cool
Effects: Relaxation, Pain Relief, Euphoria
Flavors: Earthy, Woody, Pungent, Flowery
Genetics: Afghani x Himalayan
Plant size: 31 - 55 inches (80 - 140 cm)
Environment: Indoor, Outdoor
Harvest period: October
Flowering period: 8 - 9 weeks
Growing difficulty: Easy
Yumbolt Lineage and THC Level
Yumbolt seeds give you a unique opportunity to grow a strain with the popular Humbolt genetics. This weed variety was genetically engineered in California in the 1970s and was wildly popular among cannabis connoisseurs. This is an indica-dominant hybrid with a potent Afghan Indica lineage, responsible for its unique aromatic blend and pronounced sedating properties. Weed growing from the Yumbolt seed smells like sweet candy and gives users an enjoyable consumption experience. Its THC level of 24% contributes to sedation and stress relief.
Yumbolt Autoflower Growing Guide
The plants grown from Yumbolt autoflower seeds don't exceed 2.6ft in height, and their yields are not plentiful. Thus, it's hard to call them high-yielding seeds. Yet, this cultivar's exclusive cerebral properties and signature taste make growers opt for this cultivation adventure and wait for 63-70 days for their plants to yield trichome-rich flowers. The optimal growing conditions for this marijuana are a Mediterranean climate, so cultivators should keep track of the temperature and humidity in the growing room to guarantee a favorable environment for the crops. A standard yield of this cannabis cultivar is around 1.15oz of buds per ft2.
About Crop King Seeds
Crop King Seeds was established in 2005 in Canada and started as a small firm improvising with cannabis seeds. Soon, it turned into a full-fledged company with 300 outlets.. Then, there was a transition into an online store.