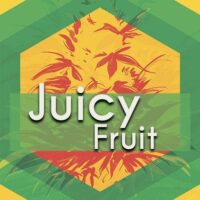 Side Effects
Paranoia, Concern, Dry eyes
Grow Info
Flowering time: 50-65 Days
Harvest time: 70-77 Days
Yield indoor: 2-4 oz/ft2
Yield outdoor: 4-6 oz/ft2
Height indoor: 60-80 Inches
Height outdoor: 60-80 Inches
Grow difficulty: Easy
Flowering type: Photoperiod
All About Juicy Fruit Cannabis
Juicy Fruit is a weed that stands up to its name, providing you with the juiciest experience a weed could give. This is a hybrid strain that combines the features of Indica and Sativa with a 50/50 proportion. Juicy Fruit cannabis strain is not too potent, so it does not overwhelm you and keeps you right where you want to be — high, energized, and in control. It contains 18-22% THC on average, so first starters should consume it with caution.
The history of Juicy Fruit OG strain begins in Amsterdam, where the Sensi Seeds Bank Company has been experimenting with different weed strains from all around the globe. They combined Thai Sativa and Afghani Indica to create this strain.
Juicy Fruit Aroma and Taste
Almost no other hybrid strain smells like Juicy Fruit does — the combination of pine aroma and classic herbal notes make this weed a truly unique specimen. A slight peppery background ads this extra kick to the palette and created a combination of really distinctive smells.
The flavor of the weed always depends on how you smoke it and which device you use. Generally, the taste is pretty much similar to the smell of the weed.
The Most Typical Effects
As said, this strain produces an uplifting and energizing effect. Here is a brief list of positive effects you might expect after smoking on that pot.
It is also good for medical use, especially when battling such conditions as:
Stress disorders
Constant fatigue
Paranoia
Attention deficiency
Inflammation
Pains
The only side effects provided by Juicy Fruit strain are similar to other weed's negatives. It can cause dry eyes and dry mouth.
Growing Review
People grow this stuff at home all the time, it is resilient to pests and diseases, and it flowers fast. Juicy Fruit strain THC level is not crazy high — 20%, which makes it a relatively strong but not too potent of a weed. It grows well in the hydroponics station as well as on the soil.
FAQ
How to grow a Juicy Fruit strain?
You can use hydroponics stations or just go on the dry soil. We will talk about it some more down below.