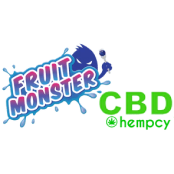 Available In
USA,
Other Countries
HQ Location
Orlando, Florida
About Fruit Monster CBD
Fruit Monster CBD is a subsidiary brand of the manufacturer of hemp-derived products - Hempcy. This brand was developed to introduce the company's unique flavor line of vape e-liquids.
Fruit Monster CBD introduces three different flavor mixes to vape fans:
Mango, Peach, and Guava
Blueberry, Raspberry, and Lemon
Strawberry, Kiwi, and Pomegranate
Every flavor mix is available in three forms - 600mg, 1,200mg, and 2,400mg, which indicate the liquid's strength. According to the manufacturer, this line was created to let everyone have their daily dose of CBD in the most delicious way.
All products in this line are rather new in the industry. Nevertheless, they are produced using high-quality US-grown hemp. Every batch was also fully lab-tested to verify the quality, purity, and concentrations of CBD. And these liquids are also fully THC-free.
Fruit Monster liquids aren't available on the manufacturer's website. Nevertheless, these goods can be easily purchased online at different major online marketplaces.