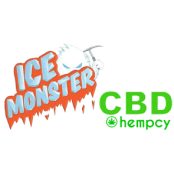 Ice Monster CBD Shipping Terms:
Free Shipping on Orders $79+
Available In
USA,
Other Countries
HQ Location
Orlando, Florida
Ice Monster CBD Review
Ice Monster CBD is a new addition to the CBD vape products catalog. The brand was introduced by Hempcy - a Florida-based provider of cannabidiol and hemp products for wellness, active lifestyle, and beauty.
Ice Monster is one of the three vape e-liquid lines introduced by Hempcy. Unlike Fruit and Jam Monster, this line only features one flavor - Melon Colada. Its primary distinguishing feature is the ice-cold feel it gives you when you consume it. This e-juice is one of the most refreshingly chill ways to enjoy your daily CBD and get all the same benefits!
According to the manufacturer, the ingredients used for this product are absolutely natural ingredients. Hempcy sources US hemp, grown using eco-friendly practices. In the production process, the manufacturer uses an advanced CO2 extraction method to retain all the benefits of pure CBD and eliminate traces of THC. Thus, Ice Monster e-juices are absolutely safe, THC-free, and organic.
If you are interested in purchasing this product, you won't find it on the Hempcy website. However, this liquid is widely available across different online marketplaces.