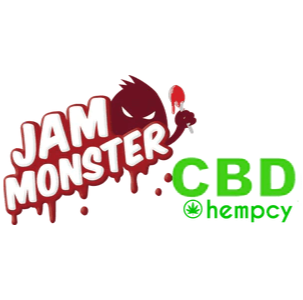 Available In
USA,
Other Countries
HQ Location
Orlando, Florida
About Jam Monster CBD
Jam Monster CBD is a special line of CBD vape e-liquids created by Hempcy - a well-known manufacturer of all-natural CBD products.
Jam Monster CBD line consists of four different tastes - blueberry, strawberry, blackberry, and raspberry. When you taste each, you get where the line's name came from - the inhale opens up the taste of a jam made of the chosen fruit, then, you get a delicious buttered toast aftertaste that makes the entire vaping experience feel like you've just had your favorite childhood breakfast.
Every e-liquid is made using the finest, organically-grown hemp, which makes them 100% safe. The manufacturer also adds blends of PG and VG for an ideal vaping experience.
The liquids are available in three types by strength - 600mg, 1,200mg, and 2,400mg. They are pure CBDs, meaning that there are no traces of THC. Also, all products are tested by independent cGMP-certified facilities.
Although Jam Monster CBD is a line by Hempcy, the liquids aren't available for purchase on the company's site. Nevertheless, they can be bought at many of the largest marketplaces, such as Hemmfy, Vapesourcing, and many others.