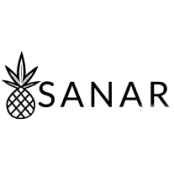 HQ Location
San Francisco, California
About Sanar CBD
Sanar CBD is a broad and full-spectrum hemp oil brand based in San Francisco, California. The company was founded with a single mission - to support the CBD industry by providing education and making consumers more informed than ever.
Sanar offers a wide range of products, including items for pets, body care hemp, and edibles. Also, the brand offers a choice of CBD, CBG, and CBN tinctures and vape e-liquids. On top of that, the brand has a DIY section of products. This category is meant for people who are trying to experiment with cannabidiol and create their own recipes. It includes raw materials, such as full-spectrum oil, broad-spectrum distillate, and CBD isolates.
To create its products, Sanar sources hemp from organic local farms. The brand closely collaborates with field experts to generate new ground-breaking ideas and grow. All distillates, oils, and other goods offered by Sanar are also lab tested by certified third-party facilities. All results are publicly available on the company's site.
Sanar products are available for purchase on the brand's site. It offers a convenient way to shop for CBD online and offers a variety of perks, such as monthly giveaways, a 15% discount on every order after subscription, and more. Delivery is available within the US.