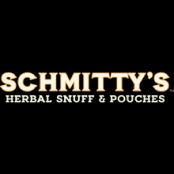 Schmitty's Snuff Shipping Terms:
Free Shipping on $25 or more
Available In
USA,
Other Countries
HQ Location
Snoqualmie, Washington
Management
Pamela Schmitt, Founder and President
About Schmitty's Herbal Snuff & Pouches
Schmitty's Herbal Snuff & Pouches is a company started in 2018 by the Schmitt family. The founder, Pamela Schmitt is into health and was desperately looking for healthy alternatives to snuff to help her husband enjoy his favorite chew without harm to his health. Being unable to find the alternatives her husband would love, Pamela started sourcing tea from all over the world and trying to cook it with natural ingredients. After many attempts and failures, Pamela found the perfect formula that her husband and their friends loved, and that's how Schmitty's Herbal Snuff & Pouches was born.
The brand offers natural chew with no toxic chemicals, tobacco, or nicotine. The product line consists of snuff and pouches in three flavors - original, mint, and wintergreen. Apart from traditional products, there are also the same items for energy and sleep. All of these products are 100% natural and safe.
Consumers can shop for the brand's products right on the company's site. When you first visit Schmitty's website, you will be offered a 10% discount. Free shipping is offered for all customers with orders of $25 or more and the products can be delivered internationally.