HQ Location
San Diego, California
Management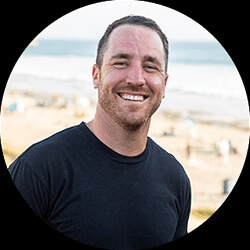 About Sunday Scaries
Do you often encounter the terrible feeling on Sunday evening right before Monday morning starts? If yes, check how to get rid of it and why Sunday Scaries could help you in the actual review of this brand.
The Sunday Scaries is a relatively new company founded by two former bar owners Mike Sill and Beau Schmitt who settled in San Diego, California in 2017. Thus, who knows more about being stressed but them? Meanwhile, they are convinced that the best treatment of any stress is humor and communication — that's what they stick to. And, the natural CBD products are perfect quickeners that don't produce any side effects, are safe, and even beneficial for everyone.
By the way, the hemp material used for manufacturing CBD items is domestically grown. The founders specifically went there to meet the farmers and ensure that the hemp is of decent quality. You can also read the lab report about the products' safety and they are legal to be used without prescriptions. Of course, it's because of the low dose of THC substance which potentially makes you high.
The official website is interactive: it's full of funny expressions and content that confirms Sunday Scaries' motto. Once you are on the web page, you are suggested to spin the wheel and try to get the 5% off coupon or other perks. In addition, there may pop up a special window where you can copy the promo code for a 15% discount and paste it when you make the order. Or, you can get one time 20% off if you subscribe.
Besides, there is an to get extra points by subscribing and buying particular items. Unfortunately, it doesn't work as a coupon code but there is a higher possibility of getting a product free of charge by redeeming those points.
The shipping terms are pretty usual, they work with USPS carrier who brings your order within the next 3-5 business days after placing the order. The great news is that the payment process is really simple especially for Visa, American Express, Master Cards, and discovery cardholders. And for orders more than $69 you are bother-free of shipment charge.
Currently, the Sunday Scaries do not provide international shipment but the variety of items is quite wide so, for sure, sooner or later people from other countries can try them, too.
Besides, they do accept 100% return since the company believes that you never know if you don't try it. However, you should remember that the full refund may take about 2-3 business days.
Why Choose Sunday Scaries
Sunday Scaries is no exception a worthy company that stands for quality since they do know how to eliminate Sunday's stress about Mondays. However, there are a few more telling reasons why you should rely on them.
They operate their business not for money but for providing a great solution from stress for millions of people.
All the items are legit and undergo a lab test in order to show their quality. All the results are on the official website and allow potential users to check all the ingredients.
The Sunday Scaries company produces a huge variety of healthy CBD products. So they do care about all the categories of its customers and produce vegan products, too.
Brand Products
As it was already mentioned, the variety of products is pretty huge. And there are not only edibles but various pain relievers, too. However, they do divide them into individual products and CBD Bundles. Let's take a look at each of them more precisely.
CBD Oils
The CBD tincture oil is the perfect way to eliminate any anxiety before the important meeting, or just to calm down after a stressful day before you got to bed. The oil made by Sunday Scaries has only one flavor option "Fruit punch" but the CBD percent is ideal for any occasion — 500 mg for 1 fluid ounce. Just a few drops of that solution will be enough to get rid of all unpleasant feelings but get the maximum benefits. Besides, it comes with B12 and D3 vital vitamins.
CBD Gummies
If your to-do list doesn't end and you are still messing around with the first task, then you need to have a rest for a few minutes and take some CBD gummies from Sunday Scaries. They come in form of traditional gummy bears with essential vitamins D3 and B12. There are 20 gummies that contain 200 mg of CBD in the whole bottle.
Vegan CBD
The same calming effect is provided by specially made vegan CBD gummies. They come with savor flavor and do work as the regular option thanks to the same CBD dosage: 10mg of CBD in one pill. So totally, the bottle of 20 gummies contains 200 mg of the active substance. And, like the other products, they do have D3 and B12 vitamins.
CBD Candy
There is a nice alternative to gummies — CBD candies. In fact, the pack consists of 10 multicolor candies. The dose doesn't differ from gummies: each candy has 10mg of the active substance. So altogether, there is 100mg of CBD for one pouch.
Final Thoughts
Unfortunately, nowadays the fast pacing world provides us so many negatives. Thus, people need to restore their mental health by themselves. But, why not to use all the benefits from nature such as CBD products. Hopefully, the review of Sunday Scaries company helped you to change your mind about the way of dealing with everyday stress.
Sunday Scaries Photos