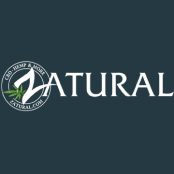 Zatural Shipping Terms:
Free Shipping on all orders over $5 in the U.S.
Available In
USA,
Other Countries
Management
Maryann Stanger, Founder
Zatural Review
Zatural is a natural oils company founded in 2018 by Maryann Stranger, a naturopathic doctor and a certified digestive health specialist. The brand is based in Eden, Idaho. The company boasts an excellent reputation in the industry, which is supported by numerous awards, including the 2013 Nutra Award, the 2014 Golden Apple Award, the 2018 Supply-Side Award, the 2021 Best Broad Spectrum CBD, and others.
The company offers a variety of product types, each of which comes in several different forms:
Oils - Broad-spectrum (no THC), full-spectrum (under 0.3% THC), and isolate (THC-free) oils. Also, the brand offers essential oils and an apple cider vinegar (ACV) + CBD tincture. And there is a unique feature that lets you build your own oil, based on your preferences.
Softgels - Broad-spectrum, full-spectrum, and isolates.
Gummies - Broad-spectrum, full-spectrum, and isolates.
Edibles - Gum, mints, honey, chocolate, and appethyl.
Topicals - All types of body and skin care products, including salves, creams, scrubs, serums, massage oils, and much more.
Pets - For cats, dogs, and equines.
All ingredients are sourced from trusted providers in the US and worldwide. Each product is 100% organic and third-party tested for safety.
The products can be purchased right on the brand's site. If you sign up, you will get a 20% off on the first order. On top of that, there are two special discounts - for the military (20% all-time) and for seniors (15% all-time). One more benefit of this brand is its flexible shipping terms. Zatural gives free shipping to every customer with $5 or more in total order value. The delivery typically takes between 2 and 6 business days. Apart from domestic delivery, the company also ships its products to international customers, though they must clarify their country's laws on their own.