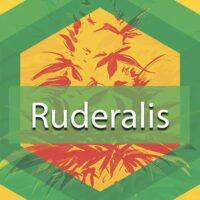 Side Effects
Paranoia, Thirst and dry mouth, Dry eyes
Grow Info
Flowering time: 60-69 Days
Harvest time: 75-82 Days
Yield indoor: 2-4 oz/ft2
Yield outdoor: 4-6 oz/ft2
Height indoor: 60-80 Inches
Height outdoor: 60-80 Inches
Grow difficulty: Easy
Flowering type: Photoperiod
All About Ruderalis Cannabis Strain
Ruderalis is a hybrid weed with 11% THC and an increased content of CBD of up to 0.9%. Surprisingly, botanists currently disagree whether Ruderalis is a subspecies or a separate species.
Its origins might be tracked to Indica genetics that were able to adjust to unfriendly climates in the northern regions. It was originally thought to be a wild breed of weed, but now it has started to be grown indoors and create new varieties.
Ruderalis Strain can be consumed during the nighttime due to its sedative effects which leave users feeling sleepy. It is commonly used to treat a lack of appetite. Given its lower THC content, Ruderalis does not come with any significant side effects, but a dizzy feeling might be noticed by some consumers.
Ruderalis is often used by growers in order to create autoflowering hybrids. Some experience might be recommended, although it is not activated by photoperiod, unlike sativa and Indica. Instead, its flowering cycle depends on its maturity.
FAQ
What CBD ratio is in the Ruderalis strain?
Ruderalis is one of the few strains with a high CBD content which reaches 0.9% and only 11% THC. This means that it also comes with the least side effects possible while leaving consumers relaxed and sleepy.
Ruderalis Photos