Grower Stories #145: Justin Capoccia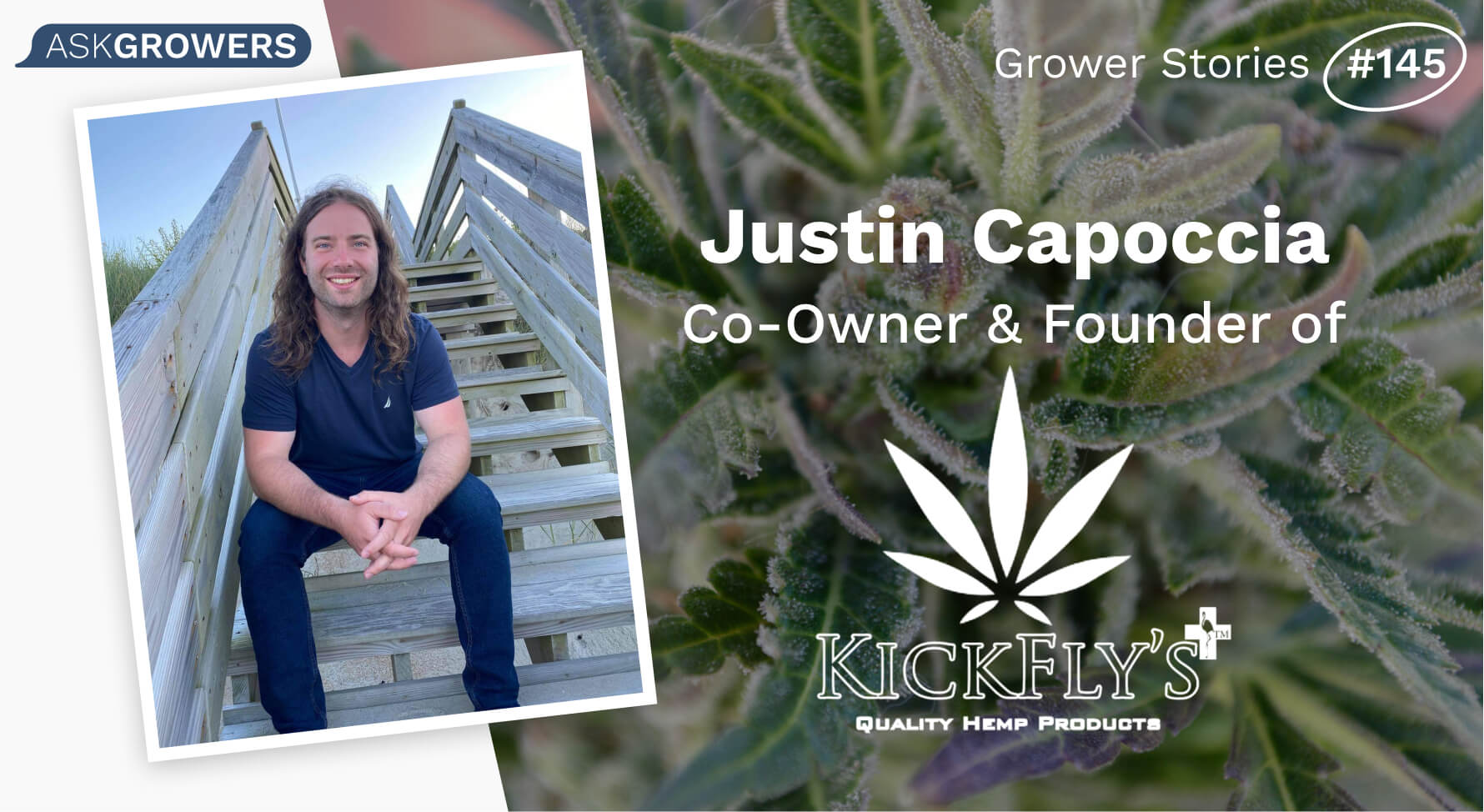 KickFly's Specializes in Sustainable Hemp Products to Improve the Quality of Life
The AskGrowers team talks with Justin Capoccia from KickFly's about how the brand came to be and what its future looks like. Justin lays out the company's philosophy of creating high-quality, sustainable CBD products for the consumers to help improve their everyday lives. He also talks about the favorite strains to grow and smoke, the CBD industry's future in terms of legalization, and also whether or not it is a good idea to invest in cannabis stocks just yet.#growerstories
---
Tia (AskGrowers) :
When did you start KickFly's?
Justin Capoccia : KickFly's was started in July of 2014.
---
Tia :
Why did you choose to dive into the cannabis industry? How long have you been looking to enter the market?
Justin : We chose to enter the cannabis industry because of how well it fit our initial mission statement and vision for the company. After we had tried multiple avenues to make a highly sustainable and environmentally positive business, hemp created all of those opportunities while enhancing everyday life for people as well.
We love getting feedback every day, saying how well our products work and how they have changed many people's lives, and the best part is that we get to clean the environment simultaneously. We had no rush to get into it, we just knew it was the right path to take with KickFly's.
---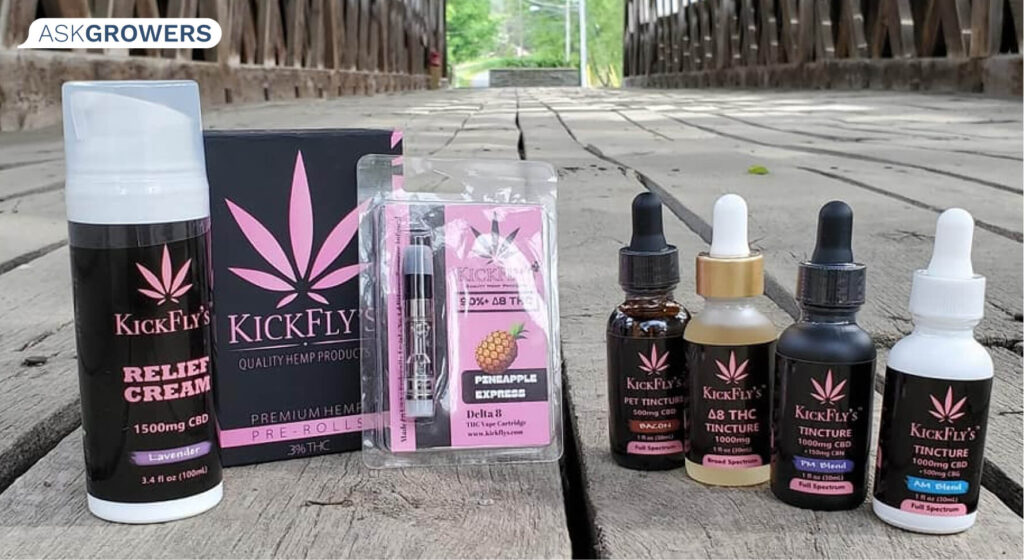 ---
Tia :
What has been the hardest thing you've faced running KickFly's ?
Justin : The hardest challenge with KickFly's was and still is trying to make the brand stand out. As you and most people know, CBD has become very popular and with it, an influx of brands is popping up all the time. To set yourself apart is very hard but once our product does the talking, it's clear that not all CBD is equal and there are differences in quality and formulations that make a better product.
---
Tia :
What is your current production volume?
Justin : Current production is very small as we are sort of in a transition stage for finding a new grow location that got halted due to COVID-19. We finally are seeing a little relief in the real estate market so we plan to acquire a property very soon. We greenhouse/indoor grow our hemp in small batches to ensure quality. The volume is constantly changing and to give a number would be hard to calculate.
---
Tia :
Do you and/or your family use Kickfly's products? Which products are your favorite?
Justin : Of course! Personally, I really like our relief cream and A.M. blended oil. Our relief cream was formulated with my grandmother with chronic arthritis as my test subject. We had gone through multiple variations before we had a combination of CBD and natural botanicals and extracts that worked together to really see the best results that she claims works better than any other OTC cream she has used.
Our A.M. tincture blend has also been a day changer - my family insists they do not need coffee anymore in the morning - and really does a great job of creating energy without caffeine and keeps you alert, positive, and energetic all day long. We use multiple cannabinoids and a mix of terpenes that all work together to create the best outcome.
---
Tia :
What agricultural/production techniques do you utilize that you are proud of/ feel make you stand out from other CBD brands?
Justin : We focus on all locally sourced soil as well as being enhanced by ourselves to give the hemp plant the best possible shot to have the best yields and production. Our farm is also full circle from the water we use to the soil and natural sunlight within the greenhouse. This also helps us achieve our sustainability side of things. We do not source anything from outside our farms which allows our microclimate to produce hemp flowers that can not be replicated elsewhere.
---
Tia :
Where do you learn to grow hemp? Books, Forums, Youtube, conferences you've attended, etc.?
Justin : I learned to grow hemp through three years of trial and error and plenty of testing. We are from a farming background with having a winery as well and growing grapes, so farming was not new to us. But I do have to say, hemp took a little bit of a learning curve.
But we were part of the NYS hemp pilot research program that really made us study the plant year after year. It took us around three years to finally release a product because we wanted it to be the best it could be instead of rushing to the market. We even beat some strain producers' outcomes which we were very proud of.
---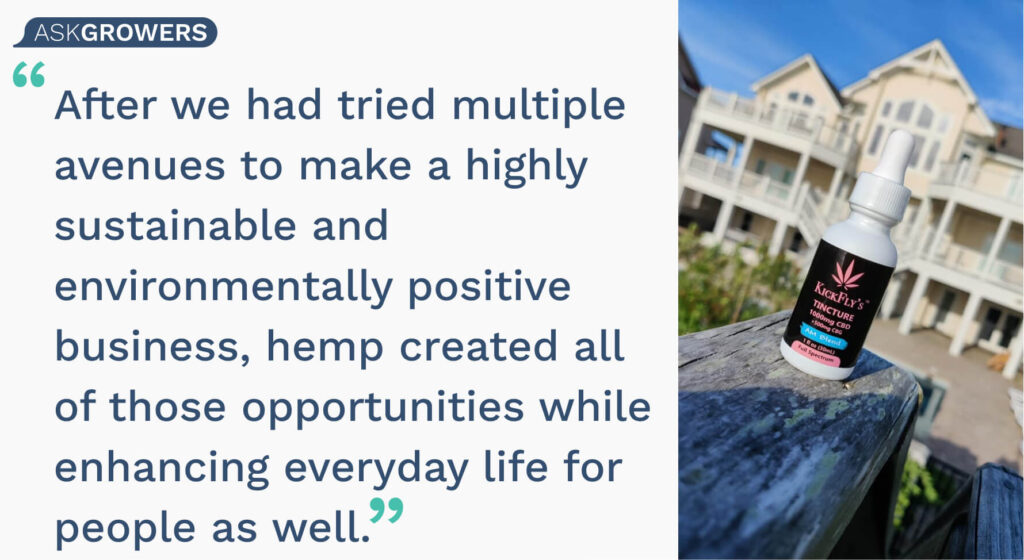 ---
Tia :
How often have you had issues with people not knowing the difference between CBD and THC and applying stereotypes to your business?
Justin : All the time. It is hard when people see the plant, smell it, and think how does this not get you high? It's hard to get that message across but once people open up to it, they typically spread the word themselves about the benefits.
---
Tia :
What is your stand on recreational marijuana (THC) and why did you choose CBD?
Justin : I believe the CBD market has a higher growth ceiling. THC is great but not everyone wants to be high all the time to get all the benefits of the marijuana plant. CBD and other non-psychoactive cannabinoid compounds do so much for the body and our internal endocannabinoid system and hemp opens up that gateway to the majority of the world. Also, the price to get started in hemp is way less than recreational marijuana so that also helps.
---
Tia :
What is your advice to people who are considering starting their own cannabis business?
Justin : Do a lot of research and do not jump in blind because of the hype of a new and growing industry. I feel a lot of people get started with no clear direction of what they want to accomplish in the industry and that will eventually burn you out and make things hard to become successful.
Like I have stated, we waited three years to release a product and it was well worth the wait to gain a great reputation with our products and it is something we are proud to market and sell.
---
Tia :
What are the key marketing channels for KickFly's currently? What other channels do you consider?
Justin : Marketing is very hard in the cannabis industry because of all the restrictions on social media and its taboo nature. Right now, attending shows and word of mouth have worked well for us but hopefully, things get easier as time progresses and people open up to cannabis.
---
Tia :
Who is your target audience?
Justin : Our target audience ranges from all ages and all types of ailments to people just looking for a healthy lifestyle. We cater to everyone, even for smokable hemp for relaxation without any other benefit than that. We think it is important for people of all ages to get used to the hemp plant and all the benefits it brings.
---
Tia :
In your personal opinion: The best way to consume cannabis?
Justin : This depends on the speed it needs to be administered or on other health restrictions you may have. If it is a dire need such as a severe panic attack or seizures that require immediate action, smoking or inhalation is the best option.
Other than that, all other problems can be addressed orally, definitely through an oil tincture. Edibles are good but require a long time to take effect where an oil tincture can act faster through the glands in your mouth, especially if held under your tongue longer than 30 seconds. We also formulate our tinctures with terpenes, which is crucial to aid in the speed of the effects of cannabinoids and to help them act stronger as well.
---
Tia :
Top 3 strains to grow?
Justin : We personally love autoflowers because of the multiple growth cycles we can have throughout the year. But other stains that are full-year, as you know, have benefits with the concentration of CBD. So far we really like these three strains:
Mountain Mango
Stormy Daniels
Frosted Flamingo (our personal crossed strain)
---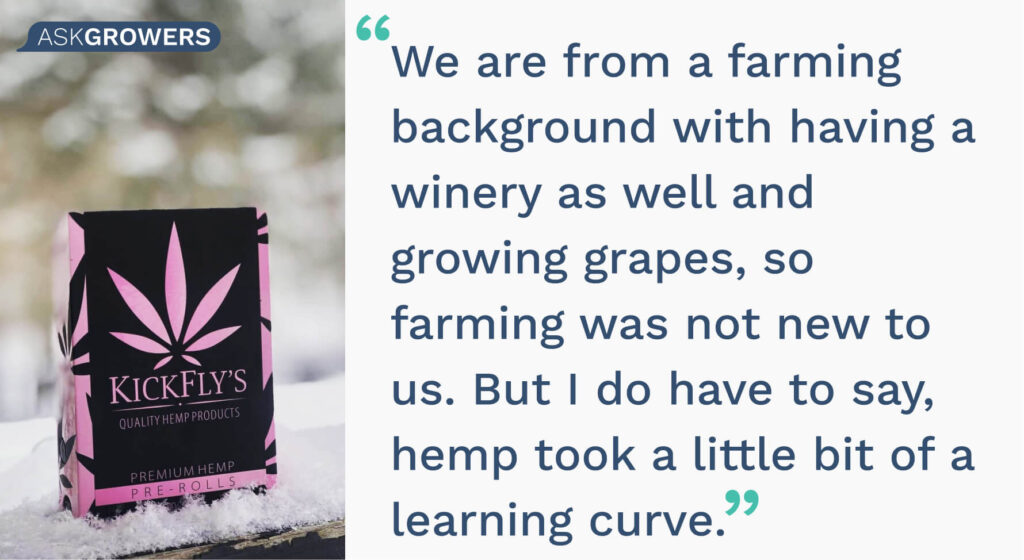 ---
Tia :
Top 3 strains to smoke?
Justin : We grow our strains specifically for smokable hemp which makes Mountain Mango, Stormy Daniels, and Little Giant/Frosted Flamingo the best we have noticed so far. Mainly because those three strains have phenomenal terpene profiles.
---
Tia :
Do you think people should invest in the cannabis stock market at all? Why?
Justin : This is a very tough question. I could go either way on that subject. Some projects have a strong business team that makes them successful for investors but some do not. I have noticed personally that they constantly require more money to grow and research the business which requires offerings and dilution within a stock that then causes a decrease in price. But that could also just be shortcomings in such a young industry in its infancy stages. I have heard more negative sentiment than positive thus far but I believe that can change in the future.
---
Tia :
What brands would you invest money in on the cannabis stock market?
Justin : Ones that stick out to me that have done well are Aphria, Curaleaf, and Aurora Cannabis. Although Aurora has its issues currently with debt.
---
Tia :
Do you personally want to get into the cannabis stock market?
Justin : Our company has already reached out to transfer agents to get a feel of what that looks like and what is necessary to take the steps. We would not seek investors unless we already have an established business. That is not always the case in the market - some companies seek investors before they even sell a single product and we could never do that.
Our company has been based on bettering the lives of people through the environment and human & pet wellness, so to make people lose on investment would go against everything we set out to accomplish. But our business has been growing substantially with our new product roll-out which has made us think about the possibility. If we continue to see the positivity with our brand then it is definitely something we are considering.
---
Tia :
What are your predictions on the cannabis industry for the next 5-10 years?
Justin : Lots of growth and adoption with the general public. Right now, we are still viewed as a "bad drug" but that is changing. Doctors still make it seem taboo to suggest cannabis over prescription drugs but what people do not understand is most synthetic or prescribed drugs are actual forms of much worse drugs.
For example, hydrocodone is just a form of heroin and that is also why we have such a bad opioid problem because cannabis, a much safer and non-addictive drug does not bring in the revenue to pharmaceutical companies. I really see that landscape changing in the 5-10 year future range.
---
You can follow KickFly's at:
Thank you so much, KickFly's team, for taking the time to do the interview.