Discover the Best Weed Seeds for Sale With AskGrowers
AskGrowers is your one-stop shop for cannabis seeds. In our seed catalogue, you will discover seeds from the world's top-rated seed banks, including I Love Growing Marijuana, Crop King Seeds, The Seed Connect, Sun West Genetics, Homegrown Cannabis Co, and others.
Our team of cannabis enthusiasts has carefully handpicked the best seeds from the best banks to make your growing experience as stress-free and enjoyable as possible. Now, we continue selecting new partners and providing our visitors with thorough information at hand. And that's what makes us the best place to buy weed seeds online in the USA.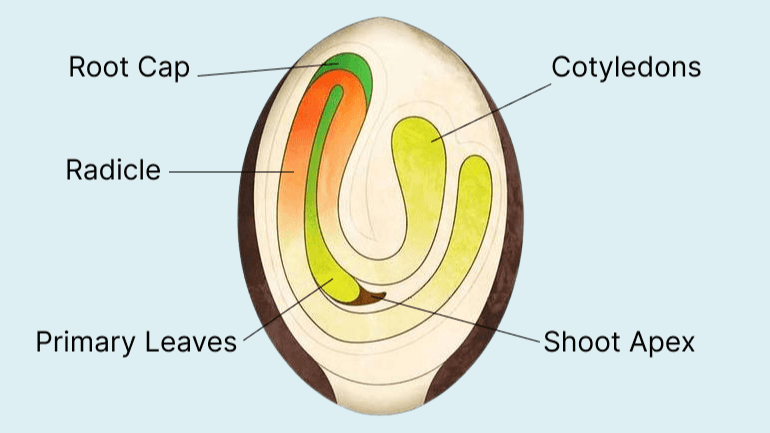 Reasons to Buy Seeds for Growing Weed
Just like any living entity, all marijuana seeds have a specific set of genetic information. This information is transferred from parent plants and can transmit both parental traits and create new, surprising traits that parent plants lack. The never-ending recombination of genetic information makes weed plants evolve and change, delivering unexpected results to growers.
On the contrary, the seeds provided by trusted seed banks are carefully handpicked offspring stabilized for uniformity. The major benefit of buying seeds is that this way, you ensure more uniformity of your crop. On top of that, high-quality weed seeds typically have better genetics and produce stronger plants with bigger yields.
Still, it's crucial to understand that even the best cannabis seeds are subject to the laws of nature. There is always a chance of getting new, exciting traits.
Another way to grow marijuana is by using cannabis clones. In a nutshell, a clone is a cutting taken from a live cannabis plant that can be used for planting. These cuttings have the exact same genetic information as their mother plant, hence the name "clones."
Growing From Seeds vs. Clones
When thinking about whether you should look for marijuana seeds near you or grow from marijuana clones, it's essential to consider the following key factors:
Clones are faster and always have identical genetics to their mother plant, whereas seeds have genetic variations.
Clones are always female. However, you can also buy feminized seeds to produce female plants.
Seeds are more accessible, whereas marijuana clones are much harder to buy. Moreover, there are many seed types to choose what suits you best.
Adult clone plants are much more delicate, whereas those grown from seeds are hardier.
Mature seeds offer new genetics with no baggage. Clones, on the contrary, can come with all the negative traits from the mother plant, called the "baggage."
All in all, there are some pros and cons to each method of growing. Still, growing from seeds is generally more beneficial. They are easy to find, have plenty of options, leave space for new genetic variations, and grow into hardy plants. Most importantly, seeds are less tricky than clones, which is why they are considered the perfect option for beginners and expert cultivators. So if you are a beginner, it's much wiser to order cannabis seeds. And, out of concern for you, we have gathered all the information you need to get started in our thorough Cannabis Growing Guide.
Growing Marijuana Seeds at Home
Before you look for a trusted vendor of weed seeds near you, it's vital to understand how you will start growing your crop. You need to figure out the difference between different growing venues, strains, seed types, etc. While all detailed information is provided in our Growing Guide, we will give you some basic information for starters.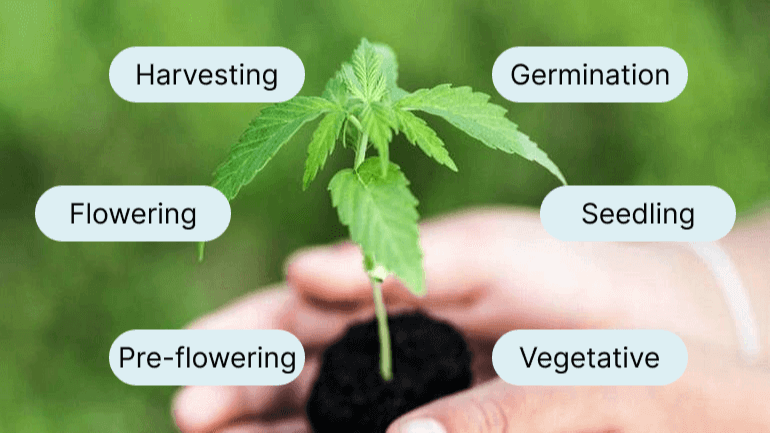 Time Needed to Grow a Plant
Depending on the type, strain, and where you are growing, it can take anywhere between 4 to 8 months to harvest your crop. Before you pick certain seeds, you need to understand the full cycle of cannabis growth:
Seed germination – between 1 and 7 days;
Seedling – between 2 and 3 weeks;
Vegetative stage – between 2 and 8 weeks;
Pre-flowering stage – between 1 and 2 weeks;
Flowering stage – between 6 and 8 weeks;
Harvesting.
Every stage of this process has specific demands, such as different levels of light, water schedule, nutrients, etc. You should understand the specific demands for every stage applicable to the chosen type of seeds to get the best yield.
Difference Between Strains
Today, there are an endless number of seed strains. The best way to pick the best option for you is based on the desired effects.
Indica strains – This cannabis type delivers more physical effects felt in the body. It provides sedation, pain relief, sleep aid, and relaxation. Some choose it for greater symptom relief when having headaches and migraines, compared to other strains.
Sativa strains – This cannabis type offers more cerebral (mental) effects. It's primarily chosen for a pleasant buzz, energy boost, and general mental stimulation.
Hybrid strains – This blend of Indica and Sativa can produce varying effects based on the Indica-Sativa content ratio and parent strains.
Feminized vs. Regular Seeds
Feminized weed seeds are ones that lack male chromosomes. They produce only female plants in 99% of cases. Regular seeds have male and female genes and can turn into male or female plants.
For most growers, feminized seeds are the best as they produce exclusively bud-bearing plants and have zero risk of pollination. However, they are not suitable for breeding. So if you want to create your own strains, you should choose regular seeds.
Indoors vs. Outdoors Venues
The choice of a growing venue should be based on your local laws and seed type. It's key to consider your climate because different strains have different demands regarding light, temperature, and humidity.
Indoor growing is considered more effective as it enables you to create the perfect environment for your yield and fine-tune all the environmental indicators. On the other hand, outdoor cultivation gives your plants more space. They can grow taller and sturdier, which will affect the yield quality. It's also cheaper to grow cannabis outdoors as it doesn't require you to invest in additional equipment.
Autoflowering vs. Photoperiod Seeds
Photoperiod cannabis requires a particular light cycle to thrive. Autoflowering seeds, on the contrary, can grow and bloom under various conditions.
If you purchase photoperiod marijuana seeds online, you will have more control over your crop. However, such plants are harder to grow. So if you are a beginner, we recommend considering autoflower strains as they don't require special knowledge or experience to cultivate and are generally more resistant.
CBD vs. High THC
Cannabidiol (CBD) is a non-psychoactive compound of cannabis plants. The yield obtained from CBD seeds will not get you high. But it will give you several positive effects, such as suppressing inflammatory and neuropathic pain.
THC, on the other hand, is a psychoactive compound that produces the traditional marijuana high. It also reduces nausea, alleviates pain, improves sleep, and offers many other health benefits. But it causes a psychoactive effect, which is why it's illegal in many countries.
Buying Marijuana Seeds: Quantity and Viability
Before placing an order for your chosen seeds, decide how many of them you will need. First and foremost, the quantity depends on the number of plants you want to harvest. However, there are a few additional factors to consider.
To get started, we recommend checking with your local laws to understand how much cannabis you are legally allowed to grow.
After knowing this, you also need to consider plants' viability. Regardless of the chosen type of seeds, the laws of nature are still there. Even with the most stable genetics, you should always expect that a certain percentage of seeds might not germinate. Also, your seeds might produce not-so-perfect plants, which is less likely.
Typically, high-quality seeds have a viability rate of 90-100%. If you purchase seeds with us, you are most likely to enjoy a 100% viability rate. Still, we recommend considering a potential 10% fail rate to be on the safe side. Due to this reason, we recommend purchasing twice more seeds than plants you want to grow for the feminized type. For example, to get 4 plants, you might want to buy an 8 seeds pack. For regular seeds, we recommend getting up to 4 times more seeds than the number of plants you want because these have a 50/50 chance of growing into male or female plants. So you want to have extra chances of getting the yield you need.
Legal Side of Buying Weed Seeds
Obviously, the laws governing the purchase of weed seeds are critical to consider before purchasing anything from the stock we offer for sale.
To ensure you don't violate any laws, consult specific laws applicable to your area. However, let's quickly go over the main legal facts.
First, ordering seeds from outside the US is not a good idea. Many overseas banks do offer delivery to the United States, and, technically, hemp seeds are possible to import into the territory of the United States due to the 2018 Farm Bill. However, there are a few pitfalls. If you follow the link, you will see that products that contain THC are still illegal to import. Moreover, all imported seeds must be accompanied by a relevant phytosanitary certificate issued by the national plant protection organization of the exporting country. Such products must adhere to APHIS regulations and have a certification about freedom from plant pests. For seeds imported from Canada, there also must be an official Permit to Import Plants or Plant Products.
In any case, all hemp seed shipments are carefully inspected at the first port of entry by U.S. Customs and Border Protection (CBP). Thus, such deliveries are highly likely to be seized by customs.
When buying seeds online in the US, the legal matter will be dictated by the status of cannabis in each particular state. In states where home-growing weed is legal, you can buy seeds freely from a licensed dispensary and an offline or online retailer. These states include Alaska, Arizona, California, Colorado, Illinois, Maine, Massachusetts, Michigan, Montana, Nevada, New Jersey, Oregon, Vermont, Washington, and Washington, D.C. However, some states require a special license to grow cannabis at home. Others limit the number of plants that you can grow, as well as whether or not they can be publicly visible.
How Much Will It Cost You to Buy MJ Seeds?
The price depends on several factors: seed type, breeder, strain, and the size of the pack. The price range is between $2 and $50 per seed.
You can discover various seeds for sale matching different budgets on our website. Depending on the strain and type, you can find packs of 4, 5, 8, 10, 12, 24, and 25 seeds.
Before making an order, remember that Autoflower and Feminized types are generally more expensive. Also, note that the larger the pack, the lower the price per seed. Now browse AskGrowers to find the best MJ seeds for sale that will match your needs and budget!
Discover More Seed Products By Specific Category