Fast Flowering Cannabis Seeds From The Best Seed Banks
With the popularity of recreational and medical marijuana, growers can now have a vast range of options for various purposes. One of the most popular types of seeds is fast-flowering ones. They are different from other types, with a short flowering cycle and high yield. The collection below was made by the AskGrowers team.
Discover More Seed Products By Specific Category
Fast-flowering seeds are becoming increasingly popular among new and seasoned cannabis cultivators. The speed of weed growth is important, especially for commercial growers. This type of seed was created through careful crossbreeding to offer all the benefits of photoperiods while producing a yield twice as fast as other strains. One of the key reasons for growers to choose quick flowering weed seeds is that they offer a perfect quality/speed/price ratio.
What Are Fast Flowering Weed Seeds?
Fast-flowering cannabis is developed by mixing photoperiod and autoflowering strains by crossing the female clone of a feminized photoperiod strain and a feminized auto. The result is a marijuana strain carrying the autoflowering gene that is still light-dependent.
Even though autoflowering genetics aren't dominant, the presence of its genetics allows for shorter flowering windows. Fast-flowering strains belong to the group of strains that growers can harvest faster while still enjoying the high yields, quality, and potency levels of any traditional photoperiod. They differ by the following types:
| | Fast version seeds | Fast feminized cannabis | Fast autoflower cannabis | Fast regular cannabis |
| --- | --- | --- | --- | --- |
| Flowering time | 7-8 weeks | 7-10 weeks | 6-9 weeks | 7-10 weeks |
| Growing difficulty | Easy/Moderate | Easy/Moderate | Easy | Moderate |
Benefits of Fast-Flowering Seeds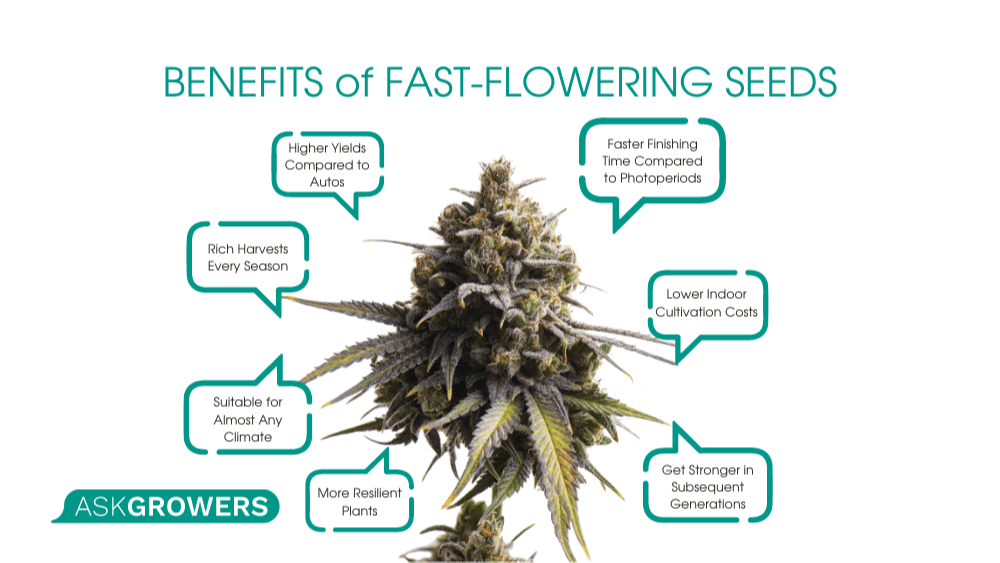 Fast flowering strains flower much faster and are less demanding to daylight hours. The final product is a strain that is not auto but develops faster than the rest. Their benefits include the following:
Higher Yields Compared to Autos
This weed has a longer vegetation period, producing larger, stronger plants with higher yields and cannabinoid levels.
Faster Finishing Time Compared to Photoperiods
Fast-flowering marijuana has finely tuned genetics, meaning they are ready for harvest faster than standard photoperiod strains. This makes them an excellent choice for commercial cultivators and recreational growers.
Rich Harvests Every Season
Since these strains require less time to flower and to be harvested, they allow for more growing cycles during the same season. This is a great choice for cultivators looking for multiple harvests quickly.
Lower Indoor Cultivation Costs
Thanks to the shorter time they require, fast flowering cannabis needs fewer lights per harvest. This creates great savings for indoor growing.
Get Stronger in Subsequent Generations
Their quick-flowering genetics only get stronger as they are passed down, meaning fast versions can be great parent strains.
Suitable for Almost Any Climate
Most regular and autoflowering strains struggle to grow in wet and cold climates. Fast-flowering strains can be grown in almost all conditions and deliver robust plants. This makes them a perfect option for beginners.
More Resilient Plants
Most fast-flowering strains have a great natural resilience to mold and fungi. This benefit makes it easier for outdoor cultivators to avoid top rot by harvesting before the rainy season.
Quick Flowering Seeds: Growing Facts
Difficulty: Mild. They are easier to grow than regular ones as they require fewer demands from cultivators. However, growers still should know certain skills to get quality and high yields.
The difference in flowering time: Sometimes, one seed blooms faster than another. This often happens when you grow different types of fast-flowering marijuana. If you grow one type and this still happens, check unique environmental factors such as soil temperature and lights near the slow-flowering cannabis.
What to know for beginners: The later in the year you plant, the colder and damper it gets outside. These seeds badly cope with cold and dampness since they inhibit the release of THC-rich resin. Experts recommend choosing the sea of green method to successfully grow your first fast-flowering strain.
5 Popular Fast Flowering Strains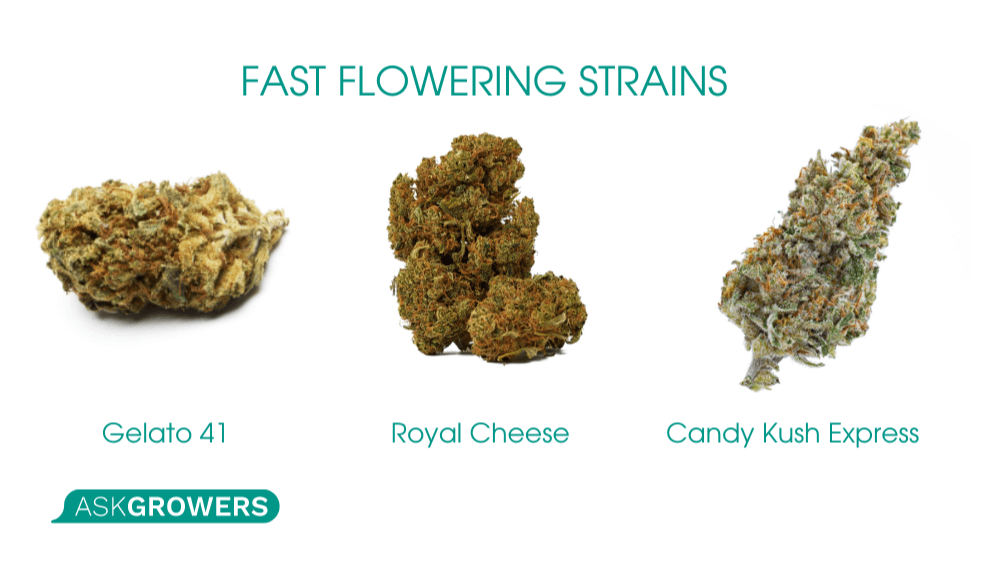 Cookies Fast
This strain resulted from crossing the Cookies & Cream Seedstockers genetics and original Girl Scout Cookies into a "fast version." The weed offers a deliciously sweet taste and a balanced high.
This is a photoperiod feminized strain using the best gelato genetics with THC levels higher than 20%. This marijuana offers a delicious flavor of ice cream and a potent high.
This is one of the fastest flowering weeds. It is created by crossing Old School Skunk and Afghani. The weed's THC level reaches 17%, making it a good choice for relaxing and stoning the body high.
Honey Cream Strain
This Indica-dominant hybrid is one of the fastest growing marijuana seeds. This cannabis bud resulted from crossing BlueBlack, Maple Leaf Indica, and White Rhino.
A slightly Indica-dominant hybrid resulting from crossing Sweet Special with OG Kush. The weed offers a potent high and sweet earthy flavor.
Frequently asked questions about Fast Flowering
Quick growing seeds (also called fast flowering or early version) are light-dependent, so they provide a much faster flowering period than regular ones.
Some of the fastest-growing weeds are Jack Herer Fast Version seeds.
Yes, they require less time and demand from growers, so they are suitable for beginners.