Indoor Marijuana Seeds From The Best Seed Banks
Growing weed indoors is an optimal solution for many enthusiasts and professional growers because of the year-round yields and manageability of indoor plantations. If you're also looking for the best weed seeds for indoor cultivation, we've hand-picked the best seed options suited to indoor growing conditions and environments.
Discover More Seed Products By Specific Category
Recommending Seeds Only From Verified Banks
You're not limited to one seed bank or brand when choosing strains to grow indoors. We feature numerous seed providers under one roof to ensure our users have a broad choice, suited to their budgets and growing preferences. At our site, you'll find the top picks for indoor growing in the USA in 2023 from:
I Love Growing Marijuana;
Crop King Seeds;
Homegrowncannabisco;
And many other excellent options on the list.
Why Consider Indoor Cultivation?
Since times immemorial, weed has been a wild plant growing outdoors, with or without human intervention. However, with time, avid cannabis users have felt the need to organize more manageable indoor growing rooms for their weed plantations for many reasons. Firstly, weed still has an ambiguous legal status in many locations, and your neighbors may not share your love for weed. Secondly, growers often reside in climates unfavorable for cannabis growing, and indoor grow rooms can be controlled with temperature and humidity equipment. Therefore, indoor growing, though a less natural way of cultivating weed, still remains a workable option for many marijuana cultivators in many parts of the world.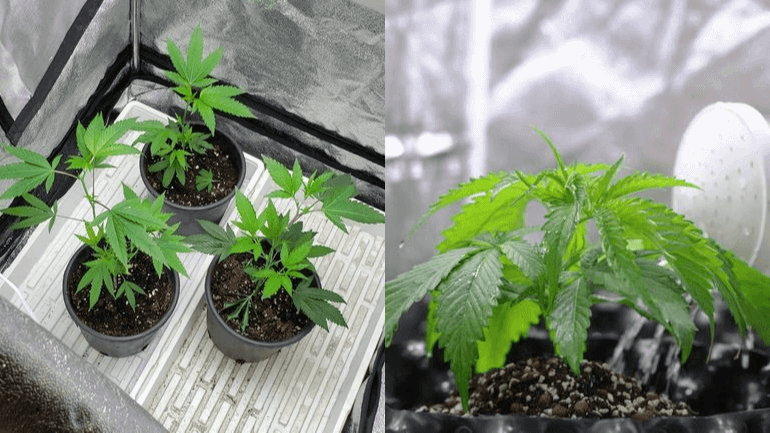 Finding Your Perfect Indoor Marijuana Seeds
The best combo for growing cannabis indoors is a relatively small size of the mature plant and a high yield, even with a low height. When choosing weed seeds for indoor growing for sale, you need to consider that they are less immune to bad weather conditions and temperature fluctuations. Please don't take the risks of cultivating them outdoors, as you risk losing your nerves and harvests altogether.
Both novice and experienced weed growers can buy indoor marijuana seeds of high quality at various seed banks or producers. If weed cultivation is legal in your state, you can attend a local seed bank or dispensary and get a qualified consultation there. Otherwise, you can order seeds online from one of the reliable, certified seed banks in the USA.
Go through the list of seeds specifically meant for indoor plantations on our website and choose the one to your liking based on the potency, growing conditions, and overall strain profile. We've gathered a vast selection of the best seeds for indoor grow inside the apartment, hi-tech grow boxes, and even on your windowsill.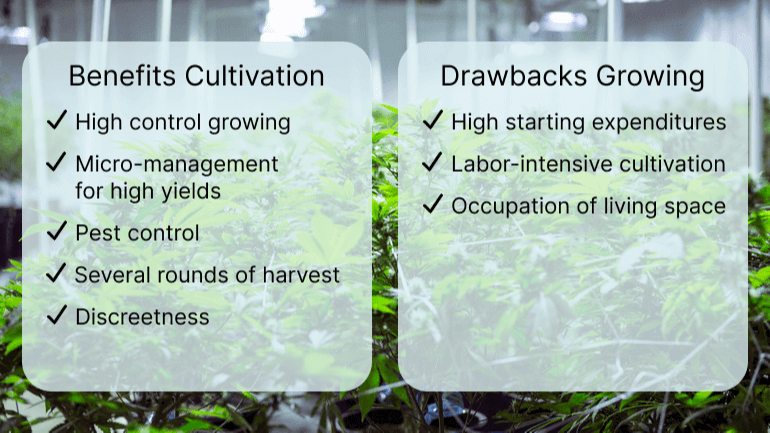 Benefits of Indoor Weed Cultivation
Growing weed at home or in a greenhouse is a pretty easy and manageable task. Here are the pros you should consider when opting for an indoor plantation:
A high degree of control over the growing conditions. When you grow weed plants outdoors, you should consider the whims of nature and the weather. The risk of losing your harvest because of heavy rains, early frosts, or other natural misfortunes is always present, even in relatively favorable and stable climates. Conversely, your indoor plantation may provide the plants with an optimal amount of sunlight, the right level of humidity, and ideal temperature for quick growth.
Micro-management for high yields. Every strain has optimal environmental recommendations for the grower to maximize the yields and make their plants flower quicker. These conditions are uncontrollable outdoors, while indoors, you can create any microclimate your strain needs to flourish. You can set up the best feeding and lighting schedule so that your plants give the highest yields possible.
Pest control. Once you plant weed in the indoor environment, you create an isolated space that won't let diseases and pests in. The risk of plant disease, mold, and pests is much higher in an open space.
Several rounds of harvest. Growing outdoors is possible only in the late summer and early autumn months while growing indoors can be done all year round. This way, you get up to 5-6 harvests instead of one.
Discreetness. You'll never need to explain anything to your neighbors or passers-by, as your plants will be hidden from the watchful eyes of the public.
Drawbacks of Indoor Growing to Consider
Obviously, growing weed indoors is not a walk in the park. While outdoor plants may be left untouched and still develop according to their natural cycles, indoor plants require much care and effort from the grower. The most frequently cited challenges are:
High starting expenditures. You need to invest a large sum of money at the onset of your indoor cultivation endeavors in order to buy lamps, proper soil, fertilizers, and air ventilation for an optimal environment.
Labor-intensive cultivation. You'll spend more time pruning, trimming, and managing your plants than you would in a larger outdoor space.
Occupation of living space. When organizing plantations at home, sacrificing the essential space for other activities may be required.
A good solution for most of these bummers is to choose the best marijuana seeds for growing inside, and buying them only from top-quality brands. This way, you save yourself the trouble of non-germination and receive high yields even with little effort and growing experience.
Choosing the Indoor Weed Seeds: Autoflower vs. Photoperiod
The choice between autoflower and photoperiod (feminized) seeds depends on the grower's preferences and expectations. Autoflower seeds grow quickly and don't require extensive effort. Just place a germinated seed in the soil and wait for 7-9 weeks. However, feminized seeds are more flexible in terms of cultivation techniques and give more fruitful harvests, thus offering more freedom of experimentation to mature growers. Look through our list to find the best feminized seeds for indoor growing and enjoy large, bountiful harvests.
Strain Type Selection: Indica vs. Sativa
Talking about strain selection, we should note that Sativa weed is not among the best indoor strains. Sativa plants usually grow tall and exceed 3-4 meters, which is unaffordable at most indoor plantations. However, Indica plants are smaller and denser, giving indoor cultivators much more freedom of indoor growing without hardships. The good news is that you don't have to refuse the therapeutic benefits of Sativa by opting for indica-only cultivars. There are many hybrids developed with indoor growing needs in mind, and our collection includes many species of sativa-dominant strains with an Indica growing type.
Is Indoor Growing Better Than Outdoor Cultivation?
Let's quickly recap the differences between indoor and outdoor cannabis seeds. Most indoor weed seeds are feminized, as the risk of pollination in a small grow room is a disaster. Besides, they are more sensitive to environmental conditions and flourish only in specific environments.
Thus, you should keep in mind that the distinctions are pretty specific and don't relate to:
Genetics;
Nutritional requirements;
Flowering mode.
Those new to weed growing can find much carefully selected and structured information in our comprehensive Growing Guide. It covers everything you need to know about cannabis cultivation and walks you through the ins and outs of this process to ensure you get a rewarding, positive weed-growing experience.
Lighting Conditions for Growing Weed Seeds Indoor
Plenty of light is a mandatory prerequisite for optimal weed plant growth. So, you should equip the indoor grow room with HID, CFL, or LED lights to give plants 12 hours of light and encourage their flowering. The best option is LED lighting, as it's cheaper in terms of equipment and electricity bills. Besides, it can help grow weed plants with high yields that are normally achieved using expensive and electricity-consuming HID lights.
Flowering Time of Cannabis Plants Grown Indoors
As for flowering time, you may expect yields in 8-10 weeks upon germination. Autoflower plants usually make it quicker, and the buds are ready for collection in 8 weeks. Feminized plants may take longer to mature, and the harvesting time should be planned for 9-10 weeks upon germination.
Equipment Needed for Indoor Weed Cultivation
Indoor growing is more demanding in terms of the required equipment, as you need much more than a bucket of soil to place your germinated seeds in. Growers should reconstruct an optimal environment for the weed plants, including ventilation with fresh air, proper amount of sunlight, sufficient humidity, and an optimal temperature throughout the growing cycle.
Aeration and humidity may be controlled with the help of fans, heaters, and humidifiers. If you need to keep the plantation discreet, we recommend installing carbon filters or specialized exhaust systems to lock all odor inside the grow room. It's also popular to use yield-maximization equipment, like hydroponic or aeroponic systems, soilless growing systems, etc., to deliver the right amount of nutrients and ensure optimal plant growth.
Here are some weed seeds recommended for indoor growing: Pink Panties Feminized Seeds, Gorilla Cake Autoflower Seeds, and Forbidden Fruit Feminized Seeds.