High Yielding Marijuana Seeds From The Best Seed Banks
When it comes to cannabis growing, the more, the better, right? Everyone wants to get the most out of their weed plants without sacrificing quality and flavor. That's why we've rounded up the best high-yield cannabis seeds that come with a long list of benefits, from incredible potency to therapeutic effects. High-yielding cannabis plants need extra care and attention but they are definitely worth it because they will exceed your expectations. To maximize the yield of your cannabis buds, check out our collection of seeds you can buy online with a single click.
Discover More Seed Products By Specific Category
Highest Yielding Strains Are the Name of the Growing Game
High-yield seeds are cannabis seeds created specifically to produce the highest yield possible. They are a superior type of weed seeds that provide everything a cannabis lover may wish for: abundant yields, potency, mind-blowing flavor, and good effects. Given that it takes a lot of time to take care of cannabis plants, cultivators value seeds that are worth their effort.
Seeds bringing the most generous yield generally require more attention than other cannabis seeds. They develop slower and higher, which means that some specific interventions are needed:
Plant support;
Additional ventilation to prevent rot;
High-stress training (e.g., topping).
Due to these requirements, the highest-yielding seeds are usually recommended to experienced cannabis growers who can provide the best care. However, even newbies can try these wonderful seeds if they enjoy spending some extra time in their garden and learning advanced growing skills.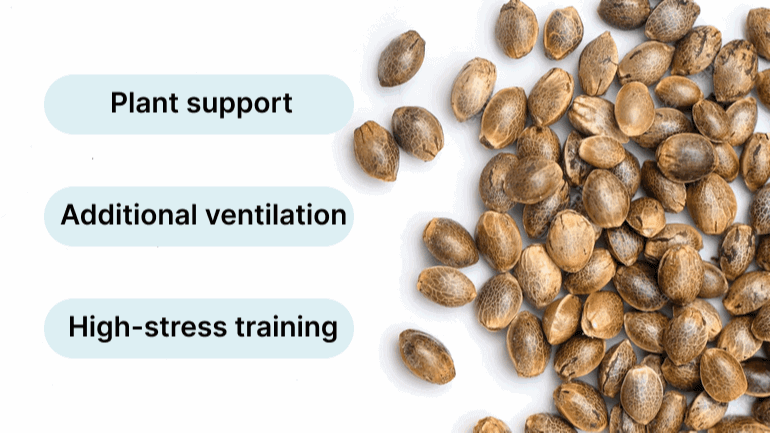 You Should Definitely Give High-Yielding Seeds a Try
The most convincing argument in favor of high-yielding seeds is that you can enjoy more yield with fewer plants. If you have a small growing space or a limited budget, purchasing several big-yielding cannabis seeds is the most cost-effective and convenient option. If you grow cannabis on a large scale, high-yielding plants are also appealing because they allow increasing the crop with less effort and resources.
Cultivating high-yielding weed plants is totally worth the effort. They may require more resources, patience, and skills to grow but you will be rewarded with abundant, resinous buds with an unforgettable aroma. If you are not scared of work, go ahead and try some of the seeds listed in our collection. We've selected our top big-yielding seeds in 2023 from the most reputable seed banks:
I Love Growing Marijuana;
Crop King Seed;
Homegrown Cannabis Co, and others.
The AskGrowers team has picked top seeds with different skills and needs in mind, so you can always find products that work for you. Here are some high yielding weed seeds: Black Mamba Feminized Seeds, Bruce Banner 2.0 Feminized Seeds, and Wedding Crasher Feminized Seeds.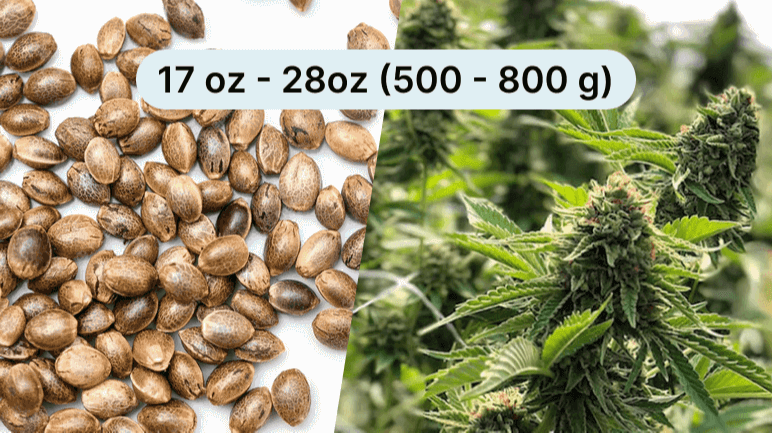 Yield Expectations
The same cannabis strain can produce different yields depending on the growing site, nutrients, lighting, and many other variables. This explains why strain descriptions on different websites often show varying yield parameters. On average, a heavy yield strain can produce up to 500g of yield per square meter. But some exceptional strains can reward growers with about 800g if grown outdoors.
However, it is important to understand that even high-yielding cannabis strains can produce moderate crops if they grow in suboptimal conditions. So, if you are a lazy grower, don't expect your plants to reach their maximum potential.
On the contrary, if you are a diligent cultivator who enjoys amping up your growing skills and knowledge, you will find the growing experience extremely rewarding. There is nothing more gratifying than to see how your effort translates into an increasingly generous yield with every harvest.
Tips for Selecting Big Yielding Seeds
It is generally believed that growers aiming for high yield should choose feminized seeds over autoflowering ones. While this rule still applies to many strains, there is an increasing number of new high-yield autoflower seeds for sale that can offer abundant crops. However, with autoflower seeds, high yield may be a bit more challenging to achieve because you will need to create ideal growing conditions.
Sativa-dominant cannabis strains tend to provide heavier yields because they grow taller and release more resinous buds. You can also look for hybrid strains that combine Indica and Sativa genetics for optimal flavor, effects, and ease of growing.
There is no hard and fast rule when it comes to selecting big-yielding seeds. The best advice is to read each strain's seed descriptions and growing requirements. Rely on reliable sources to guide you through thousands of seeds available for sale in the USA. Trusting websites with low credibility is risky because you may end up with regular seeds that will not meet your yield expectations.
When choosing big-yielding seeds, evaluate your growing expertise and knowledge. Choosing hard-to-cultivate seeds with the highest yield possible may not be the wisest approach because you will not be able to provide the level of care needed. In such cases, it's better to opt for seeds with a medium growing difficulty that you can handle without sacrificing crop abundance and quality.
Growing Info About High-Yielding Cannabis Seeds
For the highest possible yield, you need to make important decisions regarding the growing site, medium, techniques, etc. Here are the main things to keep in mind if you are determined to make the most out of cannabis growing.
Germination Stage
The paper towel method is considered the most reliable and effective for germinating high-yield weed seeds. The method is very simple and suitable even for novice growers. The process is as follows:
Take two damp paper towels and a couple of plates;
Soak the towels in water;
Place one wet towel on a plate so that it fully fits;
Place your seeds on this towel;
Cover the seeds with another wet towel;
Cover the set with the second plate;
Store away from direct sunlight until germinated;
Maintain the optimal temperature of 70-85º F.
Growing Medium
It is possible to achieve high yields with both the classic soil and hydroponic methods. If you place your germinated seeds in the soil, make sure to enrich it with nutrients such as nitrogen, phosphorus, potassium, magnesium, and sulfur. With hydroponics, you can achieve a 20% higher yield because it improves plants' nutrient intake. Therefore, this method is preferable for optimizing yield.
Light and Environment
If you use autoflowering seeds with high yield, you don't have to worry about the specific lighting schedule. Give these plants about 18-24 hours of light a day to achieve the highest yield. With regular and feminized seeds, provide 18-24 hours of daily light while the plants grow, and then reduce the lighting period to 12 hours per day to induce flowering. If you grow indoors, use LED lights to generate sufficient light and heat that your plants will love.
When it comes to the indoors/outdoors dilemma, everything depends on your climate. High-yield strains can thrive in both environments as long as they get enough warmth, light, and nutrients. However, many growers prefer to cultivate big-yielding strains indoors, where they can control the environment more effectively. This method is costly because you need a full setup, including lights, growing medium, air conditioning, etc. But it protects your plants from the elements and unwanted attention from neighbors.
Techniques for Ensuring High Yield
Finally, you may want to study the techniques for ensuring higher yields:
Sea of Green (SOG);
Screen of Green (SCROG);
High-stress training.
These are designed to control the branches' height and form, provide proper ventilation, and ensure that the buds have enough space to develop. All three techniques aim at helping cannabis plants develop as many flowers as possible, and shorten the harvest time.
Top Biggest Yielding Strains to Try
With dozens of new big-yielding strains popping up left and right, choosing the best becomes a real challenge. Don't worry – we've got you covered with this list of the top high-yield cannabis seeds you can order right now.
Pluto Kush Autoflower Seeds
When it comes to high-yield autoflower seeds, USA cultivators usually choose this strain that can provide an average of 350g/m2 indoors and up to 800g/m2 outdoors. It also has a high THC content for a couch-locked effect and ultimate relaxation.
Green Dream Autoflower Seeds
Depending on the growing location, these plants provide a yield ranging from 480g/m2 to 700g/m2. Choose this indica-dominant hybrid if you are looking for a euphoric effect and rich flavor.
Cookie Monster Autoflower Seeds
Another autoflower star, this high-yield seed can provide a yield of 450-550g/m2. A high THC profile ensures some serious relaxation effect that will leave you completely stoned.
Always Be Well-Prepared
Keep in mind that to achieve the stated yield, you need to possess some basic growing skills. For a more guided approach to growing weed, consult our free Growing Guide that's designed specifically for novice growers. Here, we are breaking down all you need to know about cannabis seeds, strains, and their properties, and optimal conditions and tricks for achieving the highest yield. This guide can become a game-changer when it comes to growing weed and save you a lot of time and effort. Dive yourself into the world of cannabis cultivation before you buy your first high-yielding seeds.