Cannabis Seeds For Beginners From The Best Seed Banks
Simple and effortless is exactly how growing weed should always be. Weed growing can be fun and fulfilling if you use seeds created specifically with novice growers in mind. Seeds for beginners are a game changer for everyone, from growers who don't have much time to those lacking the skills to take care of the cannabis garden. Browse our collection of pot seeds for beginners that prove that cannabis cultivation doesn't have to be complicated. Give these easy-growing seeds a shot and discover their multiple benefits for yourself.
Discover More Seed Products By Specific Category
Taking a Closer Look at Seeds for Beginners
Cannabis seeds for beginners are easy-to-grow weed seeds that do not require in-depth knowledge or advanced growing skills. Other characteristics of these wonderful products include:
Resistance to mold, pests, and diseases;
Resistance to temperature fluctuations;
Small to moderate size;
Suitability for both indoor and outdoor growing.
Seeds genetically modified to simplify the growing process are also less demanding in terms of the lighting schedule so beginners won't have to worry about the lighting.
But why have easy-grow marijuana seeds been created in the first place? The answer is simple – cannabis growing is not a piece of cake if you are an amateur grower. Before the emergence of seeds for beginners, cultivators had a very small margin for error. Any small mistake could become fatal and lead to the plant's death, disease, or yield reduction. Luckily, most of these growing challenges are a relic of the past, as there are hundreds of marijuana seeds for beginners that make growing a no-fuss experience.
However, seeds created with beginners in mind are also suitable for growers with some experience under their belt. If you belong to this category, leave the "no pain, no gain" principle behind because it's possible to enjoy a generous yield while taking it easy. Try seeds for beginners so your cannabis journey will be stress-free, from planting to smoking.
The best thing about plants for inexperienced growers is that, in addition to the ease of growing, they have excellent qualities regarding cannabinoid profile, potency, taste, and effects. The fact that they require lesser time and energy to cultivate does not decrease their overall value.
Factors to Consider When Selecting Seeds for Novice Growers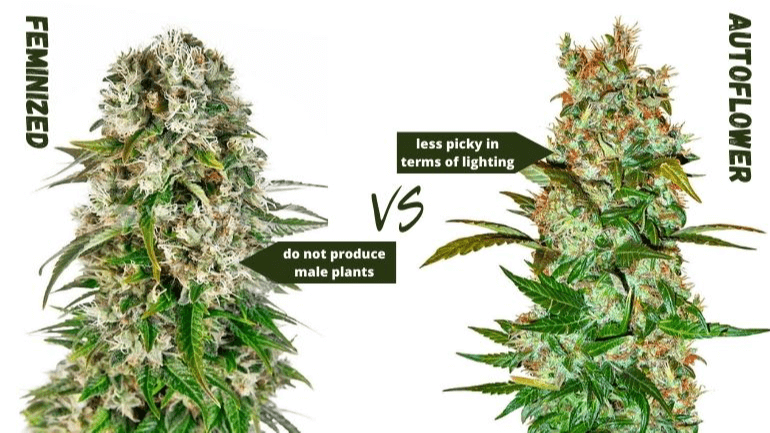 The best cannabis seeds for beginners are either feminized or autoflowering. Feminized seeds have one key characteristic that makes them perfect for low-skilled growers – they do not produce male plants. Since male plants can pollinate female ones, thus contaminating a crop, it's better not to have them in your garden at all. When you use feminized seeds, you don't have to worry about monitoring your garden closely every day and removing males.
Autoflowering seeds have another important advantage particularly valued by beginner growers – they are less picky in terms of lighting. This type of seed flowers independently from the lighting cycle, following its development pattern. It gives inexperienced growers more freedom regarding lighting and allows harvesting several times per season. To sweeten the deal, plants grown from the best autoflower seeds for beginners tend to develop faster, so you get your yield in no time.
Another huge perk of beginner weed seeds is that they are well-suited for both indoor and outdoor cultivation. If you live in a mild Mediterranean climate, you can plant your seeds outdoors and let the elements take care of the plants. Marijuana seeds for beginners are usually resilient enough to tolerate temperature fluctuations outdoors.
Cannabis pot seeds for beginners grow into small- to medium-sized plants, so indoor growing is also possible. In this setup, you gain more control over your garden and can regulate the temperature, humidity, and lighting to get the optimal yield.
Finally, you need to choose Indica strains over Sativa ones because they are generally more grower-friendly. Indica cannabis plants are smaller and take up less space. They are easy to grow and produce dense, potent buds relatively quickly. Indica plants are also more suitable for climates with a short summer because they grow faster and do not require as much light as Sativa varieties.
Resistance to Mold, Pests, and Diseases
The best marijuana seeds for beginners are genetically modified to make them less susceptible to mold, pests, and diseases. Mold is a common problem when marijuana is grown in a humid environment or when plants do not have access to fresh air. Seeds for novice growers tolerate humidity better, so you have fewer risks of finding dangerous mold in your precious garden.
Pests and diseases also threaten to destroy your yield, so cultivators make sure that seeds for beginners are more resilient to these problems. It does not mean your plants are 100% protected, so you still need to follow some basic recommendations regarding the temperature, soil, fertilizers, etc.
Why Marijuana Seeds for Beginners Must be Resilient
If you are a novice grower, you might make several mistakes when growing weed. Wrong or inconsistent lighting schedule, male plants not removed on time, a growing site that is too cold or too hot – there are many ways to mess things up. To add insult to injury, you may struggle with determining the right amount of water your plants need to thrive.
With weed seeds for beginners, you can't go wrong. They have been designed to withstand the most common growers' mistakes, such as:
Too much water;
Poor water quality;
Too many fertilizers;
Wrong temperature;
Over-pruning.
Even if you make mistakes, the plants grown from resilient seeds still have a high chance of producing an abundant yield.
Novice growers often overestimate their skills and zeal, thinking they can manage hard-to-grow seeds successfully. We know that purchasing rare seeds for weed connoisseurs may be tempting, but you first need to start with more resilient varieties. Once you feel more comfortable taking care of your plants, you can add more demanding seeds to your garden.
Here are some weed seeds that are easy to grow: Blueberry Yum Yum Autoflower Seed, Gorilla Cookies Autoflower Seeds, Cherry Pie Feminized Seeds, Banana Kush Autoflower Seeds, and Wedding Cake Autoflower Seeds.
The White Seeds Myth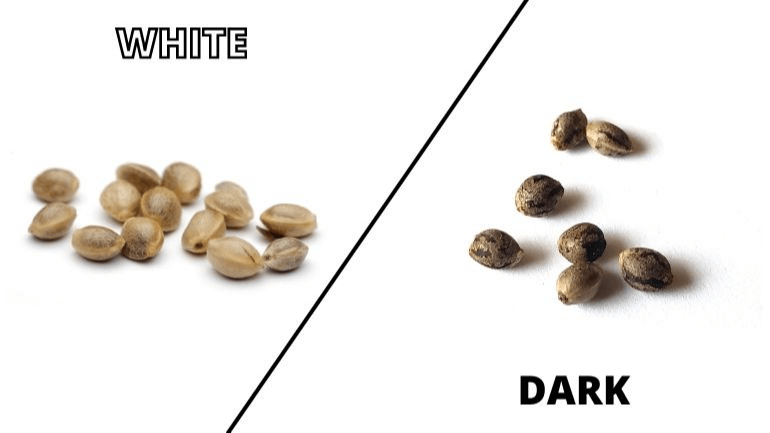 Cannabis seeds for sale may vary in color, which ranges from silvery white to deep black. There is a stereotype that darker seeds grow better and are more suitable for novice cultivators. In contrast, white seeds have been erroneously described as inferior because they germinate slower than brown and black ones.
However, recent tests have dispelled this myth. Researchers used cannabis seeds belonging to the Think Different strain. They had the same genetic background and were produced in the same conditions. Their only difference was the color. The test showed no difference in germination rate between the seeds of a different color. Moreover, white seeds germinated more quickly than the rest of the batch.
So, don't worry if you get white seeds that do not look like traditional weed seeds. Their color will not affect the growing difficulty or quality of yield.
The Easiest Way to Grow Weed Seeds
Even if you order the easiest weed to grow, an abundance of growing information online may be intimidating. Numerous blogs and guides are designed to simplify growing, but they may also frighten off inexperienced cultivators who get lost in complex terms and instructions.
The art of weed growing takes time to master. Therefore, our team created a Growing Guide for beginners with essential information for cannabis lovers. We have organized the growing info in easy-to-read sections to facilitate search. This guide answers all your questions regarding how to obtain a generous yield with minimum effort.
The main message of our guide is to show that cannabis growing is not as difficult as it may seem. The key to success is to filter information and use growing tips from reliable sources. We also encourage you to experiment with your garden. Start with three seeds and build up your knowledge as you progress. Over time, you will learn to avoid common mistakes and find pleasure in growing potent weed from scratch.
It would be best if you also remembered there is no single way to grow seeds. Try different methods, seeds, and growing sites to find the easiest ones for you.
Only Verified Seen Banks
We have selected easy grow marijuana seeds that will make your growing experience pleasant and stress-free. We know how discouraging the first growing experiments can be. So we've designed this collection to help you fall in love with cannabis growing from the start. Whether you are just starting your cannabis growing journey or looking for new seeds to amp up your garden, we've done all the hard work for you when it comes to choosing the best seeds.
We offer products only from the most reputable seed banks, including:
I Love Growing Marijuana;
Crop King Seeds;
Seedsman;
SunWestGenetics and others.
By narrowing down our search to these credible websites, we can make sure that you select only from the top-quality seeds available in the USA. We also update our collection regularly so that it reflects 2023 prices and product range.
When selecting the best seeds for beginners, we focus on the following seed characteristics:
Autoflower/feminized;
Indica/Sativa variety;
Outdoor/indoor growing;
General growing difficulty;
Plant qualities (e.g., mold-resistant).
So, if you're a beginner looking to get into growing cannabis, enjoy stress-free seed shopping and buy only the best cannabis seeds on the market.