Outdoor Cannabis Seeds From The Best Seed Banks
Are you considering growing weed outside, in your backyard, or in a private-owned field? If yes, we have a collection of outdoor cannabis seeds chosen by AskGrowers experts as top-quality recommendations. We've covered a large set of outdoor marijuana seeds for sale, available at reputable seed banks and dispensaries across the USA. Our list currently features top-rated providers, such as I Love Growing Marijuana, Crop King Seeds, HomeGrownCannabisCo, and many others that offer seeds of unrivaled quality and excellent genetics. They are available both for online order and for purchase at local dispensaries.
Discover More Seed Products By Specific Category
Why Choose Outdoor Weed Growing
Growing weed outdoors is the easiest way to get some precious buds for helping alleviate pain, stress, and anxiety. All you need is a piece of land and germinated seeds. Sun, air, and soil will do the rest of the work. Outdoor cultivation also frees you from spacing limitations, allowing your plants to reach several meters in height without problems. Outdoor plants tend to give higher yields as well. Many cultivators with available land choose outdoor marijuana seeds for sale to grow their plants with minimal effort and fetch bountiful harvests.
For most growers, outdoor cultivation shouldn't be a hassle, especially if the germination and planting time is properly chosen. However, beginners wishing to ace the art of weed growth will surely benefit from our A-Z Growing Guide that condenses many experienced growers' tips and gives you a set of tried and tested growing techniques and approaches.
Outdoor Cultivation Pros
Outdoor cultivation is generally simple and non-demanding. Its benefits include:
Little investments;
Freedom to choose any strain type;
Greater yields per plant;
A natural mixture of nutrients, sun, and fresh air;
Fewer pesticide requirements.
Cons
When considering outdoor cultivation, you should also take the following drawbacks and challenges into account:
Lack of control over weather conditions;
Need to supplant fertilizers and watch over pests;
Longer flowering time;
Need to protect the plants from harsh weather conditions and unexpected temperature fluctuations;
Lack of discreetness.
Selecting the Best Weed Seeds for Outdoor Grow
Overall, there are no limitations in terms of cultivating Indica and Sativa plants outdoors. You have enough room for extra-tall Sativa plants and can grow them if you like the energizing, uplifting effect of Sativa weed. However, if you want to keep the plantation discreet or long for the sedating, stoning impact of Indica, your choice should fall for pure Indica or indica-dominant hybrid seeds. Besides, Indica grows better in cold climates, while Sativa plants thrive in warm, sunny, and dry climates. So, weigh your expectations and the consider climate where you live to choose the best strain.
Ins and Outs of Outdoor Weed Cultivation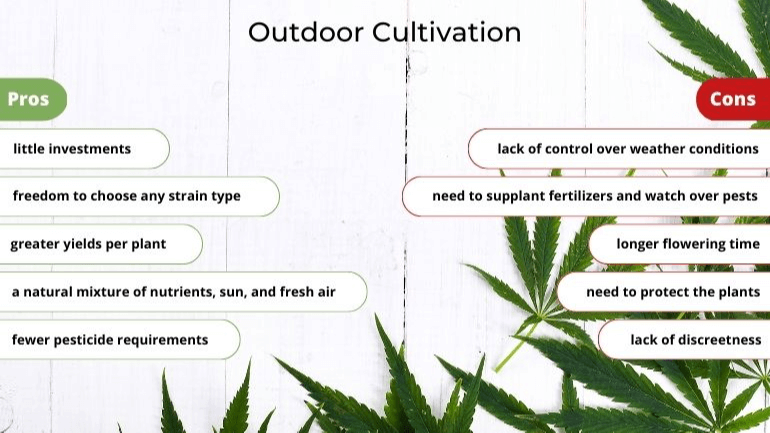 Legislation is getting more favorable for weed cultivators in the USA. You may enjoy a rewarding (and legal) growing experience without problems in 2023. All you need to do is buy seeds suitable for outdoor cultivation and follow a couple of simple rules. Here is everything you need to know to create an optimal environment for your weed plantation outdoors.
Optimal Environmental Conditions
Weed grows well in warm and sunny environments without extreme temperature or humidity fluctuations. When planting weed outdoors, you should accept the fact that you have little control over the environment. For those who grow weed in sunny and dry but cold climates, outdoor greenhouses may be an optimal way to go. Growing weed in rainy areas is also possible if you organize temporary tents for plants and place heaters inside them when the colds start too early.
Flowering Time and Yield Expectations
It's harder to predict the flowering period and size of yields with outdoor weed plants, as much depends on the weather conditions. If you pick outdoor autoflower seeds, you'll need to wait around 3 months for the harvest to get ripe. Growing female seeds outdoor may result in even greater flowering periods of up to 5-6 months. You need to plan your time accordingly and avoid the shocks of early frosts or abrupt temperature reduction. The yield expectations are generally higher for outdoor plants than indoor plantations. On average, you should expect around 300g of buds per plant. Some Sativa strains grow into real trees 3+ meters high, Such plants can produce heavy yields of top-quality buds.
Growing THC-Rich Weed Outdoors
Some growers want to increase the amount of THC in their yield to experience more pronounced mental and psychoactive effects of weed and get better relief from nausea, pain, and spasticity. It's possible by choosing the right strain type with THC-rich genetics, harvesting the buds at the right time, and taking proper care of plant health during their growth. The right harvesting time means waiting for 2-3 weeks until the trichomes reach the milky white color shade and the pistils get darker and curl in. The amount of light also affects THC levels, as THC-rich weed grows in sunny climates.
Best Nutrients for Outdoor Weed Cultivation
When you plant weed outdoors, in most cases, it already gets what it needs from mother nature. You can feed your plants with organic fertilizers, helping them grow stronger and more bountiful. The best fertilizers for outdoor cultivation include nitrogen (fish meal or worm castings), phosphorus (bone meal), and potassium (kelp meal). It's also possible to enhance weed plants' growth by adding calcium and magnesium, which are easily derived from dolomite lime. These nutrients are responsible for various growth stages, so they should be added at different times. For instance, nitrogen is vital for the plant's vegetative stage, phosphorus simplifies the process of plant uptake, and potassium ensures healthy plant regulation and growth. Magnesium helps plants absorb sunlight, while calcium is responsible for cell wall strengthening.
Soil Requirements for Outdoor Weed Seeds
Don't disregard preliminary soil preparation, as its quality makes or breaks your outdoor growing endeavor. The most important parameters to consider are acidity, nutritional composition, and texture. The presence of pathogens and pests is also a decisive factor. Your optimal soil texture should be light and loamy, which is achieved by combining sand, silt, and clay in a 40/40/20 proportion. Double-check the soil's pH level before planting your germinated seeds. Ideally, it should range between 5.5 and 6.5. It may also help to perform soil sterilization with specialized steam equipment. The technique is very useful for sterilizing the soil and killing harmful bacteria, pests, and pathogens before planting your seeds.
Our Top 5 Picks of Outdoor Marijuana Seeds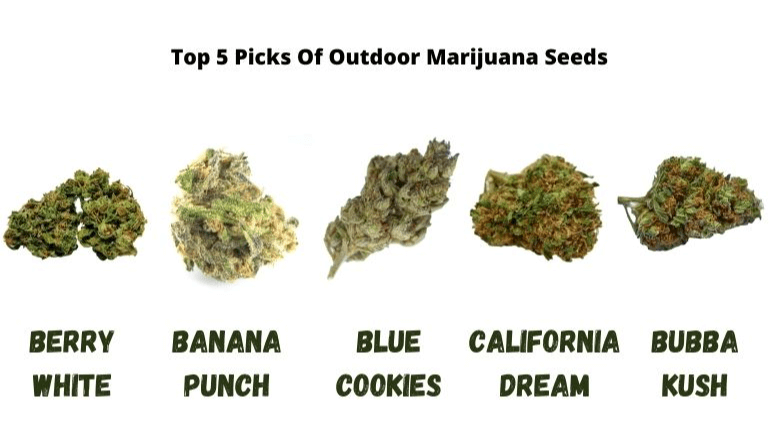 If you're convinced of planting outdoor seeds for all the benefits they offer, here is our list of top seeds, including the best feminized seeds for outdoor growing.
Berry White
This indica-dominant hybrid weed strain is very bountiful in terms of yields and is extremely hard-hitting in terms of consumption. With its THC level reaching up to 22%, Berry White can give a potent sedating effect on the body combined with a carefree, loose sensation and an enthusiastic, uplifted feeling. The feminized Berry White seeds are not hard to grow and take 9-10 weeks to flower. The weed grows the best in warm, sunny, and dry climates. With all growing conditions met, the average Berry White plant can yield up to 400-500 grams of top-quality buds.
Banana Punch
Fans of juicy, fruity weed tastes and a potent sedating effect will surely love Banana Punch. Easy to germinate and grow, this weed strain can give growers a rewarding harvest in less than 8 weeks. The plants usually yield up to 500 grams per plant, if grown in sunny and warm climatic conditions. When picking Banana Punch, you're in for the perfect combo of delicious flavor, super easy growing experience, high yields, and considerable THC potency.
Blue Cookies
Blue Cookies is an indica-dominant hybrid giving the users a relaxed, happy effect without locking them to a couch. The growing difficulty is negligible, and the flowering period is around 9 weeks, giving patient cultivators up to 550 grams of buds per plant. It's a descendant of Girl Scout Cookies and Blueberry, and its THC level is 20% or higher. Users report a relaxing high that gently combines bodily and cerebral effects.
California Dream
As its name suggests, California Dream grows well in warm, sunny climates. If all conditions are met, it will reward the cultivators with up to 800 grams of resin-rich buds. Besides, its THC level is high enough to attract medicinal and recreational users – around 17%. Novices should be cautious about its couch-locking effect, while mature users will surely appreciate the mix of sedation and relaxation it gives. Most growers also appreciate California Dream's complex and pleasant flavor, mixing the shades of mint, citrus, sweetness, and skunk.
Bubba Kush
This is one of the top-rated autoflower seeds outdoor growers can explore when finding the best option for cultivation. It is an Indica strain that contains 19-22% THC and causes a pronounced euphoria combined with bodily relaxation among users. Bubba Kush has many medicinal properties due to its Kush genetics, so it may help alleviate pain, anxiety, and stressful conditions.
Here are some other weed seeds recommended for outdoor growing: Sour Diesel Feminized Seeds, Lambs Breath Feminized Seeds, Rainbow Haze Feminized Seeds, and Super Lemon Haze Autoflower Seeds.