Grower Stories #48: Curtis Wallace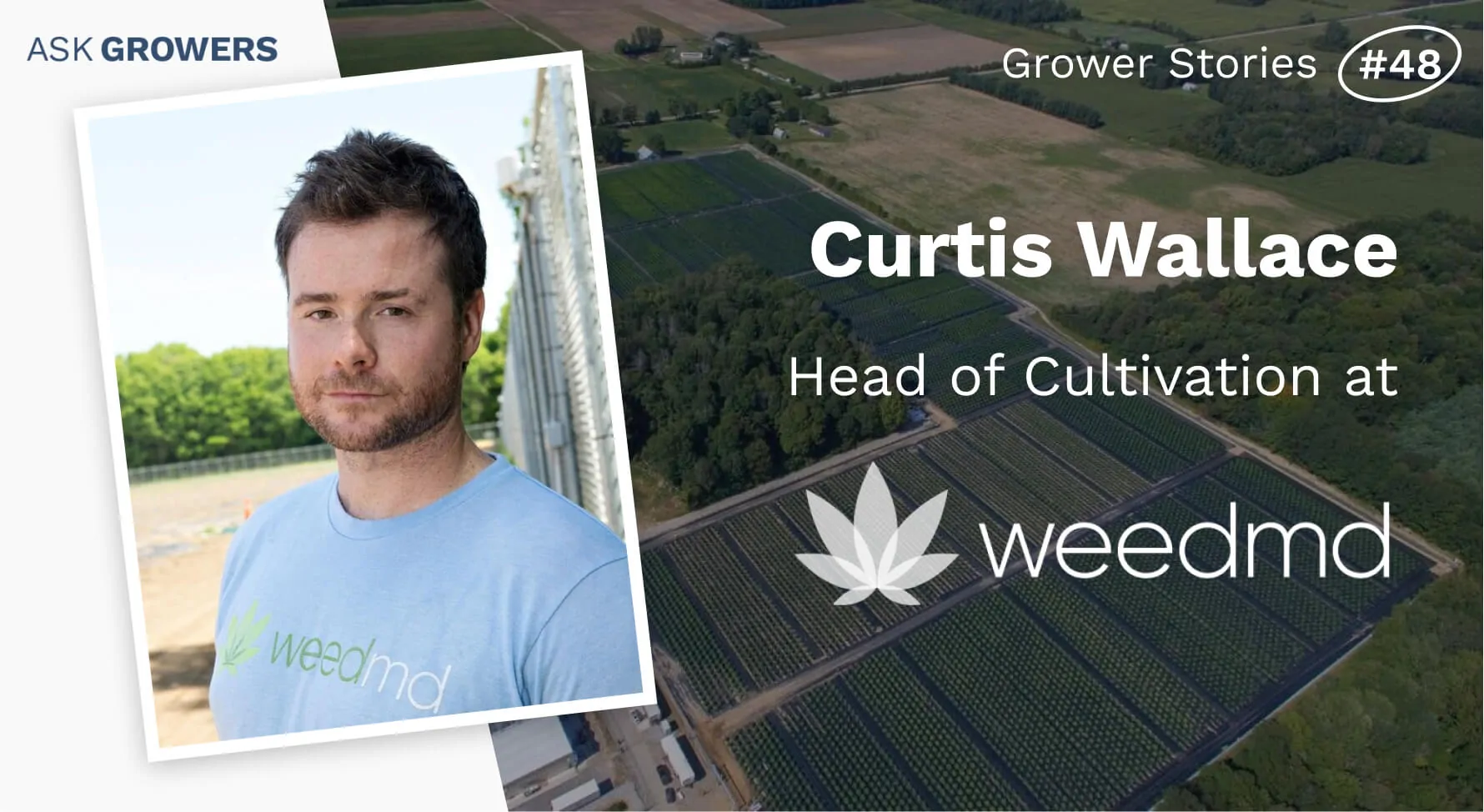 Cultivating the Future of Canadian Cannabis: WeedMD Head of Cultivation Curtis Wallace Shares Approach to Growth Through Legalization
Few people know more about growing weed than Curtis Wallace. As Head of Cultivation at Canadian cannabis production company WeedMD, he does it for a living! He opened up with us about WeedMD's operation, their unique approach to cultivation, and their go-to products for customers all over the world.
---
Tia (AskGrowers) :
Tell us a bit about WeedMD?
Curtis Wallace : WeedMD is a publicly-traded licensed producer based in Ontario, Canada. The company produces and distributes cannabis products for both medical and adult-use recreational markets in Canada. WeedMD owns and operates a 158-acre state-of-the-art greenhouse, outdoor, and processing facility located in Strathroy, Ontario as well as a fully licensed 26,000 sq. ft. Aylmer, Ontario processing facility, specializing in cannabis extraction.
---
Tia :
Can you share a brief description of your role at WeedMD?
Curtis : As the Head of Cultivation, I oversee all aspects of cultivation to cover all 20 grow rooms and 27 acres of outdoor growing space. This includes irrigation, propagation, mothers, vegetation, flowering, harvesting, drying, curing, trimming, integrated pest management, sanitation, and destruction. My work intersects with quality assurance, sales, marketing, finance, operations, and our medical channel to ensure our teams are delivering the volume of cannabis our medical and adult-use channels need, at the first-rate quality our patients and consumers have come to expect from WeedMD.
---
Tia :
Can you tell us about your brands and products?
Curtis : Our company proudly produces award-winning cannabis products and holds genetics that seeded roughly 30 percent of Canada's licensed producers in the early days of legalization. We specialize in high-quality dried flower, 'ready-to-roll' milled cannabis, strain-specific pre-rolls, and vape pens, edible extract oils, and soft gels.
Our medical brand is Starseed Medicinal. Our recreational brands are Color Cannabis and Saturday Cannabis. We are proud to be the exclusive Canadian licensing partner of Mary's Medicinals, a renowned topical producer and wellness house from Colorado; using our own input biomass to produce Mary's products, we plan to start marketing and selling the product line in Canada in 2021.
---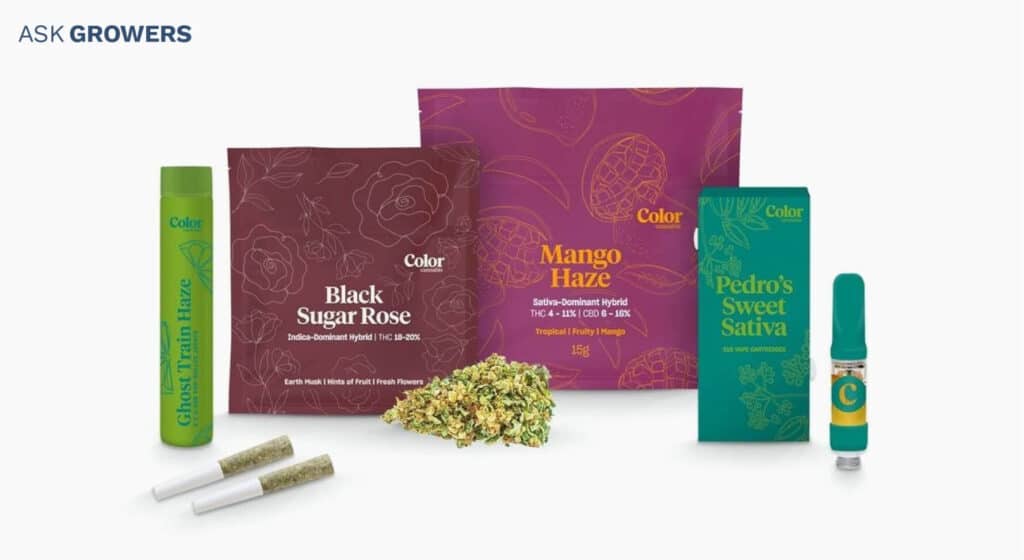 ---
Tia :
What's the WeedMD approach to cultivation?
Curtis : Quality and rigor go hand-in-hand. From day one, all staff is trained how to properly clean and sanitize items. Using this approach, we can ensure staff brings a sanitation-first approach in the grow rooms, trim rooms, or any other department they work in.
Propagation initiates the life cycle of the plants, where they are cared for in cloning trays for about three weeks. From there, the clones are transplanted into pre-vegetation where they sit for two to three weeks. Once well-established, they're transported to one of 17 flower rooms where 3,480 plants are planted across five tables on a total of 20 troughs. Each room is strain-specific, with a flower cycle of 65-75 days, depending on the strain and growing season.
---
Tia :
What's the WeedMD approach in extracting flowers?
Curtis : We use a CO2 extraction process that uses pressurized carbon dioxide to extract cannabinoids, terpenes, and waxes out of plant matter. The resulting product is a highly refined, potent extract that's prepared for use in soft gels, edible oils, and vape pens.
---
Tia :
Did Canada's medical cannabis program contribute to destigmatization around overall cannabis consumption?
Curtis : Our roots in the medical cannabis industry date back to 2013 and we're proud to be among our peers, whose work set the foundation for our country's cannabis industry – every plant we grew, every patient we supplied, and every step forward we took helped open the door to the legal recreational market.
We owe a lot to the patients, doctors, and licensed producers who bravely advocated for access to cannabis medication and advocated for legal reform, prior to full legalization for adult recreational use in 2018. They proved that cannabis can be produced and distributed in responsible ways, and moreover, that medical cannabis has the power to improve quality of life. We've worked closely with insurers and union groups to ensure that patients with applicable insurance have their medical cannabis covered, and we're proud that Starseed Medicinal leads the charge in Canada on this front. The medical market created an entirely new, legal industry in Canada; it provided talented people with careers, contributed to the communities in which producers and clinics operated, and provided a new, responsible image to naysayers and prohibitionists who held on to distorted ideas about the persona of the average cannabis consumer.
---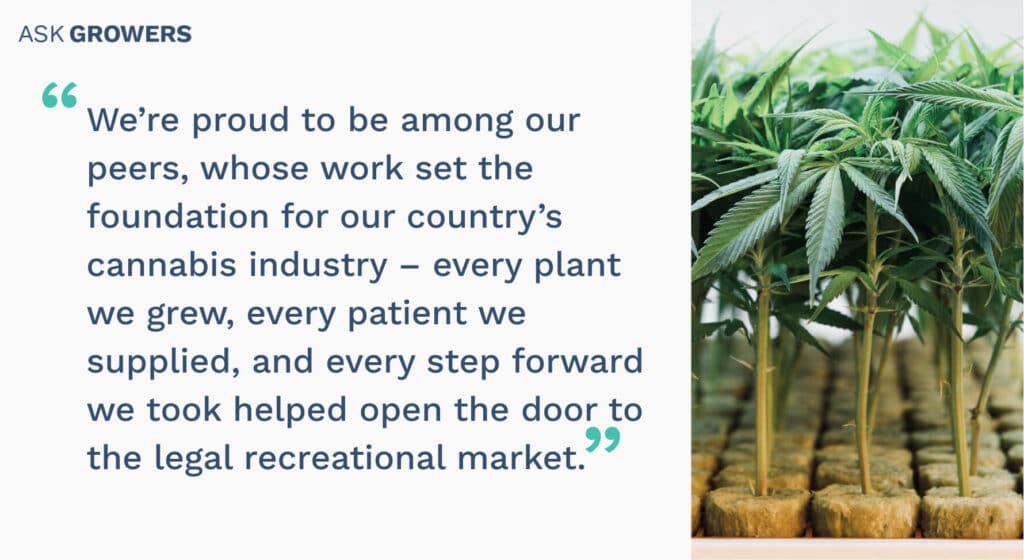 ---
Tia :
Canada has come a long way in the past few years following legalization of recreational cannabis for adult use. Do you believe stigma still exists around those who consume cannabis recreationally?
Curtis : It's true, we have come a long way. We have seen evidence of stigma erosion in a few places, notably in the way that the cannabis market is referenced generally – from a shock and awe perspective, it's really not that big a deal any longer – society didn't crumble when the stores opened and the sky didn't fall.
That said, we still have a long way to go where stigma around consumption is concerned. Where alcohol consumption is completely socially acceptable, cannabis consumption isn't there yet. We still aren't seeing legal cannabis consumption lounges and there still aren't many options to imbibe in social settings, outside of private homes.
People who are invested in cannabis culture and work in the space can help here, though. Either passively through making responsible consumption a part of their public persona, or by sharing cannabis education with their families and social groups; or through direct advocacy in their municipalities, or at the provincial/federal level to make room for responsible consumption sites. We've already proven that we have the power to create lasting, meaningful change and we're not done yet.
---
Tia :
What is your personal cannabis consumption routine - do you consume cannabis yourself, what products, THC/ CBD?
Curtis : I enjoy flowers with mid-range THC and a robust terpene profile.
---
Tia :
If you do smoke, can you share your favorite strains?
Curtis : Mango Haze, Black Sugar Rose, and Super Lemon Haze are all at the top of my list.
---
Tia :
If you could have a chance to smoke with anyone on this planet (dead or alive) who'd that be and why?
Curtis : My father because I wish I had taken more opportunities to do so!
---
Tia :
How would you like to see the cannabis industry evolve over time?
Curtis : I'd like the cannabis industry to become the model for diversity and inclusion. We work hard at WeedMD to ensure equal opportunity for everyone and believe we are strongest when our team is made up of talented people from all walks of life and backgrounds – with diversity comes vast perspective and the ability to break barriers and reach new heights.
---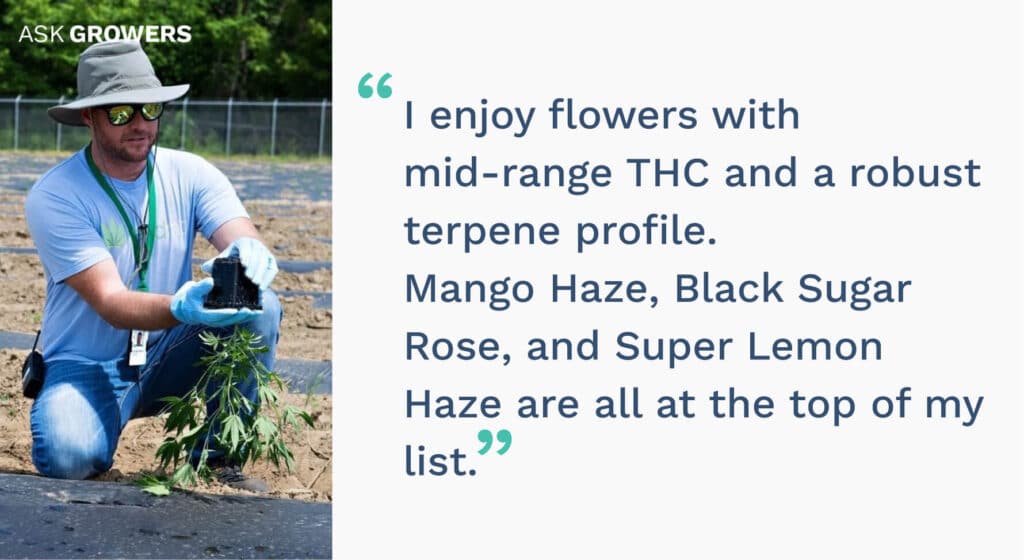 ---
Tia :
Has WeedMD earned any awards in the cannabis industry so far?
Curtis : 2020 KIND Award for Best Sativa Flower in Canada – Pedro's Sweet Sativa
2020 Best Places to Work as Voted by Employees - WeedMD
2019 Canadian Cannabis Award for Best Employer in Canada, Top 10 – Starseed Medicinal
2018 Canadian Cannabis Award for Top Growing Box, Finalist – Shiskaberry Live Cannabis Plant
2017 Canadian Cannabis Award for Best Employer in Canada, Top 10 – WeedMD
---
Follow WeedMD at:
Follow Color Cannabis at:
Follow Saturday at:
Follow Starseed Medicinal at: