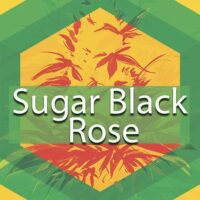 Side Effects
Concern, Thirst and dry mouth, Hunger, Insomnia
Grow Info
Flowering time: 58-70 Days
Harvest time: 75-82 Days
Yield indoor: 2-4 oz/ft2
Yield outdoor: 4-6 oz/ft2
Height indoor: 60-80 Inches
Height outdoor: 60-80 Inches
Grow difficulty: Easy
Flowering type: Photoperiod
All About Sugar Black Rose Cannabis Strain
Sugar Black Rose is undoubtedly one of the night timers. Created by Delicious Seeds, it is a cross between both potent Critical Mass and Black Domina.
Sugar Black Rose strain is mostly Indica with an 80/20 ratio to Sativa and for restless sleep seekers, it is an absolutely right choice. It alleviates body and mind tension making all concerns flow away. The warming body sensation relaxes muscles with the flowing euphoria waves. The high from Sugar Black Rose is happy and uplifting and perfectly sedating. Consumers with insomnia, fatigue, anxiety, stress and depression find this strain an excellent solution to their problems.
The aroma profile reminds of a rainy morning in the rose garden. It is floral and sweet with the scents of earth and overtones of lemon.
Not high in potency with a THC/CBD ratio of 16/1%, Sugar Black Rose marijuana is suitable for not experienced users as for advancers.
Breeders love this herb because it gives a superior yield within approximately 8 weeks. It grows well indoors and outdoors, but the plants get quite tall, so they need the space.