Senior Canine Care: Exploring the Best CBD Products for Older Dogs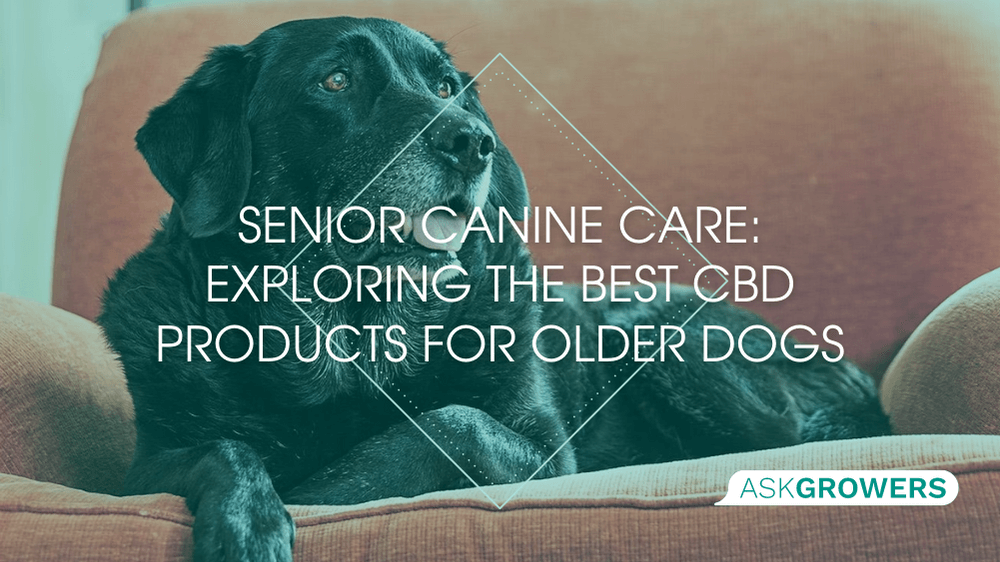 As our beloved dogs grow, their health needs change in diet, and it becomes crucial for pet owners to understand the natural process they go through. Just like humans, dogs grow older and, therefore, experience changes in their bodies and behaviors as they age. While these changes are a normal part of life, some changes can be difficult and cause discomfort for our dog friends.
One of the main signs of aging in dogs is poor mobility and aches. As dogs grow older, they have less enthusiasm for physical activities they loved before because they struggle with chronic pain. These changes may be caused by diseases, but in most cases, this is a normal process caused by joint stiffness, muscle weakness, and reduced energy levels.
Alongside psychical changes, our fluffy friends may also start experiencing behavior problems. This could be either high-stress levels that lead to anger and anxiety or the need to sleep more and play less. Not being identified or treated, these changes greatly affect the dog's quality of life, mood, and desire to communicate with humans.
---
Read Also: CBD Oil for Dogs: Exploring the Benefits to Canine Wellness
---
Luckily, the market also changes and tries to help humans help their dogs improve their quality of life by providing supplements with cannabidiol (CBD). From pet CBD oil to creams, CBD for older dogs helps reduce aches, supports mobility, improves joint health, and reduces stress. Depending on the product's purpose and composition, cannabidiol supplements can become a handy solution for every owner of an elderly dog.
Benefits and Side Effects of CBD for Senior Dogs
Cannabidiol is a natural supplement that has been shown to help reduce or ease symptoms associated with specific health issues in animals. In older dogs, cannabidiol may help reduce inflammation levels and ease joint pain. In addition, among key CBD benefits for senior dogs are calming and soothing effects that are suitable for anxious dogs. Cannabidiol may also help reduce nausea and vomiting, which are often associated with some medications or treatments.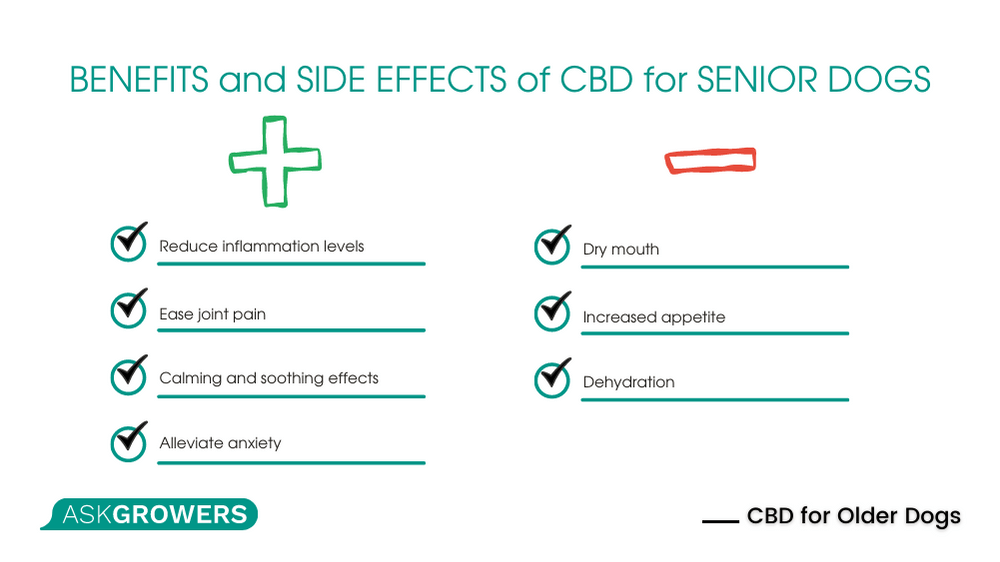 The most reported side effects of cannabidiol for older dogs are the following:
Dry mouth

Increased appetite

Dehydration
When choosing a product for your older dog, you should first consult a specialist. There are oils, capsules, CBD treats for dogs, and topicals, so each product type and CBD dosage for dogs address different health issues. You can also try different products and check how your dog reacts so you can find what supplement suits your dog's needs best.
Best CBD for Older Dogs
Being an expert in cannabidiol-infused supplements for older dogs, AskGrowers specialists have analyzed customers' reviews and collected a list of the best products pet owners can consider for their elder fluffy friends.
Honest Paws CBD Treats for Mobility (150 mg)
This product is specially designed for elderly dogs to help them improve their mobility, It can be hard for aging dogs to feel comfortable when they walk and play. Each chew is filled with 5 mg cannabidiol that can help enhance the function of your dog's joints and connective tissue so they don't feel chronic pain whenever they want to play or go for a walk.
Pros:
Full-spectrum cannabidiol
The delicious flavor of poultry
Additional ingredients for extra support
Easy to dose
Cons:
It might be a small dose for some dogs
A small amount of chews
The product is filled with full-spectrum cannabidiol that combines all cannabinoids and plant elements for enhanced effects. In addition, ingredients like glucosamine, chondroitin, Boswellia powder, and hyaluronic acid in these chews contribute to joint and bone health. Antioxidants in supplements, like green tea and rosemary extract, help to improve a dog's overall health and wellness.
Honest Paws CBD Wellness Bites (150 mg)
The overall wellness of your dog slows down when they age. You can support your dog's wellness and strengthen their immune system by giving your dog the 150 mg CBD Well bites designed by Honest Paws.
Green Roads CBD Drops for Medium Dogs (Oil)
This oil was manufactured with the ideal concentration of cannabidiol for medium-size dogs weighing 15-50 lbs. Green Roads is a trusted brand that uses only simple and natural ingredients, including hemp seed oil and fractionated coconut oil as an MCT oil for higher bioavailability.
CBD Dog Health Breathe Easy CBD Oil for Dogs (550 mg)
The Breathe bundle was designed for older dogs experiencing problems with breathing. Offering a 2-fl. Oz. bottle of Ease oil infused with 550 mg cannabidiol and Breathe MycoDog tincture with 350 mg of mushroom extract per 1 ml, the products help reduce inflammation, assist with allergies, and reduce pain.
---
Read Also: Understanding Seizures in Dogs and Exploring СBD Oil as a Therapeutic Option
---
Penelope's Bloom CBD for Dogs Heart and Immunity Bundle (500 mg, 300 mg, 300 mg)
Elder dogs are prone to heart diseases, so they need long-term support for their health. In addition, the immune system becomes weaker when a dog ages, so it also requires extra support to protect your fluffy friend from the most common viruses and infections. This bundle offers effective and natural heart and immunity support for dogs.
---
Read Also: A Closer Look: Is CBD Safe and Effective for Dogs' Health?
---
Conclusion
From knowing how your dog ages to recognizing the signs of health slowing down, you, as a pet owner, hold the power to help your fluffy friend live happier. CBD for old dogs is a natural, easy, and effective way to improve the quality of life of your dog and to make your old dog comfortable.
With a vast range of products available today, finding the one that suits your dog best is vital. Now you can choose from the following:
Combine them or buy one since each product delivers its own purpose. We recommend checking ingredients and looking for CBD products for pets with full-spectrum cannabidiol. Always prioritize your dog's health and consult with a veterinarian before giving any new product to your old dog.
Resources:
Studies on CBD effects in dogs https://www.ncbi.nlm.nih.gov/pmc/articles/PMC7537661/

Long-term feeding CBD is well-tolerated in healthy dogs https://www.ncbi.nlm.nih.gov/pmc/articles/PMC9533147/

Side effects of cannabidiol in dogs https://www.annualreviews.org/doi/pdf/10.1146/annurev-animal-081122-070236
FAQ
A cannabidiol isolate and a broad-spectrum one do not have side effects. However, Full-spectrum CBD oil (with 0.3% THC) may cause side effects like dry mouth, sedation, overactive appetite, nausea, and dry or red eyes when not following manufacturer safety guidelines or when not consulting a veterinary specialist.
It is always vital to consult a veterinarian to get answers regarding your specific situation. But in most cases, it is safe to consume cannabidiol with other medications.
It depends on the product you choose. CBD pet drops and tinctures have the highest absorption rate and provide effects within 5-20 minutes. Capsules and topicals require more time, between 2 and 6 hours. Full effects can be only noticed after regular consumption (at least a month or as your veterinarian recommends).
You can incorporate cannabidiol into a dog's nutrition when the dog is at least 4 months old. However, you should always consult a veterinarian to let them know that you'll be adding cannabidiol-infused supplements to your dog's daily regimen.