Finding the Right Balance: Do's and Don'ts of CBD Dosage for Dogs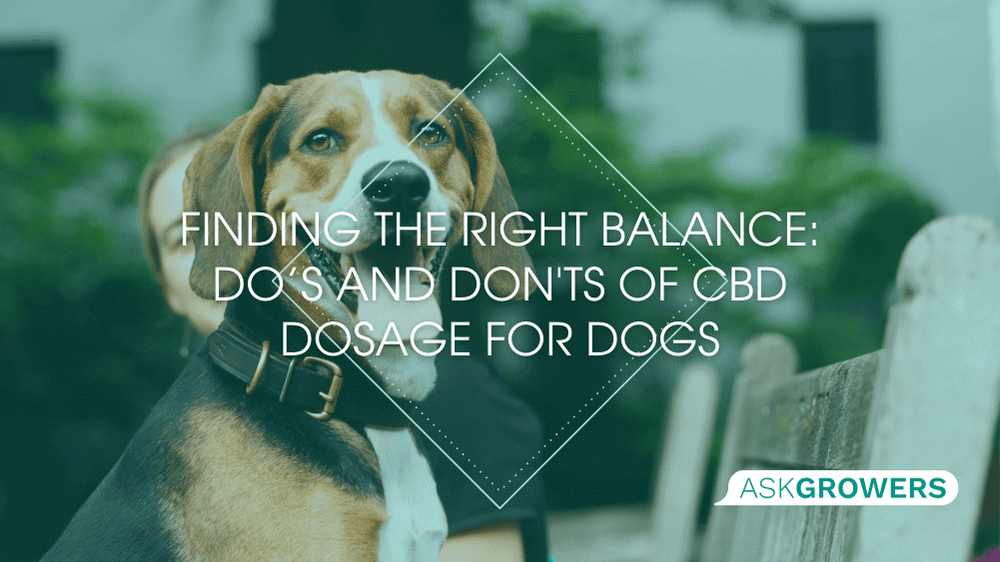 In recent years, all types of CBD products for pets have been gaining more and more popularity. Cannabidiol is one of dozens of cannabinoids present in the cannabis plant. Unlike tetrahydrocannabinol (THC), it's a compound that doesn't provide the "high" effect of marijuana because it's absolutely non-psychoactive. Yet, it does provide a number of positive effects.
When administered to pets, this compound interacts with their endocannabinoid system (ECS). ECS and its receptors are responsible for regulating and balancing different processes in the body. Cannabidiol influences the system's CB1 and CB2 receptors, which can be found in the peripheral tissues and immune cells. By affecting these receptors, cannabidiol can provide a number of benefits, such as the following:
All these perks make it a wise choice to choose CBD for older dogs to support their health, as well as for animals with different health conditions and behavioral issues to improve their quality of life and well-being.
Still, while the benefits are real, there are some safety considerations to keep in mind before administering cannabidiol to your furry friends. Namely, it's crucial to find the right CBD dose for dogs. This will help your pet get a wealth of benefits with no side effects.
Also, it's important to consider your pets' specific health conditions and their severity. For example, if your pet suffers from arthritis, you may want to look for CBD for dogs joint health, and so on. And you must keep in mind the pet's age, weight, metabolism, etc.
Indeed, there are many things to consider. But this CBD dosing guide for dogs will help you get on the right track!
---
Read Also: A Closer Look: Is CBD Safe and Effective for Dogs' Health?
---
CBD for Dogs Dosing: Top Do's and Don'ts to Know
Whether you choose CBD pet treats, oil, or another kind of product, correct dosing is always the key to making your dog feel better and avoiding side effects. Therefore, one way or another, pet owners must carefully define the proper amount of cannabidiol for their dogs.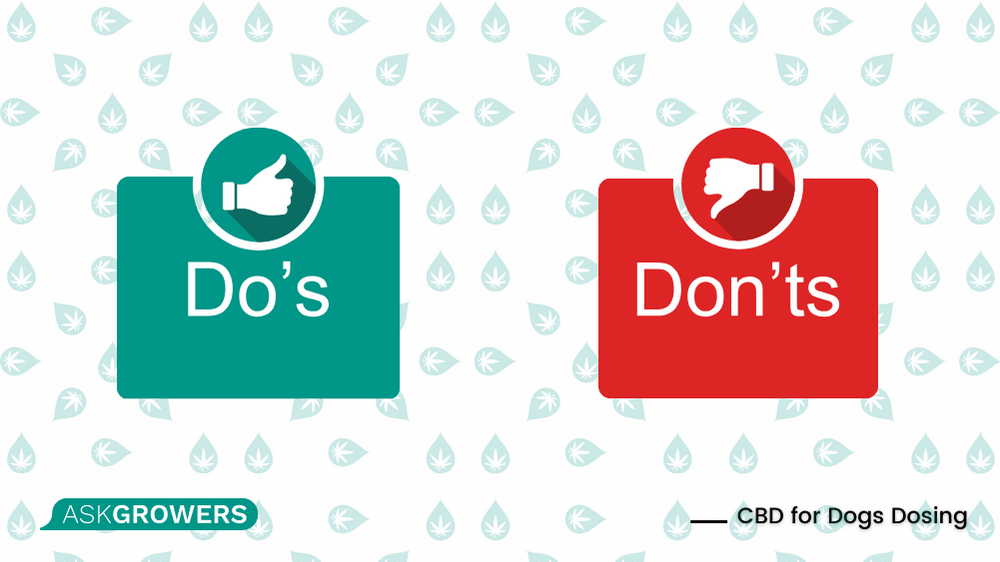 To help you find the correct dose of CBD for dogs, we've prepared a list of the fundamental do's and don'ts.
Do's:
Do consult with a veterinarian - There are several factors that determine how much cannabidiol you should administer to your pet. These include age, weight, individual metabolism, and overall health condition. At the same time, the type of product, its potency, and absorption rate also play a significant role. A professional will help you understand your pet's needs better and find the best product and dose for the best outcomes.

Do start slow - When starting to use pet CBD oil or similar products, it's always recommended to begin with a low dosage. The golden standard is 2mg of cannabidiol per 10 lbs of weight. Such an easy approach will help you avoid side effects. You will be able to monitor the effects and gradually increase the amount of compound for better results.

Do divide the daily dose into multiple servings - This approach will also give you a good baseline. When you start administering cannabidiol in several daily servings, you will be able to see how different amounts of the compound affect your furry friend, and you will be able to adjust the dosage for the optimal result.

Do keep a dosing journal - Unlike humans, our furry friends can't explain to us how they feel. Thus, as an owner, it's your job to keep an eye on your dog and adjust the approach to bring them relief and the health benefits you strive for. Keeping a journal is an excellent way to attain this goal. Write down how much cannabidiol you administer to your friend and how it changes their behavior. This will give you more control over the situation.
Don'ts:
Don't use human products - Today, there is a huge range of cannabidiol products for humans. While some of them might be harmless to animals, that's not always the case. First of all, human products might contain more THC than dogs can safely ingest. Besides, there are plenty of great products developed specifically for animals and supported by relevant trials. So if you want to get all the benefits and prevent adverse effects, opt for CBD pet drops, treats, oils, and other goods made specifically for dogs. If you want to use human products, do this only under the control of a veterinarian.

Don't use excessively high dosages - Often, when you find your beloved pet in a severe health condition, you want to provide them with relief as quickly as possible. In this case, some owners tend to buy specialized goods, such as CBD for dogs seizures or products for other conditions, and consciously increase the dosage to get quicker results. But let us warn you - excessively high dosages may lead to adverse effects. So you should never administer a lot of cannabidiol to your pup. At least, don't do this until you get a thorough consultation from a professional veterinarian.

Don't replace prescribed medications with CBD - If your dog suffers from arthritis, anxiety, epilepsy, and other health conditions, cannabidiol can be a powerful tool for treating the symptoms[6] and providing relief. There is specially designed CBD for dogs anxiety, stress, sleep, joint health, and many other purposes. Still, don't let this make you feel like you can replace prescribed medicines with them. If you want to offer your pet a more natural remedy for their health, do this after consulting with a veterinarian.
AskGrower's Expert Choice of the Best CBD Product for Dogs
Now that you know the main rules for dosing CBD for dogs, you must be wondering what products would suit your furry friend best.
Unfortunately, due to the large choice of options, making this choice can be hard. But, luckily, AskGrower's experts are here to help! Check out the top three CBD products that you can consider:
Safety Considerations and Conclusion
As you now know, CBD treats for dog and other cannabidiol-based products can bring a wealth of benefits to your furry friends. They can treat anxiety, stress, arthritis, sleep issues, and many other conditions, helping your dog feel better and happier than ever. Nevertheless, despite all the benefits, there are always some safety considerations to keep in mind.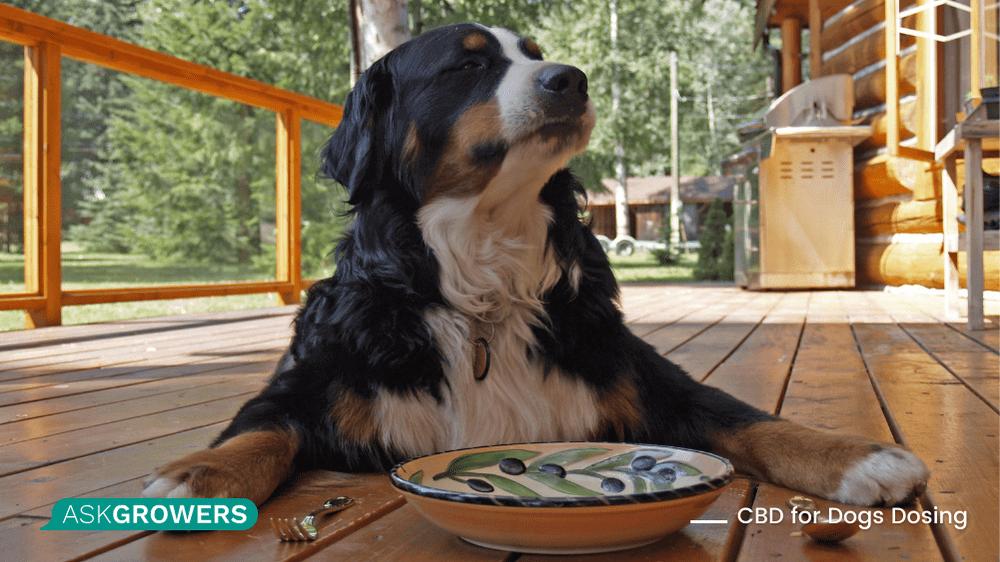 Cannabidiol can have a number of potential side effects[7], such as the following:
Dry mouth

Overactive appetite

Sedation

Panic reactions

Nausea

Dry or red eyes
In order to avoid these issues, pet owners must opt for high-quality products from trusted brands and consult with a veterinarian.
On top of that, it's essential to determine the perfect dosage. To do this, you can use a detailed CBD dosage chart for dogs and also use the do's and don'ts from this guide:
Consult with a vet

Start with a low dosage

Split daily dosage of CBD for dogs into multiple servings

Monitor the health condition and keep a journal

Don't administer human products without prior consultation with a veterinarian

Don't use exceed the suggested CBD dose for dogs

Don't replace prescribed medications with cannabidiol without a consultation
These simple tips will let you provide the best care for your furry friend and avoid adverse effects. So don't neglect them. And don't hesitate to check out other recommendations from AskGrower's experts to pick the best products!
Resources
Bonaccorso S; Ricciardi A; Zangani C; Chiappini S; Schifano F, (2019) Cannabidiol (CBD) use in psychiatric disorders: A systematic review, Neurotoxicology. Available at: https://pubmed.ncbi.nlm.nih.gov/31412258/

Yu CHJ; Rupasinghe HPV, (2021) Cannabidiol-based natural health products for companion animals: Recent advances in the management of anxiety, pain, and inflammation, Res Vet Sci. Available at: https://pubmed.ncbi.nlm.nih.gov/34391060/

Potschka H; Bhatti SFM; Tipold A; McGrath S, (2022) Cannabidiol in canine epilepsy, Vet J. Available at: https://pubmed.ncbi.nlm.nih.gov/36209995/

Brioschi FA; Di Cesare F; Gioeni D; Rabbogliatti V; Ferrari F; D'Urso ES; Amari M; Ravasio G, (2020) Oral Transmucosal Cannabidiol Oil Formulation as Part of a Multimodal Analgesic Regimen: Effects on Pain Relief and Quality of Life Improvement in Dogs Affected by Spontaneous Osteoarthritis, Animals (Basel). Available at: https://pubmed.ncbi.nlm.nih.gov/32858828/

Shannon S; Lewis N; Lee H; Hughes S, (2019) Cannabidiol in Anxiety and Sleep: A Large Case Series, Perm J. Available at: https://pubmed.ncbi.nlm.nih.gov/30624194/

R C Coelho MP; de O P Leme F; A Moreira F; E M T Branco S; M Melo M; G de Melo E, (2021) Current review of hemp-based medicines in dogs, J Vet Pharmacol Ther. Available at: https://pubmed.ncbi.nlm.nih.gov/34605042/

Simpson AC; Bradley CW; Schissler JR, (2020) Probable cutaneous adverse drug reaction due to a cannabidiol-containing hemp oil product in a dog, Vet Dermatol. Available at: https://pubmed.ncbi.nlm.nih.gov/32735064/
FAQ
If you exceed the max CBD dose for dogs, it can bring a number of negative effects instead of health benefits. The most common issues include upset stomach, lethargy, drowsiness, diarrhea, etc. Thus, it's always crucial to stick to each specific product's instructions and also consult with a veterinarian.
Generally, yes, it's possible. However, savvy pet parents will want to buy goods designed specifically for dogs. While cannabidiol (even in human products) is generally well-tolerated by animals, such products might contain high levels of THC or other ingredients that could be unsafe for dogs. So generally, it's better to buy pet-specific goods. Or you could administer human products to your pet but only under the strict control of a veterinarian.
The short answer is no. The safe rule is to administer 2 mg of cannabidiol for every 10 lbs of your pet's weight. If you calculate the dosage based on this rule, you should be able to avoid any negative consequences. Still, some exceptions may be there depending on your pet's specific age, health condition, and other factors. In any case, a professional vet will help you find the right approach.
Yes, if your pet is taking prescribed medications, you should be able to use cannabidiol along with them. Generally, it's recommended to administer cannabidiol a few hours before or after other meds. However, don't replace prescribed medications with cannabidiol. Also, remember that some meds can cause additional side effects when used along with cannabidiol. Due to these reasons, it's crucial to consult with a vet before mixing cannabidiol with any other meds.