The Science Behind CBD Joint Supplements: How They Benefit Dogs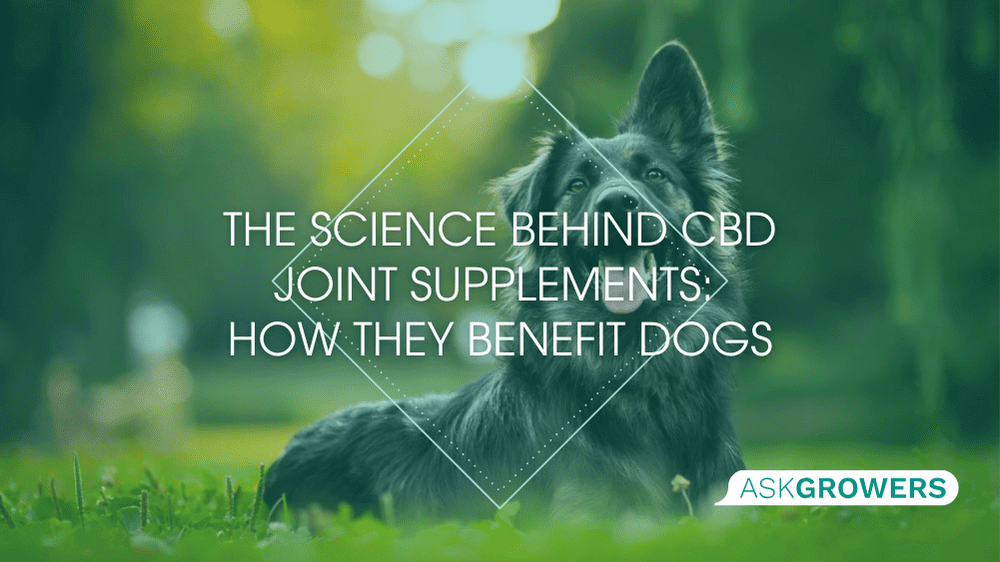 One in five dogs is susceptible to early or age-related joint issues. Being able to support your dog is what every pet owner wants to do. Although there are many medications for dogs to improve their mobility and physical well-being by reducing pain, most of them have side effects, and using them alone doesn't always bring the expected results. That is where cannabidiol supplements come into the picture with natural ingredients that can help support a dog's health when they experience pain and joint aches.
CBD for dogs joint pain has been shown to work as an effective and natural way to support your pup's mobility and stiffness. CBD is growing in popularity as a natural treatment[1] for dogs because it has no reported side effects, and several studies have shown it to work well in different cases.
But not every CBD oil will work with your dog. Pet owners can't use oils that are designed for people; cannabidiol supplements for dogs are specially manufactured with safe pet-friendly ingredients. Choosing the right product also involves knowing the dosage and considering a condition's severity. CBD is a supplement, and pet owners should always consult a veterinarian before giving any new product to their pets.
Canine Joint Health: What You Need to Know
Although every dog with age may start experiencing health problems associated with mobility, some breeds of dogs are more predisposed to joint issues, such as German Shepherds, Golden Retrievers, and Saint Bernards. Dogs with these breeds tend to face the following health problems: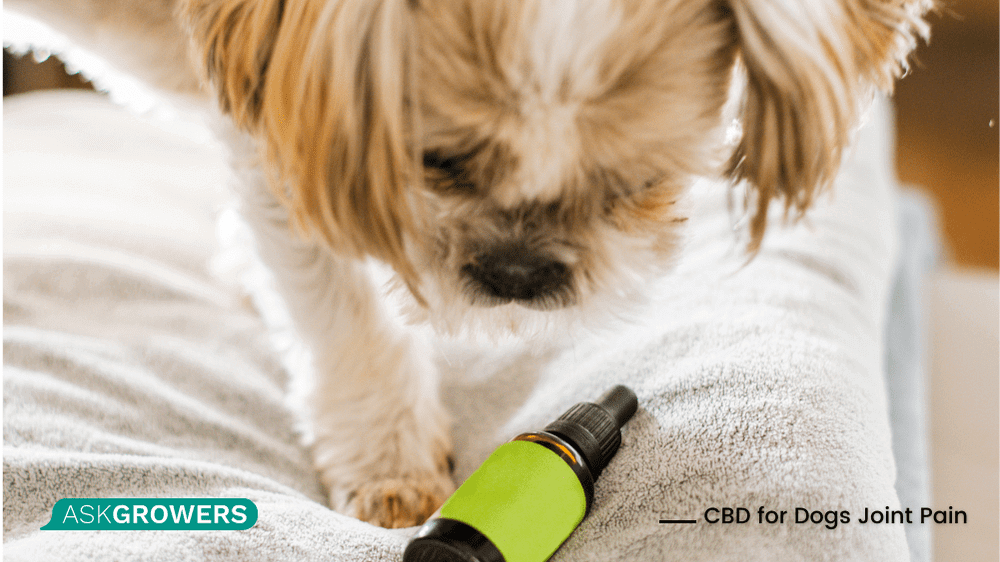 Hip dysplasia;

Elbow dysplasia;
While genetics plays a big role in a dog's joint health, other reasons may cause various joint problems in dogs. The main ones include the following:
Excessive growth rate;

Intensive exercise without relaxing;

Improper weight;

Unbalanced nutrition.
If these conditions are not quickly noticed and addressed, they often lead to more serious debilitating conditions too. Dogs experience and handle pain differently than humans. Therefore, it isn't always easy to spot the problem. However, timely checkups will help a pet owner discover if anything goes wrong alongside symptoms pet owners may notice. There is no miracle treatment for all conditions, yet there are some common medications prescribed by veterinarians. These include the following:
Meloxicam (Metacam® and other trade names);

Carprofen;

Deracoxib (Deramaxx®);

Grapiprant;

Robenacoxib (Onsior®);

Firocoxib.
However, it is vital to know that only a veterinarian will determine if your dog will benefit from these drugs or not. In addition, veterinarians now tend to recommend more natural supplements, like cannabidiol oils. Although CBD for dogs with joint pain alone can be prescribed only for minor joint health issues[2], CBD for dogs hip and joint is also used as a way to support overall joint health in dogs and as a part of a natural treatment.
---
Read Also: Hemp or CBD for Dogs: Choosing the Right Option for Canine Health
---
CBD Joint Relief for Dogs: Types and How It Works
Cannabidiol is a natural compound extracted from cannabis plants. In contrast to marijuana (high in THC), cannabidiol is extracted from industrial hemp strains that are high in cannabidiol and low in THC. As a result, supplements infused with cannabidiol are safe for dogs, even when using full-spectrum products, since they contain trace amounts of THC (less than 0.02%), which can't cause intoxication or a "high" sensation.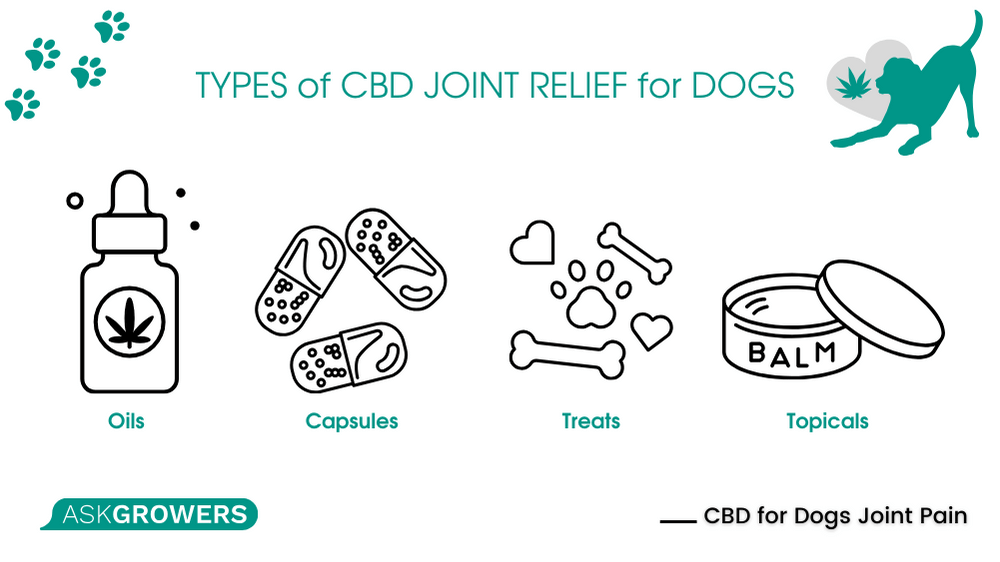 There are several types of supplements available today:
Oils;

Capsules;

Topicals.
Oils and joint treats for dogs with CBD are the two most common options for dogs. Cannabidiol oil for dogs has the highest absorption rate since active compounds enter the blood within seconds and without being metabolized by the digestive system.
Treats are the obvious choice for most pet owners. The main reason is their delicious taste (and they come in various options). However, CBD treats for dog have to be metabolized before they reach the blood, so the effect can be felt within 2-4 hours. And topicals are great for direct pain relief, yet they are not as effective as pure cannabidiol oil.
CBD supplements are growing in popularity as a natural way to help reduce pain in dogs with arthritis because of their anti-inflammatory effect[3]. It can provide this effect through interaction with the endocannabinoid system (ECS), more specifically - CB1 and CB2 receptors. This system is found in almost all mammals, including people. Scientists say that ECS is responsible for keeping a balance inside the body. Knowing a proper dosage of CBD for dogs can help reduce inflammation and, as a result, pain because the ECS can modulate pain signals and the activation of inflammation.
Choosing the Right CBD Supplement for Your Dog (+Side Effects)
If you consulted a veterinarian and you both decided that CBD supplement oil would be a great option for your dog, the next step is to choose the right CBD oil for dogs with joint pain. Although all brands will state that their supplements are the best, do not choose the first product you find. Instead, we recommend considering some key factors that really show the quality of the supplement. These include the following:
Look for organic pet CBD oil. Some manufacturers use cheap methods of extracting cannabidiol, and they also grow hemp by feeding it with different chemicals. Final products may contain harsh chemicals like pesticides, fungicides, or solvents. That is why it is crucial to look for organic CBD dog joint treats that are created with safe extraction methods like CO2 extraction so you can be sure that the CBD joint chews for dogs are safe and natural for your dog;

Get the COA. COA is the abbreviation for the Certificate of Analysis. This document is issued by an independent laboratory that tests each batch to confirm the ingredient list and amounts of cannabinoids present in the product. Manufacturers that do not offer COA have something to hide, so invest more time in finding those who have COAs open and available for customers;

Look for either isolate or broad-spectrum cannabidiol. Although full-spectrum oil contains safe amounts of THC, it is always best to find CBD products for pets with either broad-spectrum or isolate extracts as a safer option.
Even though there are no reported side effects of using cannabidiol for dogs, some potential side effects may still appear when relying solely on how CBD affects humans:
Dry mouth;

Lowered blood pressure;

Drowsiness.
Best CBD Supplements for Dogs' Joint Pain
Thanks to the popularity of cannabidiol, there are almost endless options to choose from. While you can always choose a supplement for your dog based on the factors we mentioned above, AskGrower's experts have already found some of the best products on today's market that you may choose for your dog.
Last Thoughts on CBD for Joint Health in Dogs
Choosing the right CBD pet drops for your dog is a must-do if you want to improve the health and wellness of your struggling pet. However, the process takes time. Choose organic supplements designed for dogs that contain natural ingredients. Ask for a COA to check the amount of cannabinoids, and always go with the best flavors for your dog. Do not forget to consult a veterinarian before giving CBD for joint pain in dogs, as only professionals can advise whether your dog needs a supplement or not.
Resources:
CBD's anti-inflammatory effect https://www.ncbi.nlm.nih.gov/pmc/articles/PMC7023045/

CBD's effect on joint pain https://www.ncbi.nlm.nih.gov/pmc/articles/PMC8473042/

Scientific Validation of Cannabidiol for Management of Dog and Cat Diseases https://www.annualreviews.org/doi/10.1146/annurev-animal-081122-070236
FAQ
Yes, when we talk about supplements that were specially designed for dogs. We highly recommend finding and buying organic supplements with natural ingredients. It is also vital to check a Certificate of Analysis before purchasing since this is the only way to learn what the product really contains.
There are no reported side effects with dogs. However, based on human consumption data, too high a dose may cause dry eyes, dry mouth, and drowsiness. Cannabidiol also has calming and sleep-inducing effects, so it may potentially make your dog sleepy when you overdose on the product.
CBD may potentially affect kidneys in dogs that already have kidney problems when you overdose on the product. Although there are no reported side effects for a dog's kidney, it is still best to follow the manufacturer's or the veterinarian's recommendations on dosage.
Depends on the product you buy. Some products may also come with additional ingredients that can either boost energy in elderly dogs or calm them down. Follow the instructions on the product's label to find out what to do with your particular supplement.