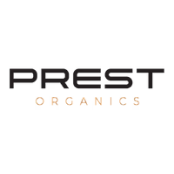 Prest Organics Shipping Terms:
FREE SHIPPING ON ALL ORDERS! They ship via USPS, UPS, or FedEx and usually get orders to you within 3-7 business days from the day of purchase.
About Prest Organics
Prest Organics is an all-organic CBD brand that strives to deliver calmness and balance to everyone's life. The primary focus of the brand is the development of fast-acting CBD goods the effects of which, according to Prest Organics, you will feel in minutes.
The brand's product line consists of organic CBD hemp oil and pet oil. The products are made with high-quality and 100% natural USA-grown hemp. Prest Organics relies on cold-press extraction technology to eliminate high temperatures and the use of harmful chemicals. And they also add lipids to make their oils more effective. As a result, the company produces pure, raw full-spectrum CBD hemp oil filled with phytonutrients and healing features of chlorophyll, terpenes, flavonoids, vitamins, trace minerals, and omegas 3-6-9.
On the company's website, there is a separate section with product testing results. Prest Organics provides a detailed lab report and a certificate of quality assurance for every product.
All products are available right on the Prest Organics website. All new customers can enjoy 15% off their first order and free shipping. Apart from this, the company offers an exciting membership opportunity. All customers who purchase a membership with Prest Organics will get a 50% discount on every order and a consistent schedule of deliveries to stay stocked up on their favorite goods at all times. Shipping is possible within the continental United States and Canada.