CBD Powders
4 products found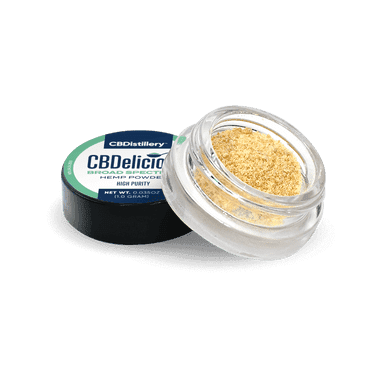 $32.5
Discover More CBD Products By Specific Category
CBD Powder Guide for Beginners
CBD powder is often confused with cannabidiol oil, but they have different uses. The oil comes from extracting whole plants to make concentrated oils. The extract is made by grinding up the entire plant, including cannabinoids. It also can be used for different purposes.
For instance, CBD protein powder is an excellent way to add cannabidiol to your diet. It's easy to use and tastes great! You can put it into shakes, smoothies, or other food recipes. CBD powder drink is a form of cannabidiol used in food and beverages. It is made by mixing the extract with water or milk and can be added to smoothies, protein shakes, oatmeal, yogurt, and cereal. CBD cooking powder can replace regular baking ingredients like flour, sugar, and butter. It's a great way to infuse your food with the benefits of cannabidiol while keeping it healthy and tasty:
The most versatile use for cooking extract is in smoothies, which makes it easy to get your daily dose of cannabidiol without having to take a pill or eat an edible. You can also add it directly to any recipe that calls for flour or oil;
Replace some of the flour in cakes with cooking powder (you can also use it as an egg replacer) and make them healthier than ever!
Major Benefits of CBD Powder
There are many benefits to cannabidiol extracts. But how do you decide which kind is right for you? CBD isolate powder is the purest form of cannabidiol. It contains only the cannabinoid and not any other compounds from the cannabis plant. That's why it's ideal if you're looking for an experience that's as close to pure cannabidiol as possible. This means it's a very concentrated form of cannabidiol. It can be used in smoothies or protein shakes without mixing it with other ingredients that may affect its potency.
Full-spectrum CBD powder contains all the cannabinoids and terpenes in the cannabis plant. If you want to experience all of its health benefits, it may be what you're looking for. These include effects on sleep, appetite, and pain relief. Broad-spectrum CBD powder has a more balanced ratio of cannabinoids to terpenes that may be better for those who are sensitive to THC or just want a less intense experience.
Most Common CBD Powder Effects
There are a few different types of cannabidiol extracts. You can use it to relax, sleep better, and feel more energized.
CBD relax powder is a great way to get in a bit of relaxation without the side effects of THC. It helps you feel calm and relaxed. And if you're struggling with getting proper sleep, sleep extract is your choice. These products are made with all-natural ingredients to fall asleep faster and sleep longer. You can rest assured that you won't feel groggy when you wake up. If your day starts off with a cup of coffee or an energy drink, there is also a solution for you. CBD energy powder contains components that give you the boost of caffeine without any jitters or crashes.
To determine what CBD powder dosage will meet your specific needs, use less than what other people take. Say 1/10th of their dosage or even less. Because everyone has different bodies and tolerance levels. If this works well for you, try increasing your dosage slowly until you reach the desired effect.
Tips on How to Use CBD Powder
You can take the extract in a variety of ways. It is a staple of the wellness world. Here are some ways to get the most out of it. It's possible to mix pure CBD isolate powder with food or drink, which is one of the easiest ways to consume it. You can add it to anything from smoothies to oatmeal, coffee, tea, and more. Another popular way to get your daily dose of cannabidiol is by adding it directly onto the tongue. This method is excellent if you need instant relief from pain or anxiety. You can take a few minutes out of your day and just let cannabidiol work its magic on your body.
Another option is to add isolate powder into your e-juice blends as an additive. Depending on what flavor you're using, you can also mix some before vaping if you find that tastes better than adding it afterward!
Where to Buy CBD Powder
If you want to buy CBD powder, you'd be surprised at how easy it is. The options are overwhelming. Cannabidiol extract for sale can be found in several places, including online and conventional stores.
Online, you can buy CBD isolate powder from a variety of retailers. In fact, many popular brands offer their own unique blends of cannabidiol powder online that come with added benefits such as taste or variety (as opposed to just one type). You can make your purchase within a few minutes and have it shipped directly to your home. Simply specify your needs and requirements, order CBD isolate powder online, and wait for the delivery. You may also find full-spectrum powder for sale in your local stores if they specialize in health foods or supplements. If you live in the United States, you'll have no trouble finding cannabidiol products for sale.
Frequently asked questions about CBD Powders
Here is a simple measure to test your CBD bulk powders. You need to get a small container and fill it with water. Then, you must put the substance on your finger and dip it into the water. If it dissolves quickly without leaving any residue behind, then that means it's real. If it doesn't dissolve or leave a residue behind, then you should be aware that it could be fake.
You can smoke cannabidiol powder by putting it in a joint, pipe, or bong. If you're using a joint, ensure that the joint paper is rolled tightly enough to hold the substance in place without falling apart. If you're using a pipe or bong, be sure to pack the bowl or water chamber with enough material. This way, none of it falls through when you put your flame on it.
When you take cannabinoid isolate as a dietary supplement, it's mostly absorbed through the lining of your mouth and esophagus, then into your bloodstream. As with most supplements, this process will take longer than if you mix the substance with water or juice. Mixing the extract with drinks allows for faster absorption because the liquid acts as a medium for the substance, allowing it to be absorbed more quickly into your system.
It takes anywhere from 20 minutes to several hours before you feel the effects of cannabidiol extract. The reason for this is that your body needs time to process the cannabinoids to absorb them properly into your system. Once they're absorbed, they need time to start working their magic on your organism. As with any substance you ingest, there are certain factors involved in determining how long it will stay within your system. These are dosage, strength, and metabolism rate.