CBD Powders
Looking for your preferred type of cannabidiol product, you can come across goods of all shapes and kinds, including powders. The biggest perk of CBD powders is their versatility. They can be used for a variety of purposes and by a variety of methods. Browse AskGrowers to find your perfect products in this category. For you, we've gathered the best brands and powders at the best prices!
18 products found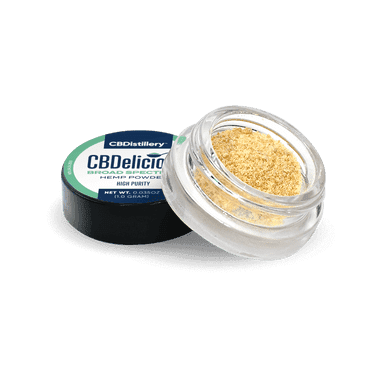 $32.5
Discover More CBD Products By Specific Category
CBD Powder Guide for Beginners
Let's start with the basic product info, such as a definition, benefits, and comparison. Powder CBD is a type of cannabidiol-infused product. It is made by extracting cannabidiol from the cannabis plant[1] and then processing it into a fine powder.
Such products are generally considered to be a pure and potent form of cannabidiol, as they contain only this compound, without other add-ons found in the hemp plant.
How It Differs From Other Cannabidiol Products
Powders have a number of peculiarities:
Unlike CBD edibles, they can also be used as topicals;

Unlike CBD capsules, they are much more versatile. On top of that, they tend to have higher absorption rates;

Finally, unlike cannabidiol oil, powders can absorb slower. However, oils typically have a pre-measured dose per serving, while this product allows you to control the dosage more precisely.
Importance of Using This Product the Right Way
This type of product is very versatile. For example, you could use it to make a CBD powder drink or apply it to your skin. Whatever method you choose, it's crucial to use this product the right way to ensure the optimal dosage, absorption, and safety matters. We prepared some useful tips for beginners below.
Tips on How to Use CBD Powder
Earlier, we briefly mentioned the variety of different consumption methods for this product. In order to get to know it better, it's important to learn more about each of these methods and the specs applicable to them. In this part of our guide, we will tell you everything about CBD powder usage methods.
Different Ways to Take Powder CBD
The most common ways to consume this product are:
Mixing it into food or drinks;

Placing it directly under the tongue (sublingual use) for quick absorption into the bloodstream;

Adding it to skin care products for topical use.
Additionally, you can even add CBD isolate powder to your e-juice. So there are many options.
Best Consumption Method Beginners?
For beginners, the easiest way to take this product is to ingest it as is. Just put a small amount under your tongue. The biggest benefit of this method is that it offers the fastest absorption. Another easy method is to mix pure CBD isolate powder into your drink. It will dissolve quickly and easily.
How to Calculate the Correct Dosage
Ideally, you should consult with a healthcare provider to find the right CBD powder dosage for you. Or you can use this table to do it yourself:
Symptoms Severity (Cannabidiol, mg)
Your Weight
None to Mild
Medium
Severe
85-150 lbs
12 mg
15 mg
18 mg
151-240 lbs
18 mg
22.5 mg
27 mg
>241 lbs
22.5 mg
30 mg
45 mg
Top CBD Powder Benefits
The first big benefits of this product are inflammation[2] and pain relief[3]. Studies reveal that the primary compound – cannabidiol – has a strong analgetic and anti-inflammatory effect used for treating even chronic conditions[4].
Secondly, CBD relax powder is known for helping remove the symptoms of anxiety, depression, and other psychotic disorders[5]. Clinical trials confirm the efficacy of cannabidiol as an antipsychotic, anxiolytic, and antidepressant compound that relaxes the nervous system and improves mental wellness.
While decreasing anxiety scores, cannabidiol is also proven to improve sleep[6]. CBD sleep powder can be a powerful cure for insomnia and other sleep disorders. In addition, this product offers benefits for other health conditions like:
At AskGrowers, you can find the best CBD energy powder for relaxing and sleeping from leading brands. However, remember to consult with a healthcare professional first.
Possible Side Effects of Using CBD Powder
CBD isolate powder has a number of potential side effects, such as dry mouth, drowsiness, nausea, diarrhea, and changes in appetite. Additionally, there might be possible interactions with certain medications.
Luckily, you can minimize CBD powder side effects. The primary key to minimizing side effects is the wise and correct usage of the chosen product:
Use a quality product from a trusted store;

Start with a low dose;

Take it with food to minimize digestive side effects;

Stay hydrated;

Monitor your body's response;

Try different methods of consumption;

Try isolate first before you try a full-spectrum CBD powder or a broad-spectrum CBD powder.
Lastly, it's important to note that this product is generally considered safe. The side effects are typically mild and temporary. However, if you experience any severe or persistent side effects, stop consumption and seek medical attention.
CBD Powder Buying Guide
When you look for CBD powder for sale (or, in fact, any cannabidiol products for sale), consider the following factors:
Source of the hemp;

Extraction method;

Purity;

Price.
In order to buy CBD powder of the best quality, look for products made from hemp grown in the United States or Europe and extracted using the CO2 method. Pay special attention to the full-spectrum CBD powder brand reputation, customer reviews, and third-party testing.
You can buy these products offline at local stores and dispensaries. However, we suggest you order CBD isolate powder online. This option is the quickest and most convenient one. Besides, buying from retailers like AskGrowers gives you extra benefits. You can compare different brands and buy the best CBD powder online at the best price!
Resources
Breijyeh Z; Jubeh B; Bufo SA; Karaman R; Scrano L, (2021) Cannabis: A Toxin-Producing Plant with Potential Therapeutic Uses, Toxins (Basel). Available at: https://pubmed.ncbi.nlm.nih.gov/33562446/

Burstein S, (2015) Cannabidiol (CBD) and its analogs: a review of their effects on inflammation, Bioorg Med Chem. Available at: https://pubmed.ncbi.nlm.nih.gov/25703248/

London: National Institute for Health and Care Excellence (NICE), (2019) Evidence review for chronic pain: Cannabis-based medicinal products: Evidence review B. Available at: https://www.ncbi.nlm.nih.gov/books/NBK577083/

Boyaji S; Merkow J; Elman RNM; Kaye AD; Yong RJ; Urman RD, (2020) The Role of Cannabidiol (CBD) in Chronic Pain Management: An Assessment of Current Evidence, Curr Pain Headache Rep. Available at: https://pubmed.ncbi.nlm.nih.gov/31980957/

García-Gutiérrez MS; Navarrete F; Gasparyan A; Austrich-Olivares A; Sala F; Manzanares J, (2020) Cannabidiol: A Potential New Alternative for the Treatment of Anxiety, Depression, and Psychotic Disorders, Biomolecules. Available at: https://pubmed.ncbi.nlm.nih.gov/33228239/

Shannon S; Lewis N; Lee H; Hughes S, (2019) Cannabidiol in Anxiety and Sleep: A Large Case Series, Perm J. Available at: https://pubmed.ncbi.nlm.nih.gov/30624194/

Lowin T; Tingting R; Zurmahr J; Classen T; Schneider M; Pongratz G, (2020) Cannabidiol (CBD): a killer for inflammatory rheumatoid arthritis synovial fibroblasts, Cell Death Dis. Available at: https://pubmed.ncbi.nlm.nih.gov/32873774/

Baswan SM; Klosner AE; Glynn K; Rajgopal A; Malik K; Yim S; Stern N, (2020) Therapeutic Potential of Cannabidiol (CBD) for Skin Health and Disorders, Clin Cosmet Investig Dermatol. Available at: https://pubmed.ncbi.nlm.nih.gov/33335413/

O'Brien K, (2022) Cannabidiol (CBD) in Cancer Management, Cancers (Basel). Available at: https://pubmed.ncbi.nlm.nih.gov/35205633/

Mattes RG; Espinosa ML; Oh SS; Anatrella EM; Urteaga EM, (2021) Cannabidiol (CBD) Use in Type 2 Diabetes: A Case Report, Diabetes Spectr. Available at: https://pubmed.ncbi.nlm.nih.gov/34149261/
Frequently asked questions about CBD Powders
Get a small container and fill it with water. Then, put the substance on your finger and dip it into the water. If it dissolves quickly without leaving any residue behind, then it's real. If it doesn't dissolve or leave a residue behind, then it could be fake.
You can smoke cannabidiol powder by putting it in a joint, pipe, or bong. If you're using a joint, ensure that the paper is rolled tightly enough to hold the substance in place. With a pipe or bong, be sure to pack the bowl or water chamber with enough material.
When you take cannabidiol as a dietary supplement, it's mostly absorbed through the lining of your mouth and esophagus, then into your bloodstream. Mixing the extract with drinks allows for faster absorption because the liquid acts as a medium for the substance, allowing it to be absorbed faster into your system.
It takes anywhere from 20 minutes to several hours before you feel the effects of cannabidiol extract. The reason for this is that your body needs time to process the cannabinoids to absorb them properly into your system. Once they're absorbed, they need time to start working their magic on your organism.