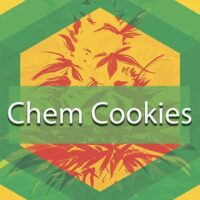 Side Effects
Concern, Thirst and dry mouth, Hunger, Heightened sensory perception
Grow Info
Flowering time: 45-50 Days
Harvest time: 50-57 Days
Yield indoor: < 1 oz/ft2
Yield outdoor: < 1 oz/ft2
Height indoor: < 30 Inches
Height outdoor: < 30 Inches
Grow difficulty: Easy
Flowering type: Photoperiod
All About Chem Cookies Weed Strain
3-years champion of Cannabis Cup Chem Cookies weed strain won many awards for its quality. This balanced hybrid that crosses Chemdawg #4 and GSC was developed by Divine Genetics. This marijuana has a very high THC content of 25%. It is a hard-hitting bud that could be overwhelming even for seasoned smokers.
This cannabis offers a mix of sweet and tangy flavors with fuel overtones.
For users with a low THS tolerance Chem Cookies strain may provide a couch-locked effect, however, its long-lasting high puts users in a euphoric and relaxed state.
Chem Cookies strain is recommended for insomnia, appetite loss, depression, and chronic pain.
Its seeds are available online. This plan requires 7-8 weeks to reach its maturity indoors.