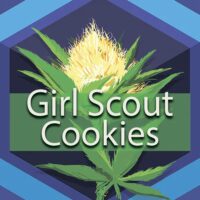 Indica
Breeder: Cookie Family
THC Dominant
Side Effects
Concern, Headache, Tingly, Low blood pressure, Heightened sensory perception
Grow Info
Flowering time: 60-70 Days
Harvest time: 78-85 Days
Yield indoor: 2-4 oz/ft2
Yield outdoor: 4-6 oz/ft2
Height indoor: 30-60 Inches
Height outdoor: 30-60 Inches
Grow difficulty: Easy
Flowering type: Photoperiod
All About Girl Scout Cookies Cannabis Strain
Having strong yet enjoyable effects, Girl Scout Cookies (or GSC) is a cross between Durban Poison and OG Kush with a sweet and spicy flavor. It provides intense head high along with body relaxation and can be used to treat severe pain, appetite loss, and nausea. Girl Scout Cookies was bred in the bay area of Northern California back in 2010.
This 100% Indica got its name from the rapper Berner and his band, who are now known as the Cookie Fam since the strain has become so popular. Even though the name of the strain makes it seem harmless and a bit weak, it's quite the opposite as it has a pretty high level of THC of 17-19%, which can be a heavy hitter even for those quite experienced with high potent plants.
Girl Scout Cookies Flavors
The Girl Scout Cookies strain smell is a bit skunky with minty notes and earthy undertones. The flavor is quite sweet and uplifting.
The Most Typical Effects
Consumers who have experienced this strain report such a mix of effects:
Among medical appliances, we can mention:
Stress,
Depression,
Fibromyalgia,
Insomnia,
PMS,
Just like all other strains, this one also has a few negative effects that might bother some people. Based on the reports of many users, the most common side effect is dry mouth, then comes dry eyes, dizziness, and anxiety.
Growin Information
The Girl Scout Cookies strain grows short to medium height, and it's highly resistant to mildew and pests, which makes taking care of it easier, especially for novice growers. It's relatively easy to grow, although, to some, it might be a challenge. It has an average flowering time of around 9-10 weeks, and since the plant doesn't grow too high, it's perfect for indoor growth as you won't need high ceilings. Growing outside is also possible, although it's harder to set the right conditions for the plant to thrive and give a generous harvest, so an indoor grow is much easier and preferred. Implementing the hydroponic method will be necessary to cultivate this plant to make sure it's happy and thriving. It doesn't need too much fertilizer, which makes it not too high maintenance to grow. It enjoys a lot of water, and it needs it regularly to grow properly. The harvest isn't as big as some plants offer, at 60 grams per plant, but it's extremely potent.
FAQ