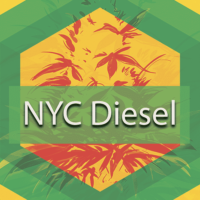 NYC Diesel (New York City Diesel, New York Diesel)
Side Effects
Dizzy, Dry eyes, Panic attacks, Hunger, Heightened sensory perception
Grow Info
Flowering time: 70-85 Days
Harvest time: 90-97 Days
Yield indoor: 2-4 oz/ft2
Yield outdoor: 4-6 oz/ft2
Height indoor: 60-80 Inches
Height outdoor: 90 > Inches
Grow difficulty: Moderate
Flowering type: Photoperiod
The NYC Diesel Strain Info You Need to Know
New York City Diesel, or NYC Diesel marijuana, is an award-winning 60% Sativa 40% Indica hybrid with 18% or higher THC content. This pot variety is perfect for socializing, and many choose it as a daily smoke that will offer a cerebral high that gives way to full body relaxation after a while. Check out this NYC Diesel strain review to find out if this strain is the best for you.
History of NYC Diesel Strain
The NYC Diesel Strain lineage includes Mexican, and Afghani X Hawaiian Landraces and is bred by Soma Sacred Seeds, where it is also called Soma Sour Diesel. Afghani weed is legendary in the pot world as it is thought to be the home of the oldest strains of marijuana. Afghani strains are also known for producing high amounts of resin.
The seed for this sour, citrus strain, is said to be found in New York City by Soma and often has THC levels averaging 20%.  NYC Diesel Marijuana was the winner of nine Cannabis Cup Trophies in the last twenty years for its high quality and pleasant, citrus scent and flavor, including a few first-place wins. New York Diesel will also usually have around 1% CBD and is a great medical weed choice.
NYC weed is popular and can be found in dispensaries in Ohio, Illinois, Michigan, Florida, Oklahoma, and Canada, among other locations. However, the seed bank, Soma Seeds, is based in Amsterdam. Some dispensaries might carry a few variants of New York Diesel, including Purple New York Diesel or Sour Diesel.
Side Effects of NYC Diesel Weed
The effects of New York Diesel are praised for the lack of paranoia and the uplifting properties of the Sativa Dominant hybrid. Most people experience an uplifted or euphoric feeling when using this pot strain and enjoy the other side effects of being relaxed but also energetic and talkative.
Medical effects of New York City Diesel include reducing stress and anxiety, relieving depression, and easing pain and nausea. Patients who suffer from anxiety, especially love this marijuana because unlike some Kush varieties and others, Soma Sour Diesel does not induce paranoia. The cerebral high produced by is why this strain is often recommended for medical patients who need treatment for anxiety, depression, and other mental health disorders.
NYC Weed also has a powerful "munchies" inducing effect that can be advantageous for those with eating disorders such as anorexia or bulimia. Negative effects of this strain include couch lock for novice users and for people who use too much. The common side effect of dry mouth, red eyes, and a headache or dizziness can also be experienced; however, these effects are not inclusive to the NYC strain.
Why Choose NYC Diesel Marijuana Strain
Look
The flower of NYC Diesel weed strain is bold and vibrant with shades of purple, yellow, and blue with sage green leaves and brightly colored orange trichomes. This weed is also sticky and covered in crystals.
Aroma
If you've wondered what is NYC Diesel known best for, it is the wonderful lime and grapefruit citrus scent that is zesty, herbal, and spicy. When exhaling, the smoke will also smell like pine, herbs, and fuel.
Taste
NYC weed offers a sweet, citrusy flavor that is tinged with hints of diesel. The taste is much less potent than the scent.
Qualities
The high produced from NYC strain is energizing, creativity inducing, and perfect for socializing. You might find yourself talking someone's ear off or falling over in a fit of laughter. The more of the bud you smoke or consume, the more likely it is for the high to turn from a significant cerebral high to a body-numbing couch-locked stoned feeling. You're also likely to get the munchies when smoking the flower of NYC Diesel, or using the wax. The strain is also great for wake-and-bake users and medical users who need to start the morning with pain and anxiety relief as well as an energy-driven high.
Growing Diesel Weed Strain
NYC Diesel weed is considered hard to grow but yields three to six ounces per square foot, which is why it is a favorite for large scale growers. While these seeds may be available to home growers, they should be aware that the plants can grow higher than six feet tall and are not the best for growing indoors unless your operation is inside of a greenhouse or warehouse with high ceilings. Some of the equipment needed for a crop this large is often challenging to procure, which is why most growing operations are outdoors.
The long flowering time is also an issue for many growers. Many strains can be harvested in as little as seven weeks, leaving time for another crop during the growing season; however, New York City Diesel weed can take up to 11 weeks to flower. Growers will also need to ensure they have micro-organism diversity thriving in the soil to get the highest levels of THC and beautiful crystals that cover the flower. If you're just starting in the marijuana growing business, you should avoid New York City marijuana seeds.
Similar Strains
Final Thoughts
New York Diesel is a popular strain for growers and smokers and is usually readily available through Soma and dispensaries. Because of its uplifting properties and feeling of euphoria, this weed can be great for people who have anxiety, depression, are stressed out, or need a boost in the morning to get through the day. NYC Diesel cannabis is better than a cup of coffee when it comes to waking you up and motivating you to push through the day.
The powerful cerebral high offered by this fruity and smooth weed will eventually give way into relaxation and a great body buzz that will help with socializing, being relaxed, and confident. Users will also notice negative thoughts being pushed away and euphoria taking over, putting them in a great, uplifted mood that will allow them to have fun and talk to everyone.
The bud on this strain is also gorgeous and impressive with many different colors throughout the flower. Many users are automatically drawn to this weed because of the look of the fine orange hairs, crystals, and purple hues. NYC Diesel is a definite "yes" for bud you want to buy.