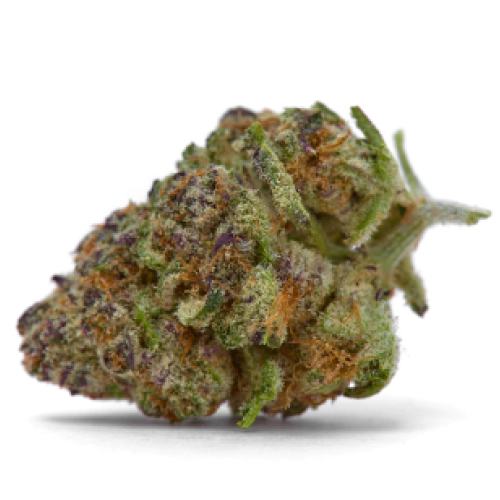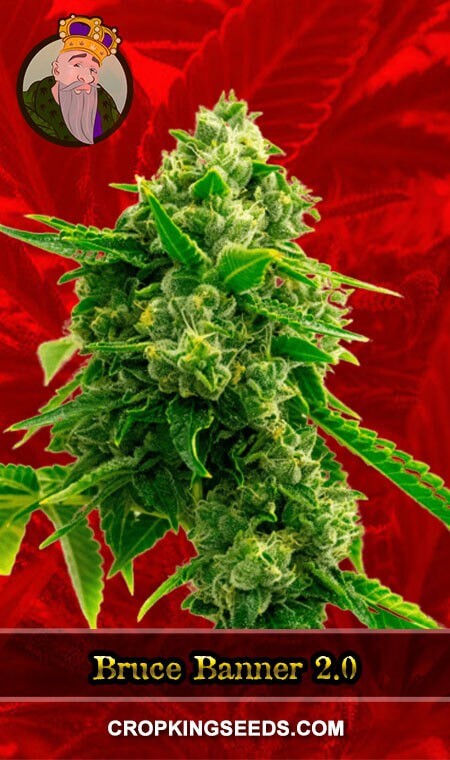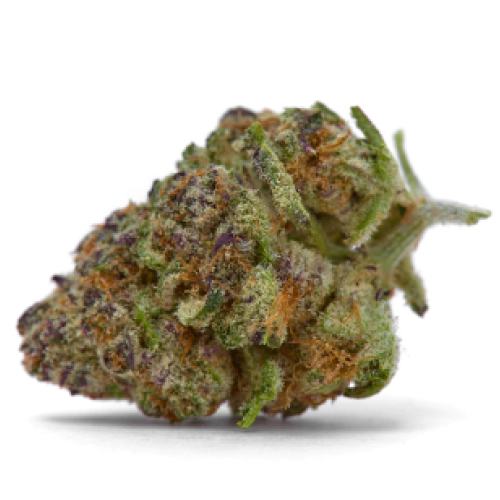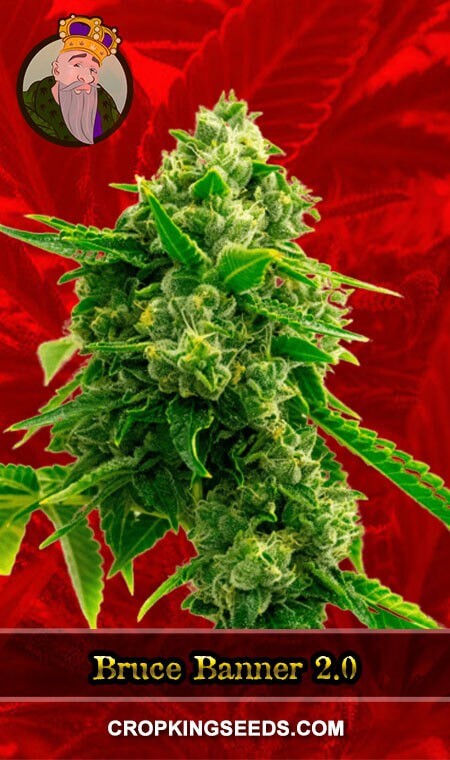 Bruce Banner 2.0 Feminized Seeds
by Crop King Seeds
On Official Website
10% OFF ALL MARIJUANA SEEDS
KING10
Crop King Seeds Shipping Terms:
Free shipping for orders over $200 Shipped with complete privacy Express shipments take 2-5 days for delivery
CBD: 0.10 - 1.00%
THC: 20 - 29%
Seed Type: Feminized
Type: Sativa-dominant hybrid
Yields: 21oz - 25oz (600g - 700g)
Climate: Temperate, Sunny
Effects: Happy, Euphoric, Creative
Flavors: Earthy, Diesel, Sweet
Genetics: OG Kush x Strawberry Diesel
Plant size: 51 - 60 inches (130 - 150 cm)
Environment: Indoor, Outdoor
Harvest period: Late September
Flowering period: 7 - 8 weeks
Growing difficulty: Hard
Information About Bruce Banner 2.0 Seeds Genetics
Ranked among the best strains of all time, award-winning Bruce Banner 2.0 is named after a bright green superhero. It has legendary parents. Feminized Bruce Banner 2.0 seeds trace their genetic lineage to Bruce Banner #3 and Strawberry Diesel. The difference in the 2.0 version is the increased THC level, which has made the strain one of the rarest and strongest on Earth.
Effects and Aroma Profile to Savor
This marijuana comes with a high THC concentration. Even in low doses, it shows significant cerebral effects and a warm physical buzz. Its THC potential amounts up to a whopping 30%. It helps relieve symptoms of stress, pain, depression, and anxiety. However, overconsumption may cause psychedelic euphoria. The calming effects of this hybrid weed monster raised from Bruce Banner 2.0 feminized seeds kick in almost immediately. The cultivar owes much of its aroma to its ancestors and comes with a plethora of delicious flavors – fruit, berry, and citrus scents with a spicy and fuel-like aftertaste.
Bruce Banner 2.0 Feminized Grow Specifics
The process of backcrossing is often performed in marijuana cultivation to improve the strain's genetics and add more vigor to plants. Plants grown from a Bruce Banner 2.0 seed are highly resistant to pests, mold, and diseases. This characteristic makes this weed beginner-friendly. Cultivating it is super easy because it is impossible to go wrong with this cannabis. The plants thrive in temperate, continental, and Mediterranean climates. Expert growers recommend using organic soil mixed with coco coir because it stimulates the formation of the terpene profile. However, using hydroponics is also a good option. The Hulk-like shrubs grow pretty tall (4.5-5ft). The best option is to allow them to stretch in outdoor settings. However, they can flourish in a confined grow room with plenty of topping and pruning. As plants mature, take precautions in terms of their size and odor if discretion is your priority. Since the bushes are sparse in foliage, it diminishes the risk of getting bud rot or attracting pests because of bad air circulation. It takes them approximately 8-10 weeks from seed to harvest. The indoor harvest can reach 16-19 oz./m2, while the outdoor crops are 16-19 oz./plant.
About Crop King Seeds
Crop King Seeds was established in 2005 in Canada and started as a small firm improvising with cannabis seeds. Soon, it turned into a full-fledged company with 300 outlets.. Then, there was a transition into an online store.