Sativa Seeds
Sativa cannabis is known for its energizing effects on the body, making smokers more active and talkative and also helping them focus. Sativa cannabis seeds allow you to experiment with combinations of flavors, tastes, and effects that ensure you unique smoking and cultivation experiences. Each Sativa strain has its own terpene and cannabinoid composition, so you enjoy various flavors and effects each time you buy new seeds.
220 products found
Discover More Seed Products By Specific Category
Sativa is a cannabis plant that origins from the tropics. Unlike Indica, these plants are used to the hot weather and are quite taller, often, up to 15 feet.
Sativa seeds are the seeds that come from this plant. There are two types of them – pure and dominant hybrids (with a high percentage of Sativa genetics.) Most seeds available for purchase are dominant.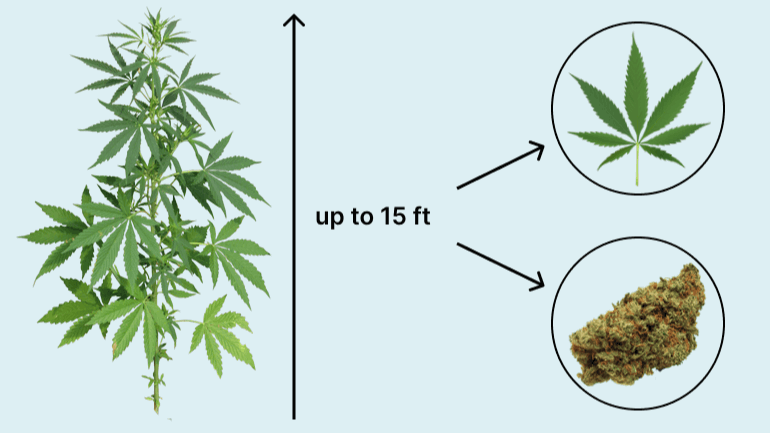 Typical Effects of Sativa Strains
Growers across the globe love this kind of weed for its unique effect. Unlike Indica, Sativa doesn't offer a feeling of being stoned but provides a more energetic experience. Also, it's known for its positive effect on one's creativity and ideas.
Apart from energizing and unleashing your creativity (study), your favorite Sativa weed strain can have a variety of therapeutic effects (study). It's helpful for ADD, fatigue, and depression. Nevertheless, it's not as widely used for medical purposes as high CBD and Indica strains.
Specs of Growing Cannabis Sativa Seeds
Before you look for Sativa seeds for sale and buy them, it's crucial to understand how exactly this kind of plant should be grown. Let's go over the main details.
Indoors vs. Outdoors
First off, this plant can be up to 40% taller than plant from Indica seeds. Some strains grow taller and some shorter. For taller ones, it is recommended to grow them outdoors but only if your climate is warm enough for this plant. Otherwise, you might need to grow it in an indoor space with high ceilings. Indoor growers can grow this cannabis too. However, they need to choose a strain that's not as tall and take control of the plant's height.
Important note: Before deciding to grow your seeds outdoors, keep in mind that this cannabis is very sensitive to external factors. It doesn't tolerate colds and has high requirements for root zone pH, nutrition, and water quality.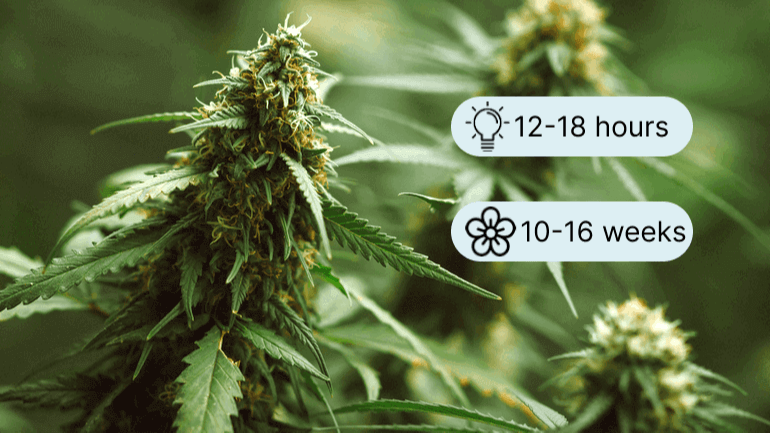 Light
This type of weed is very hungry for light. Due to its origins, Sativa thrives the most in high-light environments. According to experienced cultivators, this cannabis needs over 16-18 hours of light during the vegetative stage. However, flowering takes place when it receives at least 12 hours of darkness per day.
Ease of Growth
An experienced grower will likely say that Sativa marijuana seeds aren't the easiest to grow. These strains are larger and grow slower. On top of that, they are more demanding in terms of space, light, nutrients, and other care procedures.
Nevertheless, this weed can be very high yielding, so your effort and care will pay off. But we recommend doing a lot of research before you attempt to grow it.
Flowering Time
As was mentioned earlier, this kind of cannabis is a slow-growing one. If we delve deeper into this matter, we have to say that it actually has a very short vegetative stage. Yet, its flowering stage is the longest. On average, the majority of dominant hybrids have around 10-12 weeks of flowering time. However, some kinds can take up to 16 weeks to mature.
Top 3 Sativa Strains for Beginner Cultivators
Whether you are looking to buy Sativa seeds online or offline, in the USA or beyond, the options are very broad, and making a choice is hard. Here are our top 3 picks for novice growers:
Haze XL seeds – These are autoflower, sativa-dominant seeds. Beginners will love them for simple care, lower requirements, and, thus, a pretty simple growing process. On top of that, it has great stress-relieving and analgesic effects, along with euphoric sensations. If you like this strain, you can also try Pink Runtz seeds which contain the same amount of THC.
Blue Dream Feminized – This is a dominant, feminized strain with 19% of THC content and an effective pain and stress relief quality. Many growers love it for a fairly simple growing experience and a nice taste of vanilla and blueberry pie.
Strawberry Cough Feminized – This dominant hybrid contains 20% of THC and has a great spicy flavor of strawberries and berries. Growers love it for its good relieving quality and for the fact that you can grow as much as 17 ounces of bud per square yard in only 8 weeks.
Blue Dream seeds – These feminized dominant hybrid strains with 19% THC have a pronounced fruity flavor making them a favorite among many weed connoisseurs. Plants grow tall and yield up to 400g.
Tips for Choosing the Right Seeds
If you are not a new grower, the first thing you should do in order to choose the best Sativa seeds for you is to study the growing specifics and climate requirements. This will help you understand what strains are good for your setup.
Apart from this, be sure to check out expert descriptions of different seeds on our website. After all, Askgrowers was designed to help you make the best choices and have the best growing experience possible!
Pure Sativa Weed Seeds vs. Dominant Hybrids
Now that you know more about this type of cannabis, let's answer one more question – what's the difference between pure and dominant seeds?
Most growers choose dominant hybrids. Hybrids are good for growing indoors. They are typically smaller than pure Sativa plants and often offer faster flowering. At the same time, they grow wide and the THC levels remain high.
Frequently asked questions about Sativa
Cannabis Sativa seeds come from Sativa plants that originate from equatorial regions in South and Central America and Southeast Asia, including tropical countries like Thailand, Mexico, India, Jamaica, etc. Sativa varieties are better suited for warm climates. Mature plants are known for their tall and skinny structure, thin and bladed leaves, sweet and fruit aromas, and high yields. Compared to Indicas, they take longer to grow and produce buds that often have psychoactive and cerebral effects and can be used as a therapeutic alternative for mental illnesses. Sativa boosts creativity, relieves stress, suppresses appetite, and improves sleep cycles. It induces energizing head highs and is preferred for daytime consumption.
Sativa weed seeds are a cannabis product. If you live in a U.S. state where cannabis use is illegal, Sativa seeds for sale are also outlawed. You can buy them from online seed banks as souvenirs, which can be risky. If you reside in a state with legalized marijuana use and home cultivation, you can buy Sativa seeds legally. To cut risks, purchase them from local or in-state providers so the package doesn't have to cross the state borders. Aside from being traded online, the seeds are sold in dispensaries, but you will hardly have access to their multiple varieties since dispensaries rarely specialize in seed sales only. So, online suppliers offer a wider selection. Find a reliable vendor or breeder to get the best Sativa seeds, and be sure of quality genetics and heavy yields.
Sativa marijuana seeds look like any other weed seeds. The 100% way to know its genetics is to grow them; however, expert growers can tell one from another by visual differences. Thus, Sativa cannabis seeds are said to be smaller and rounder, while Indicas are larger and have a striped shell. When it comes to plants, they differ in origin, smell, appearance, growth patterns, and effects. Sativas are taller, with long and thin foliage and light buds. They need plenty of space to grow and bring larger yields. Their prevalent aromas are citrus, fruit, or herbal with sweet notes. Indica plants are squat and short, with wide leaves and dense buds. They have an earthy, skunk, or pungent smell and produce average yields.
Experienced cultivators report that Sativa strain seeds are more difficult to grow than Indicas. The main reason is that this cannabis variety gives tall and slow-growing plants; however, such a tough plant can develop generous yields. Sativas don't require fertilizers during their first 2-3 weeks of growth. When planting seedlings, avoid compacting the soil and ensure its pH level of 6.5-7.2. Install an effective ventilation system and provide good lighting. Plants take a week or two longer in bloom and need 10-11 weeks or even more to flower. They thrive in a tropical climate and humid atmosphere. While flowering, they continue to grow and can gain up to 200-300% of their vegetative height during this stage.
Sativa strains have a higher THC content than their Indica counterparts. Smoking Sativa buds provides cerebral, uplifting, mood-elevating, and euphoric effects. Their CBD-rich varieties are popular with medical users due to their anti-inflammatory effects. The high is often creative, stimulating, and energizing, with less "body stone" than in Indica strains. Growers from around the globe choose this weed type to cope with symptoms of anxiety, depression, stress, cramp-like pain, joint and muscle aches, and other ailments. Sativa stimulates conversation and sociability, prompts giggles due to increased serotonin levels, and tends to be consumed during the day. As the endocannabinoid system is individual in each person, many cannabis users find strong similarities between Sativa and Indica effects.