High THC Seeds
High THC cannabis seeds can be auto-flowering or feminized. These seeds are genetically bred using the purest, most consistent cannabis genetics to deliver the most potent cannabis strains available today. Since the demand for high THC cannabis seeds is growing rapidly, scientists are developing new ways to breed those seeds. Smokers and growers can now choose from more strength and flavor options. While high THC seeds are not the best choice for beginners, they can still try to cultivate those strains. However, the growing process requires white light, red light, and far-red light during flowering, so you get the maximum THC in flower buds.
The product you get depends on many factors that you should consider during the cultivation. These include growing conditions like light, plant phenotype, plant type, nutrients used, and more. Our website makes it easier for you to find high-quality THC seeds, like autoflowering ones, so the growing process is easy and fast.
681 products found
Discover More Seed Products By Specific Category
THC or Tetrahydrocannabinol is the most abundant one of the two primary compounds inherent in cannabis plants. This element is responsible for the effect of euforia you get from consuming weed.
THC seeds are the seeds that grow into high-THC plants. Apart from having a high content of THC, these plants also have a lower content of CBD – the second most abundant compound of cannabis that is considered to counteract the psychoactive effects of THC.
THC: Seeds Benefits
THC has a wide range of benefits. According to numerous studies, it relieves a variety of conditions, such as sleeplessness, lack of appetite, and aches. It also helps treat a variety of mood and mental health disorders.
Lastly, there are studies that confirm the positive effects of THC on patients with severe health conditions like epilepsy, seizures, AIDS, and even cancer. For these patients, weed of this type helps eliminate the symptoms and improve the overall state of health.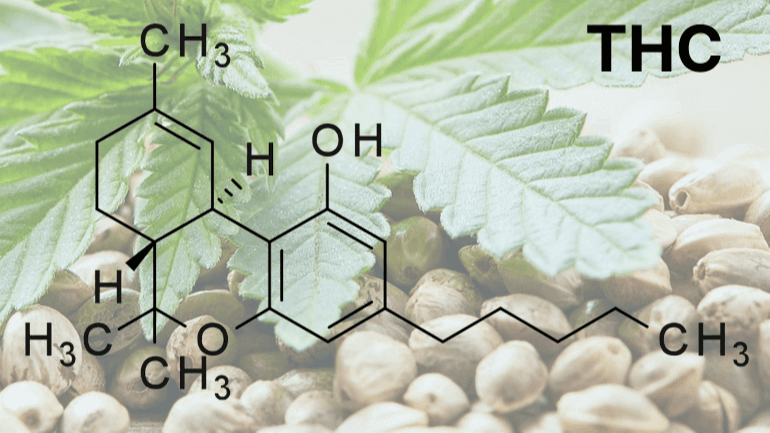 Can Beginners Grow a High THC Seed With Ease?
If you are a novice grower looking for high THC seeds for sale, you must be wondering how hard it is to grow these seeds. The first thing you need to know in order to answer this question is that most THC-high plants are hybrids of other strains. That is, the ease of growing them depends a lot on what their parent plants are.
If you are looking for high THC content and simplicity of the process, autoflowering seeds are your best bet. These seeds produce plants that don't require as much care as other types. They grow faster and don't demand a special light cycle to flower. At the same time, they produce great buds. So it's a great option for beginners.
Things to Know Before Growing THC Weed Seeds
So you are looking for the right cannabis seeds to grow on your own and consider THC-high strains. That's a good place to start. But here are a few things you need to know before growing such seeds:
THC contents vary significantly. Some plants can have only around 20%, whereas others can contain up to 35%.
The ease of growing seeds depends a lot on the chosen strain. Thus, it's important to research all your options thoroughly to ensure that you have the conditions, knowledge, and experience enough to grow good crops.
High-THC weed is believed to bring feelings of lightness, calmness, and happiness. However, the effects also vary significantly from one strain to another and can include euphoria, laughter, increased sensitivity, hunger, creativity, etc.
THC plants have a number of common side effects, such as cottonmouth, bloodshot eyes, etc. Nevertheless, there are many rarer but strongly negative effects like anxiety and paranoia. This point is especially important to consider if you don't have a high tolerance to THC or are generally new to cannabis.
How to Ensure the Highest Potency of Your Plants
First of all, to ensure the best potency, you need to buy the highest THC seeds. On our website, you can read about different strains and compare them online to make the best choice. However, buying seeds isn't the only thing to take care of.
In order to get the most power out of your homegrown weed, you need to consider the following recommendations:
Care – Depending on the selected strain, you will need to provide your plants with the relevant care. This means creating the perfect strain-relevant environment, in which your cannabis can reach its full potential.
Light – A THC seed can thrive in a low-light environment. However, the more exposure to the light you give to your plant, the more potent it will be. So be sure to study the best light schedules applicable to your strain and stick to them while growing.
Vegetation – Expert cultivators recommend beginners let their plants remain in the vegetative stage for more than eight weeks to increase their potency.
Feeding – Though not all strains demand special nutrients, feeding your plants with potency supplements can also increase their power. However, it's crucial that you don't overfeed them.
Harvest – High-THC plants are ready to be harvested only after their trichomes receive a milky white color, while the pistils get dark. Don't harvest the crop before this.
Cure – Experienced growers recommend beginners to cure their THC flowers in glass jars. Though there is no direct evidence that this tip boosts THC levels, the effects feel stronger thanks to it.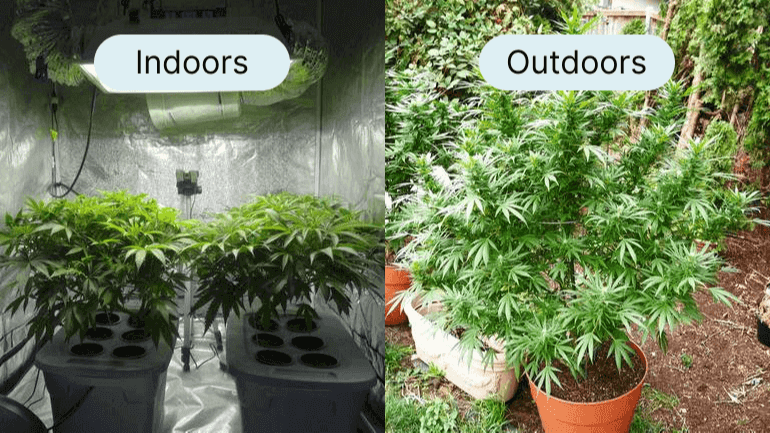 Should You Grow Your Weed Indoors or Outdoors?
After you buy THC seeds online, you will have two options to choose from – growing them indoors or outdoors. So which one should you choose?
Growing your plants indoors is more convenient for most growers. If you choose this option, you won't have to worry about the climate in your area and how suitable it is for your plant. Moreover, growing indoors enables you to create the most perfect environment for your weed – you will be able to tweak the temperature, humidity, lights, and other factors in such a way as to get the most out of your crop.
On the other hand, growing outdoors means receiving the highest THC. Cannabis needs lots of sunlight to thrive. Needless to say, even the best indoor lights can't compare to the natural sunlight that can provide your plants with the energy they need to grow and boost their potency.
When deciding whether to grow your weed indoors or outdoors, also consider the climate and laws of your area.
How Are THC Seeds for Sale Made?
High-THC cannabis exists in nature, which means that there are natural seeds of this type. However, these make up only a tiny part of the strain selection.
Most THC seeds are made by qualified genetic specialists. Experts spend years crossbreeding the most powerful weed strains to receive seeds with the highest THC content. Generally, cannabis Sativa excels in this sector thanks to its naturally high content of THC. However, these plants also often get crossed with Indica strains to get a better flavor, easier growing process, and a more balanced effect.
Why Do Growers Opt for Incredibly High THC Levels?
The level of THC in THC seeds varies depending on the strain. A strain is already considered hard-hitting if this level exceeds 20%. However, if you do some research, you can find impressive 30% or even 35% THC seeds. So why do people choose such potent cannabis?
First and foremost, growers hunt for a larger percentage of THC to get the best effect. If the content is high, you will be able to feel the effect of cannabis to the greatest extent, which is important for many consumers.
The second reason is the cost. According to experienced growers, cultivating your own weed is a pretty expensive hobby. Buying seeds, light, tools, nutrients, and other stuff can drain your budget a lot but choosing high-potency strains is always more cost-effective. After all, more potency means that your needs can be satisfied with a smaller amount of cannabis.
Finally, one more reason why growers love this kind of seed is that growing it is very rewarding. High-potency weed offers a next-level smoking experience and can help you discover new properties of cannabis. Therefore, many growers go for this challenge to get all these rewards.
Top 5 Medical and Recreational THC Strains
As you should know, cannabis growers use their plants for numerous purposes, among which are medical and recreational. If you are looking for high-THC seeds for a specific purpose, we are going to share with you some of our favorites right now.
Medical THC Strains
Traditionally, people don't search for high THC in medical marijuana and choose milder strains instead. Experts believe that this is in vain because there are no reasons to neglect the extra therapeutic potential of THC.
Here are our top picks of THC seeds for medical purposes:
Kobe OG – This award-winning strain is known for its medical benefits. It relieves chronic and permanent pains with ease and offers great stress and depression treatment properties. The THC levels are within 20.5-22.75%.
Timewreck – This strain is higher in THC – between 23.5% and 25.5%. It has a sweet, lemon taste and a nice euphoric effect, with a sensation of happiness. On top of that, it is widely used to treat medical conditions like depression, stress, nausea, and many others.
Recreational Strains
Many high-THC seeds are meant for growing recreational cannabis. The highs from these strains vary from deeply couch-locking to energetic and happy.
Browsing through our website, pay attention to the following recreational strains:
Somango Feminized – This strain has a solid content between 20.33% and 22.67%. Choose it for a relaxing effect and a nice, sweet flavor.
Bio Jesus – This strain has between 21.5% and 24.5% THC. It's known for its unique flavor of lemon and apricot and its tingly effect. It's most recommended to use before bed.
Kushberry – This is another awesome strain used primarily for recreational purposes. The THC levels are within 21-23.75%. The taste is earthy and sweet and the primary effect is sleepiness.
Are the THC Seeds Featured on AskGrowers a Real Deal?
AskGrowers was created by cannabis enthusiasts to help everyone discover their benefits and find the best options for themselves. On our website, we feature only the best cannabis seeds to help every grower find a perfect fit.

Frequently asked questions about THC
Online seed banks are a fast and easy way to buy THC seeds. Before buying seeds, determine what cannabis strain you want to grow and find a breeder you want to buy from. Choose a trustworthy supplier with a positive reputation by visiting its official website and reading customers' reviews. Companies specializing in selling seeds also offer feminized and auto flower seeds high THC, except for regular ones. You can expect high-performance modern genetics and generous yields. Both home gardeners and professional growers can count on great support from an experienced seed bank team. Dispensaries in U.S. states with legal marijuana use also offer THC seeds for sale. Still, not all of them have a large seed selection in stock and are unlikely to have knowledgeable staff to give you specific information on growing.
THC seeds are considered a marijuana product, and their legality depends on your state. If you are a resident of a U.S. state with legal medical marijuana, you need to have a medical card as a qualifying patient to buy any weed product. With legalized recreational pot, any adult state resident can legally buy THC weed seeds within the state. Online orders can be tricky when purchasing seeds from other states or overseas companies. Your package will cross the country and state lines, and federal laws technically prohibit bringing weed across borders. Customs officers may seize the package if they detect an outlawed product inside. However, most seed banks outside of the USA are allowed to ship pot seeds for "souvenir purposes."
Most weed connoisseurs and collectors have always been interested in getting high THC seeds. THC is the main psychoactive compound in marijuana responsible for making people high. Some cannabis strains naturally have a high THC content; however, breeders have identified ways to increase this level by crossbreeding. The strains are considered hard-hitting with 20% THC and above in their dried buds. Seasoned smokers know classic strains with high THC levels, such as White Widow, Northern Lights, Super Skunk, Granddaddy Purple, Gorilla Glue, etc. Due to modern technology, new favorites emerge, such as Black Sugar and Amnesia. They produce extremely powerful and long-lasting high, which is also known for relieving multiple health conditions like pain, insomnia, anxiety, and more.
Marijuana seeds don't contain THC, which delivers a well-known high, but they have all the necessary genetics to develop a plant that will produce THC-rich buds. This psychoactive compound is found in other weed plant parts: leaves, flowers, and stalks. Cannabis seeds have an incredible mix of fatty acids, amino acids, and other active components that are beneficial for human health. They are a source of nutrients and vitamins. You can use them raw, like nuts, or consume weed seed oil. Using them can strengthen your immune system, improve gastrointestinal conditions, provide heart benefits, improve skin conditions, etc.