Cannabis Cup Winning Seeds From The Best Seed Banks
Thanks to the popularity of weed, there are numerous strains available today, and they aren't the same. And you probably want to buy the award winning seeds. There is only one 100% guaranteed way to get the best experience from your marijuana – nothing beats the Cannabis Cup winner. The AskGrowers team always monitors the market to offer Cannabis Cup winner seeds for sale to buy from proven seed banks while constantly updating the 2023 list.
Discover More Seed Products By Specific Category
If you aren't new to the market, you've probably heard of Cannabis Cup winner seeds at least once. It is big in the weed competition world. This event is a marijuana festival sponsored by High Times magazine. The best product is chosen based on judges from all across the world who sample and vote for the winner.
As you can guess, cup winners seeds are better than many others. That is because they are 100% guaranteed to be of premium quality based on many factors we will describe below. They usually have unique terpene compositions, rich THC levels, a range of cannabinoids, and great yields, so they are the dream of any growers and recreational users.
Criteria for Cannabis Cup & the Prize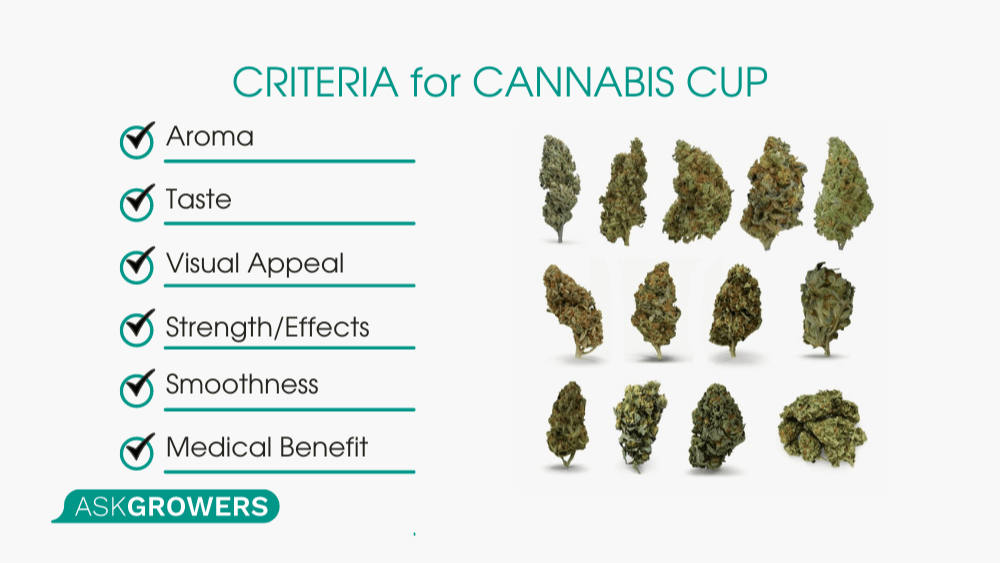 The High Times has been handing out awards to the top strains since 1997. Competitors submit their products ahead of each event in the categories described below:
Flowers (Sativa, Indica, Hybrid)

Concentrates (Sativa, Indica, Hybrid)

CBD (Flowers, Concentrates, Edibles)

Non-Solvent Hash

Edibles

Topicals

Vape Pen Cartridges

Medical Products
When it comes to strains, judges choose the best hightimes seeds based on the following criteria:
Aroma

Taste

Visual Appeal

Strength/Effects

Smoothness

Medical Benefit
In most cases, test results also affect scores, where 10 key cannabinoid levels are measured and then scored. The key prize for Cannabis Cup winning strains is to take the first place since the price for these seeds immediately goes higher, and cultivators all across the world want to start selling their products.
What Is the Frequency and Number of Winners?
Not everyone knows that this event was originally held in Amsterdam. Now the competition has expanded to the U.S. and abroad with the legalization of recreational and medical weed.
Today, this competition has been held in Northern and Southern California, Washington, Colorado, Michigan, Arizona, Massachusetts, Oklahoma, Alaska, Illinois, Oregon, and Jamaica, while new locations are added each year. This is an annual competition, which is usually held during the summer, often in July. There are several other events, like the Medical Cannabis Cup, also held in July.
There are many categories in the competition. Judges choose the eight best products, with one absolute winner in each category.
Why Choose Cannabis Cup Winning Seeds?
Users and growers buying cannabis want to get premium quality seeds that offer potent effects, are easy to grow, and have a great taste/aroma. There are millions of options available online to buy today, but some buds may not deliver the expected yield or no yield at all.
The key issue here is that almost every supplier says their genetics and flavors are the best. Buying winners resolves this problem since it was named the winner by many experienced judges with years of experience in the field. A winner seed is a kind of reward that only a few strains receive. If you buy Cannabis Cup winner seeds, you can always expect top results and be fully satisfied with the purchase.
Are Cannabis Cup Seeds Difficult to Grow?
There is no simple answer, as it all depends on many factors. High Times Cannabis Cup winner seeds are chosen based on many criteria, so it is never easy to guess whether they are suitable for beginners or not. If you are a beginner and want to grow this weed, it is vital to explore the genetics before buying it and see what the grower has to say about it.
But if the winner is an autoflower or fast-flowering strain, you may expect easy growth. They do not require lots of effort and time from the cultivator. In the case of regular buds winning the Cup, they are better for seasoned growers with skills and experience in the field.
5 Popular Cannabis Cup Winning Seeds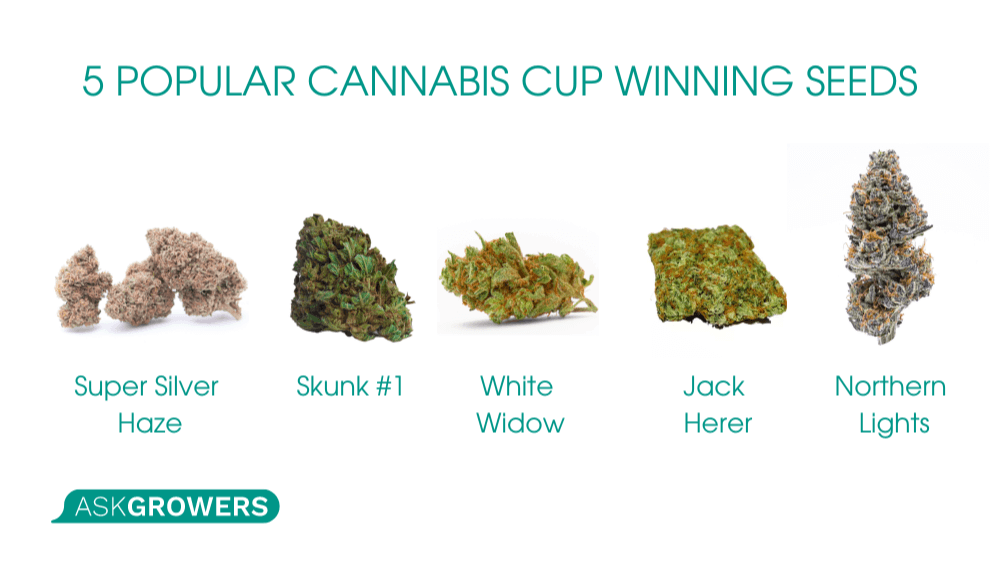 This classic weed has won several prestigious competitions, including the High Times Cup. The strain won first place thrice in a row, from 1997 to 1999.
This weed won the Best Overall Strain award at the AMEC Cup in 1998. It is a well-known bud present in the lineage of many modern hybrids.
This marijuana rocked the marijuana scene once presented. Thanks to its unique appearance, flavors, and THC level, it won an early 1995 cannabis festival and got numerous other awards all over the world.
Having over 11 awards under its belt and a lengthy list, the Jack Herer weed is another super champion. It won the 7th High Times Cannabis Cup thanks to its potent yet smooth and perfectly balanced effects.
Being named the best Indica in 1988 and 1989, this weed won the 1990 High Times Cannabis Cup and gained a total of 6 awards. It is known for its small size, perfect for all growing conditions, quick blooming, and high resin production.
Frequently asked questions about Cannabis Cup Winners
Marijuana that wins competitions is considered the best, as it has been estimated and chosen by numerous experts judging on a range of factors. Buying Cannabis Cup winners means premium quality, potent effects, and great yield.
Super Silver Haze is the weed with the most competitions under its belt.